Crash Involving a Distracted & Negligent Driver
If you or someone you know has been injured in an accident due to a distracted driver in the San Diego area or in greater Southern California, you may be entitled to financial compensation. Distracted driving has quickly become a serious danger and a much-discussed issue by safety administrations and agencies across the United States in the past several years. While distracted driving crashes have been occurring since motor vehicles were invented' there are more forms of distraction and a greater number of cars on the road than ever. A car accident caused by a distracted driver is not only a case of severe driver negligence' but a cause of potentially life-threatening injuries. If you would like to discuss your legal matter' please contact our San Diego car accident attorneys at (619) 233-5020 or (888) 233-5020.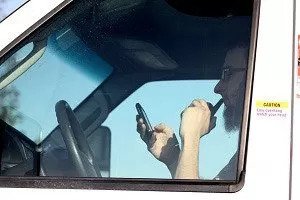 Victims injured by distracted drivers have the right to seek compensation for the losses they have suffered.
Ross Jurewitz Discusses Distracted Driving on San Diego's Union Tribune U-T TV
Why do I need an attorney for my case?
Put simply, a qualified and experienced distracted driving attorney can often make the difference between obtaining a settlement and walking away empty-handed. Ideally, a personal injury attorney will bring a significant level of experience in personal injury law, using the facts of your case to craft a legal argument that will help to bring justice to those who have acted recklessly.
A knowledgeable San Diego area distracted driving attorney will help you understand your legal options, create a strong case and vigorously represent you in the settlement process or if it comes to it, in court. When you are involved in an accident such as one involving a distracted driver, you are often going to be going up against insurance companies when arguing to obtain settlement money. Insurance companies almost never have your best interest in mind, as it is in their bottom line to pay out as little as possible. Insurance companies will use every trick in the book, including some that are sly at best, such as monitoring your activities to "show" that you have recovered from the accident.
Personal injury attorneys will work to communicate effectively with these insurance companies – something that can only come from experience. By understanding the tricks that these companies often seek to use, they can help you come out on top and with the compensation that you need to pay off medical bills, compensate for lost wages and help you to get your life back on track.
Why Hire Jurewitz Law Group Injury & Accident Lawyers for my distracted driving case?
Jurewitz Law Group Injury & Accident Lawyers brings together some of the most accomplished legal talents in Southern California in order to represent you in personal injury cases. With this comes decades of experience representing accident victims just like you, and with that comes experience bringing down settlements for our clients to help relieve the extreme financial stress that an accident can bring. We know that the emotional toll of an accident can be overwhelming for you and your family, and we promise to stand by your side through the entire settlement process, understanding your case and giving you fierce representation against the insurance companies.
Behind this promise comes extensive credibility. Our commitment to top-notch service to our clients is demonstrated by our A+ rating from the Better Business Bureau and several of our attorneys maintain a perfect 10 rating in legal services website Avvo, which aggregates client reviews, attorney experience, and firm awards. As members of the Multi-Million Dollar Advocates and Million-Dollar Advocates Forum, we have shown that we can bring down large settlements in the toughest of cases.
Our lead Attorney, Ross Jurewitz, has been selected as a Top 100 Trial Lawyer by National Trail Lawyers, and has been named a Super Lawyer, demonstrating a high level of recognition amongst his peers and many years of achievements in the courtroom.
The Dangers of Distracted Driving
While there are many distracting activities and devices' there are three types of distraction that they can cause. While the most dangerous result in all three types of distraction' any single form can result in a devastating accident. According to the U.S. National Highway Traffic Safety Administration (NHTSA)' the three types of distraction are:
Visual
Occurs when a driver takes his or her eyes off the road and focuses on another activity or sight. Examples include texting' reading a map' and looking at a sign.
Cognitive
This distraction happens when a person's mind wanders from the task of driving and focuses on other thoughts and activities. While such a distraction can occur by simply daydreaming while driving' every type of distracting activity requires some form of mental concentration and' as such' results in some degree of cognitive distraction.
Manual
This happens when a driver takes one or both hands off the steering wheel while driving in order to use them for another activity. Manually-distracting activities include: texting' eating' drinking' changing a radio station or channel' and using a smartphone application.
While driving can often be boring and tedious and the temptation to participate in other activities may be great' drivers are both morally and legally obligated in the State of California to practice safe driving habits.
Common Distracted Driving Accidents
Because distraction prevents a driver from properly reacting to the dangers around him or her and operating the vehicle in a manner suited to the road's conditions' distracted driving can result in both common and uncommon accidents. Types of distracted driving accidents include:
Rear-end collisions– perhaps the most common, often caused by not paying attention to slowing traffic in front of the distracted driver
Side-swiping – this can often happen when attempting to change lanes while distracted or when the car drifts out of its lane, striking a car in another lane
Head-on collisions – this often deadly type of accident can happen on narrow two-lane roads or on roads with a shared middle turn lane
Intersection accidents – between running red lights and failing to yield the right-of-way while turning, there are many moving parts to intersections and many things people may miss if driving while distracted
Crashes involving cyclists – cyclists have many of the same rights on the road as drivers, and if a driver is not paying attention, they may strike a cyclist
Pedestrian crashes – this can happen at intersections or on the open road – pedestrians, especially when crossing the street, are at risk of getting hit If drivers are not paying attention
Crashes caused by leaving the road – if a driver is distracted, they may leave the roadway, causing property damage or to cyclists, pedestrians or other vehicles
Because driving distracted prevents a driver from reacting properly to changing road conditions and possible hazards' easily preventable accidents are much more likely to occur. According to the NHTSA' 16 percent of fatal crashes and 20 percent of injury crashes in 2009 involved reported distracted driving.
No matter the type of crash, Jurewitz Law Group Injury & Accident Lawyers is prepared to handle all of these types of cases and more. We understand that distracted driving is a big issue, and only becoming bigger as we grow more dependent on (and distracted by) our smartphones. We will be able to hold these reckless drivers accountable and help you get the financial help you need to recover from the accident and injuries.
What Causes a Distracted Driving Accident?
Today' technology and an ever-increasing desire for constant stimulation have resulted in both a higher number of distractions for those behind the wheel and a greater likelihood that drivers will choose to be distracted while operating their vehicles. Distractions for drivers today range from decades-old problems to new hazards' and include:
Eating and drinking;
Reading a map;
Grooming;
Using an application on a smartphone;
Talking on a cell phone;
Changing the radio station;
Using a GPS navigation system;
Talking to passengers;
Changing music playing from a CD or MP3 player; and
Looking at passing signs and other visual distractions.
Experienced San Diego Distracted Driving Accident Lawyers
Being the victim of a distracted driving accident can be both traumatizing and frightening due to the violent and unexpected nature of such an accident. Even those who choose to drive distraction-free can be subjected to a devastating accident when another driver chooses to act negligently. In California, the statute of limitations for distracted driving accidents along with most personal injury cases is 2 years. Therefore, if you or someone you know has been injured or worse in a distracted driving accident in the San Diego area, it is in your best interest to contact an attorney as soon as possible.
The San Diego distracted driving accident lawyers at the Jurewitz Law Group Injury & Accident Lawyers work tirelessly to win compensation for clients injured by negligent distracted drivers. For more information on how our experienced law team can help you in your injury lawsuit' contact our San Diego office or Carlsbad office today by calling us at (888) 233-5020 today.
Additional Information