Hurt in a Car Accident at an Intersection?
Despite the implementation of traffic lights' stop signs' and traffic surveillance cameras to enforce safe driving' intersections are the most common location for vehicle accidents. Pedestrians and bicyclists are particularly at-risk when drivers violate traffic laws or simply do not pay attention. Some of the most dangerous intersections in San Diego' such as 3rd Avenue and B Street' 2nd Avenue and Cedar Street' or 54th Street and University Avenue' are notorious for serious accidents involving cyclists and pedestrians' in spite of the city's attempt to make San Diego more bike and walk friendly. So many types of accidents can happen at even the calmest intersections.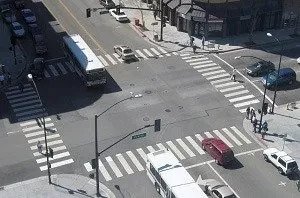 Vehicle drivers and passengers' pedestrians' and bicyclists are at risk for intersection accidents. Call (888) 233-5020 for help.
Contact the Jurewitz Law Group Injury & Accident Lawyers if you have been injured or lost a loved one in a collision. Our knowledgeable San Diego car accident lawyers can help you understand your rights and will help you throughout the process of obtaining the compensatory amount you are entitled to receive. We will work with you to ensure that your needs are met and that you can move forward with your life. Call (888) 233-5020 to schedule a comprehensive and free consultation today.
What Damages Can Be Recovered after an Intersection Accident?
Ultimately' a San Diego personal injury claim or lawsuit will help you recover financial compensation for a wide variety of losses you have suffered as a result of another's recklessness or wrongdoing. In many cases' survivors of intersection accidents have suffered substantial physical' emotional' and financial damages' such as catastrophic injuries' mental anguish' expensive medical bills' and lost time at work. The amount of money you may be entitled to receive from the at-fault party and his or her insurance company will be determined by the severity and extent of the damages you have suffered.
In the event that a loved one has been killed in an intersection accident' the surviving family may pursue a wrongful death claim to obtain monetary support for funeral and burial costs' loss of companionship' and other non-economic damages.
What Types of Accidents Occur at San Diego Intersections?
With so many vehicles' pedestrians' and bikers attempting to cross intersections' a single moment of carelessness or wrongdoing can result in a serious' life-threatening collision. If you have been involved in a collision at a San Diego intersection' it is imperative that you determine who was responsible. In some cases' the at-fault party can be more easily identified if you know the type of accident.
Side Impact Collisions
Also known as broadside or t-bone collisions' when a vehicle is hit on the side by another vehicle' the sudden impact can result in severe injuries as well as significant damage to the vehicle. The vehicle that was struck may also spin out of control or rollover' colliding with other cars or pedestrians.
Pedestrian/Bicycle Accidents
Drivers that simply do not watch out for pedestrians at a crosswalk or bicyclists on the road are more likely to make a dangerous turn that results in a pedestrian or bicycle accident. Even if bikers or pedestrians are less visible at an intersection' motorists are still obligated to drive cautiously.
Rear-End Crashes
If a driver is not paying attention' using his or her cell phone' or speeding through an intersection' it is not uncommon for a rear-end crash to occur. This type of collision can be particularly dangerous for the vehicle that was rear-ended and may contribute to a vehicle pileup.
Loss of Control
Poorly designed or maintained intersections can cause drivers to lose control of their vehicles and collide with others. If the city or state government in charge of maintaining the road has not fixed or warned others about dangerous road conditions' that agency may be held accountable for resulting accidents.
How Can Legal Action Mitigate the Challenges of Your Recovery?
Unfortunately' even when the cause of a crash is glaringly obvious' the at-fault party and insurance company representing them will often try to minimize or deny the victims' rightful compensation. A skilled attorney can represent your San Diego or Carlsbad intersection injury claim and build a strong case on your behalf by collecting evidence' police reports' medical records' and accident reconstruction reports. With the help of your attorney' you will be able to prove the circumstances of the crash and the at-fault party's liability in order to obtain the financial reimbursement you deserve.
The legal team at the Jurewitz Law Group Injury & Accident Lawyers will handle the most challenging aspects of your intersection accident case' allowing you and your loved ones to focus on healing.
Intersection Car Accident Attorneys in San Diego Seeking Justice on Your Behalf
The San Diego accident lawyers at the Jurewitz Law Group Injury & Accident Lawyers have dedicated their careers to protecting those who have been seriously injured or lost a loved one. Do not hesitate to contact us to learn more about your legal options and the steps you may need to take to protect your rightful claim. We have years of experience and a successful track record for holding negligent parties accountable. To set up a free and in-depth consultation with us' please dial (888) 233-5020 or complete an online contact form and we will get back to you within 24 hours.