The San Diego truck accident attorneys of Jurewitz Law Group Injury & Accident Lawyers know the importance of receiving full and fair compensation after a crash. Another person caused your injuries and should have to suffer the consequences of their actions. When you hire us, you can depend on our legal team to seek the justice you deserve.
If you or a loved one were injured in a truck accident in San Diego, call Jurewitz Law Group Injury & Accident Lawyers for your initial free consultation and case evaluation.
Let us fight by your side and help you heal from your serious injuries and be on the road to recovery. Not all law firms are the same. See how we value and treat our San Diego attorney-client relationship. Reach out today for a free case evaluation.
Download PDF
Why You Should Hire Jurewitz Law Group Injury & Accident Lawyers
At Jurewitz Law Group Injury & Accident Lawyers, we have a team of award-winning attorneys you can trust. Since 2007, our work has been recognized by various prestigious legal organizations, and we have also been featured in national and local publications. The personalized services and one-on-one attention we provide to our clients set us apart from other law firms. We take the time to get to know our clients and do our best to meet their goals. We will keep your interests in mind while working on your case.
Our San Diego truck accident attorneys understand the devastation a truck accident can cause. It can upend your entire life and affect every aspect of your daily routine. If you're unable to work, you're not getting paid. You might be worried about the financial implications of a legal case and the medical treatment you need to heal. You can depend on us to guide you through this difficult ordeal and help you put the pieces of your life back together.
Our legal professionals are available 24/7 to discuss your case. We know how frustrating it can be when someone doesn't return your calls. You will never feel abandoned when you hire Jurewitz Law Group Injury & Accident Lawyers. Your attorney will remain in contact with you, so you always know what's happening with your case and what to expect next. We will remain by your side through each step until the very end.
Protect Your Rights After a Truck Accident in San Diego
The decisions you make after suffering injuries in a truck accident could determine your future and whether you're able to hold the driver or trucking company liable. You should follow specific steps to protect your rights. Doing or saying the wrong things could result in a denied insurance claim or unsuccessful lawsuit.
Commercial trucks tend to cause catastrophic damage in an accident. Many people aren't lucky enough to walk away with minor injuries. You probably don't have the physical capacity to collect evidence at the scene or speak to witnesses, so you should focus on your treatment. If someone called 911, an ambulance should arrive to transport you to the hospital.
It's crucial that you don't deny medical care. The initial shock of being in an accident could mask the severity of your injuries. You might not think you're that hurt, but a thorough examination by a doctor may uncover any problems. They might recommend ongoing treatment, such as physical therapy or pain management. You should follow their instructions, so you're able to recover.
While you're treating your injuries, Jurewitz Law Group Injury & Accident Lawyers can handle the legal aspects of your case. Hiring a lawyer after a truck accident is one of the best decisions you can make. Handling an insurance claim or lawsuit yourself can create many challenges. A knowledgeable attorney understands state laws and the legal procedures to follow. Without legal representation, you could come across obstacles that you don't know how to deal with because of your inexperience. You're more likely to lose your case or end up with lower compensation than you need if you pursue legal action without a lawyer.
Be sure to gather all documents associated with the accident and your injuries. Every time you attend a doctor's appointment, the doctor should record your progress and the type of treatment you received. Medical records provide a timeline showing a person's recovery. They detail the necessary treatment, duration, and whether treatment was successful in healing the injuries.
Your San Diego truck accident lawyer can request copies of all records and bills associated with your case. We will review them to determine how much money you should receive in an insurance claim or lawsuit.
You should be mindful of some issues after a truck accident. To help ensure a favorable outcome in your case:
Don't wait long before seeking treatment. You need to have proof that the accident caused your injuries, and you required ongoing treatment to recover. If your medical records show that your initial doctor's appointment wasn't until weeks later, or you have significant gaps between each appointment, that could justify a low settlement offer that doesn't adequately cover your total expenses.
Don't post details associated with your case online. Insurance adjusters and defense attorneys might pore through your social media accounts to find evidence that you didn't get hurt in the crash. A seemingly innocent picture of you and your friends having fun at a party might serve as proof that your injury isn't as severe as you claimed.
Don't talk to the at-fault party's insurance company. The insurance company's job is to determine if they agree that the collected evidence proves their policyholder caused the collision. They don't want to pay out the maximum amount of insurance coverage available and will look for any valid reason to deny your claim or offer a lowball settlement. If you discuss the case with them, you could inadvertently say something that negatively impacts the outcome. Let your attorney communicate with them on your behalf.
Don't admit fault. California uses the pure comparative negligence statute to determine liability. A jury could diminish your monetary award by the percentage of fault you share if your actions partly contributed to the accident. For instance, if you incurred $100,000 in expenses but are 25% to blame, you could only pursue up to $75,000 in compensation instead of the full $100,000.
Investigating a Truck Accident
After any truck accident, it's essential to determine who was at fault to know whom to hold financially responsible for the victim's injuries and resulting costs. The Federal Motor Carrier Safety Administration regulates the trucking industry, requiring specific standards be met at all times. If the truck driver or trucking company violated any of those standards, we could use that to prove they should be liable for the crash.
Some of the regulations they must follow to prevent an accident from occurring are:
Trucking company:
Perform a thorough background check on prospective employees
Provide ongoing training for all drivers
Investigate any accidents involving an employee while they were performing their job duties
Perform routine maintenance and repairs on every truck
Random alcohol and drug testing on the drivers
Truck driver:
Hold a valid commercial driver's license
Inspect the truck before and after each driving shift
Load cargo securely and stay within weight and size limits
Do not exceed maximum driving hours allowed
Maintain driver logs
Our San Diego truck accident attorneys can take on the legal responsibilities of your case. We can investigate the accident and find relevant evidence proving the truck driver or trucking company was at fault. Useful evidence we might need to collect includes:
Police reports
Trucking company records
Copies of your medical records and bills
Accident scene evidence and photos
At-fault party's liability insurance policy
Video surveillance of the accident
Truck driver's qualifications, licensing, driving history, and employment records
Repair estimates for the damage to all vehicles involved in the collision
Statements from witnesses
A complete investigation of every aspect associated with the truck accident could significantly improve your chance of receiving the maximum available compensation. That's why it's vital that you hire an experienced San Diego truck accident lawyer to help you with your case.
At Jurewitz Law Group Injury & Accident Lawyers, we use all the resources at our disposal to gather substantial evidence, so there's no doubt who's to blame for your injuries. You shouldn't pay out of pocket for any of the expenses you incurred. We will fight hard for the insurance company to pay what you're owed.
Compensation You May Be Entitled To
Federal law requires trucking companies to purchase liability insurance policies with minimum limits for their drivers. That way, if an accident happens, the insurance company could provide compensation for the injured party's losses. When you file a liability claim, you could pursue an insurance settlement to cover your losses, such as:
Medical bills
Lost income
Lost earning capacity
Emotional distress
Pain and suffering
Property damage
Physical impairment or disfigurement
Loss of enjoyment of life
A trucking company's liability limits are significantly higher than the limits you would find on a standard auto insurance policy. Commercial trucks tend to cause severe injuries, requiring more extensive medical treatment. With medical bills and associated costs that could total thousands of dollars, having access to a large coverage amount is necessary.
Everyone's case is unique. The compensation you receive will ultimately depend on the facts of your case. Jurewitz Law Group Injury & Accident Lawyers can review the circumstances of the truck accident to determine the monetary award you need to compensate you for your past and future losses. Our goal is to maximize the value of your case as much as possible, so you're not left with any bills to handle on your own.
Truck Accident Cases Jurewitz Law Group Injury & Accident Lawyers Can Handle
Large trucks may collide with other vehicles for many reasons. There are various types and causes of truck accidents that our San Diego truck accident attorneys are familiar with, such as:
Commercial Vehicle Accidents – Commercial vehicles transport consumer goods, construction materials, and other items for businesses. Examples are tractor-trailers, delivery vans, and garbage trucks.
Delivery Truck Accidents – Delivery drivers often feel pressure to meet their deadlines. Driving long hours, rushing to stay on schedule, and a lack of sleep can result in an unsafe driver who causes an accident.
Overloaded and Unsecure Truck Cargo – Federal regulations require properly securing items on the back of a truck and staying within weight and size limits. An overloaded vehicle can put more pressure on the tires than they can handle. Loose items can fall off the trailer, creating hazards for other drivers.
Trucking Company Negligence – Just because a truck driver causes a collision doesn't mean they're automatically liable. The trucking company that employs them could be responsible for inadequate maintenance, knowingly hiring an inexperienced driver, or failing to provide adequate training, to name just a few examples.
Truck Driver Negligence – Truck drivers have a tremendous responsibility. Operating a large truck takes specialized skills. Any error could lead to a crash, causing severe injuries and fatalities.
Underride Accidents – These catastrophic accidents occur when someone's vehicle slides underneath a truck. It's typically due to the truck driver tailgating or braking suddenly when there's another vehicle behind them.
Driver fatigue – Fatigued or drowsy driving prevents someone from maneuvering their vehicle safely through traffic and avoiding hazards.
Distracted driving – A person who's texting on their phone, daydreaming, or singing along to the radio isn't focused on the road ahead. It becomes a challenge to recognize a dangerous situation when their attention is on something else.
Inexperienced or unqualified drivers – Truck drivers must obtain a commercial driver's license and undergo adequate training to operate a commercial truck. Someone with minimal experience may not know how to avoid an accident.
Drunk or drugged driving – Alcohol and drugs impair a person's physical and mental faculties. They can cause a slower reaction time, poor decision-making, and reduced motor skills.
Reckless driving – A driver who disregards the safety of another is guilty of reckless driving. Weaving in and out of traffic, for example, increases the risk of a crash.
Aggressive driving — Aggressive driving includes road rage, weaving in and out of traffic, disobeying traffic signals, and other behaviors that endanger others on the road.
Rollover truck accidents — Whether due to driver fault or due to equipment malfunction, a rollover truck accident is frightening to see and even worse to experience. Vehicles near the rollover truck can be crushed, sideswiped, or sent spinning from the velocity of the rolling truck.
Tanker truck accidents – Tanker trucks often carry hazardous liquids or gases, and an accident with one of these can be devastating to those injured in the crash and the surrounding environs. Not only may injured parties have suffered from the crash, but there is the potential of toxins from the cargo, as well.
Speeding – Driving over the speed limit or too fast for road or weather conditions is dangerous. Commercial trucks require a longer stopping distance than passenger vehicles.
Tailgating – Following someone too closely can lead to an accident if traffic suddenly comes to a standstill. The truck driver may not be able to brake in time to avoid a rear-end collision or maneuver their enormous vehicle out of the way.
Failure to check blind spots – Trucks, such as 18-wheelers, have four major blind spots around them. The driver must thoroughly check each one before merging, turning, or changing lanes, so they don't collide with a car.
Road defects – Defective roadways create hazardous conditions for drivers. A large truck hitting an oversized pothole could cause the driver to lose control.
Malfunctioning truck parts – Various moving parts and systems must function together for a truck to work correctly. Something like a defective braking system could prevent the driver from stopping in time to avoid another vehicle or hazard in the road.
No matter what caused the truck accident, you should have the opportunity to hold the at-fault party liable for their actions. When someone else is responsible for your injuries, you deserve to be compensated for your medical treatment, lost wages, and other losses. At Jurewitz Law Group Injury & Accident Lawyers, our San Diego truck accident lawyers know that no amount of money can change the past, but we hope that winning your case can help you move forward.
Most Common Truck Accident Injuries
Commercial trucks are massive vehicles. They usually consist of a front cab and attached trailer and may carry various cargo. When a collision occurs, the impact can cause devastating damage and injuries to the occupants of smaller vehicles.
Those who survive this kind of accident typically face a long road ahead to heal from their injuries. Some people suffer a disability or ongoing pain. Others end up in debt while paying for their treatment. A large truck accident can impact every area of your life.
The most common injuries truck accident victims suffer include:
Broken or fractured bones
Lacerations
Paralysis
Loss of limb
Internal bleeding or organ failure
Spinal cord injuries
Traumatic brain injury
Head and neck injury
Whiplash
Crush injuries
Psychological and emotional trauma
You not only have to deal with the physical impact of an accident but also the mental scars. A catastrophic truck accident can cause someone to develop post-traumatic stress disorder or anxiety. You might fear getting into another vehicle or refuse to drive again.
The lifelong implications are something you shouldn't have to endure. When the truck driver or trucking company was negligent, they should be held liable for their actions.
Total Number of Fatalities in San Diego Accidents Involving Large Trucks
(Note: Data is for San Diego County)
Percent of Fatal Truck Accidents in California by Contributing Factor (2019)
Deadlines Associated With Truck Accident Cases
Every insurance policy is different. Some provide a deadline for initiating an insurance claim, while others specify to file "promptly" after an accident. It's crucial that you don't delay the injury claims process, as it could hinder your ability to receive the maximum available settlement.
Jurewitz Law Group Injury & Accident Lawyers can request a copy of the trucking company's policy to determine if there's a specific window for filing. The best option would be to file a claim immediately so there's enough time to handle any obstacles we might face along the way.
Filing a lawsuit is entirely different. You must adhere to a statute of limitations if you want to sue the truck driver or trucking company. The statute of limitations for an injury case in California is two years. This means you have two years from the accident date to file, or you could lose your right to pursue compensation. If you're suing for property damage, the statute is three years.
READ OUR MOST
Truck Accident Frequently Asked Questions
Jurewitz Law Group Injury & Accident Lawyers knows you probably have questions. Pursuing a complex truck accident injury claim can be a confusing experience, and without adequate knowledge of the legal process, you could end up without compensation in the end. Here we answer some of the most common questions clients ask us after a truck accident.
Can I file a claim with my auto insurance company?
Yes. Uninsured/underinsured motorist (UM) is optional coverage offered to all drivers in California. If you chose to keep it on your policy, you could file a claim if the trucking company's liability insurance doesn't cover your losses. However, it's important to know that UM doesn't compensate for all of the same losses as liability coverage. You could seek compensation for your medical expenses and property damage. You might also be entitled to lost wages and pain and suffering. It will depend on the specific policy you purchased.
Can someone other than the truck driver be at fault for the accident?
Yes. The truck driver and trucking company aren't the only parties that could be held liable for the accident. For example, a manufacturer could be to blame for manufacturing a defective brake pad. Or, a third-party company could be responsible for an accident if they didn't properly load or repair a truck.
Can I file an insurance claim without hiring a lawyer?
We advise against pursuing an insurance claim without hiring a qualified and experienced San Diego truck accident attorney. That's because insurance companies often take advantage of unrepresented claimants. If you don't know your rights or how to navigate the complexities of an insurance settlement, you will likely end up with much less compensation, or nothing at all, than if you seek legal representation immediately after the accident.
Contact a San Diego Trucking Accident Lawyer
At Jurewitz Law Group Injury & Accident Lawyers, we care about our clients. We will approach your case with compassion, transparency, and efficiency. We won't leave you in the dark while we're handling each step of the process. You can depend on us to maintain open communication from start to finish, so you know what to expect in the weeks and months following the truck accident. Let our San Diego truck accident lawyers fight for the justice you deserve. Call Jurewitz Law Group Injury & Accident Lawyers at (619) 233-5020 right now if you've been hurt in a truck accident and want legal assistance from a team you can trust.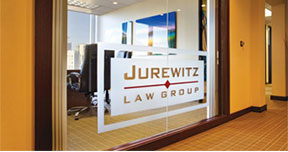 600 B Street, Suite #1450 San Diego, CA 92101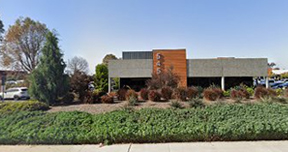 5451 Avenida Encinas, Suite H, Carlsbad, CA 92008