Recreational Vehicle (RV) and Motorhome Accidents
After years of representing those who have been injured in the course of an RV accident' the vehicle accident injury lawyers at the Jurewitz Law Group Injury & Accident Lawyers have seen firsthand the devastation of these incidents. However' our legal team has also seen the hope and recovery attainable by those who hold at-fault parties responsible for their losses and receive the compensation they deserve. Call RV accident attorney Ross Jurewitz today at (619) 233-5020 and receive a free consultation. Our years of success can give you the information you need in your search for compensation.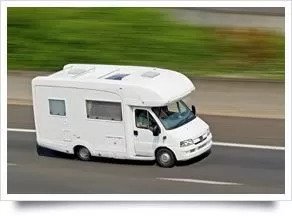 For many San Diego residents' RVs are a fun' comfortable getaway from home. However' they can present unique dangers' either due to manufacturer defects or crashes caused by other reckless drivers on the road.
RV Hazards
RVs can be involved in auto accidents like any other vehicle on the road. Often' these collisions are due to the negligent or reckless actions of another driver. However' due to the nature of motor homes' passengers who are not buckled up can suffer worse injuries due to a lack of protection. Additionally' collisions can cause the wide variety of materials within the vehicle to be thrown across the cabin and strike occupants. Any of these situations can result in major injuries.
In addition to these dangers' RVs are subjected to several unique hazards due to their differences from other vehicles. Some of the most common types of injury-causing RV accidents include:
Fires – Due to propane gas leaking within the vehicle.
Blown Tires – Due to being underinflated or overinflated for the weight of the RV.
Failing Brakes – Since RVs are especially heavy' brakes that are not strong enough or are defective can cause a collision.
Steering Problems – Failing steering wheels and columns can cause these large vehicles to be unable to avoid hazards or to lose control.
Rollovers – Because of the height of the vehicle' sharp turns or serious collisions may cause the RV to roll over ' leading to major injuries.
Bridge Collisions – If a bridge is too low and its height is unmarked' the top of the RV may collide with the bottom' often destroying the vehicle.
In the wake of your accident' it is important to determine what exactly caused the incident and how you were injured. By doing so' you can better identify what evidence you will need to collect and who you can hold responsible for your losses.
San Diego RV Accident Lawyers Provide A Better Future for You and Your Family
Whether you have been injured due to RV mechanical failures' poorly designed roadways or a collision with a reckless driver' you deserve skilled legal representation that will fight for your future well-being. Through a call to the Jurewitz Law Group Injury & Accident Lawyers' you can receive a free consultation on your case that provides you with vital information regarding your losses and potential legal courses of action. Call San Diego accident lawyer Ross Jurewitz at (619) 233-5020 or (888) 233-5020 and begin the road to recovering from physical and financial losses.