Victims Injured by a Driver on a Cell Phone
There may be countless distractions competing for a driver's attention at any given moment on the road, but that does not mean that drivers are any less liable in the event of a distracted driving accident. There is no excuse for multi-tasking while driving. In the split-second it may take to glance at a cell phone' a motorist can cause a catastrophic collision and even casualties.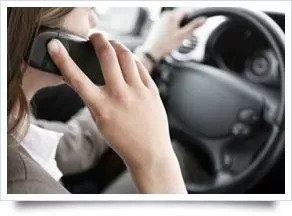 If you have been injured or lost a loved one in a cell phone auto accident, you deserve to have justice. The top San Diego personal injury lawyers at the Jurewitz Law Group Injury & Accident Lawyers have devoted their careers to protecting those who have suffered due to others' negligence. As a small firm with big resources', we can provide the personal attention you need and deserve to recover your rightful compensation. Do not forfeit your right to take legal action by waiting too long. Call us for a no-cost case evaluation at (888) 233-5020 or submit an online contact form.
Since it is illegal in California to use a cell phone while driving' most drivers will not readily admit that he or she was talking or texting on a cell phone at the time of a collision.
Why should I hire a personal injury attorney for my case?
A personal injury attorney can be a deciding factor in whether you obtain compensation following an accident or if you walk away empty-handed. Quality legal representation is vital to getting a settlement and bringing justice to those who chose to drive distracted and put your health and life in jeopardy.
Knowledgeable and experienced personal injury attorneys can help ensure that you get the justice and compensation you need. They can help you understand your legal options, build a solid case, and provide aggressive representation for you in the settlement process, or the courtroom if your case gets to that point. Having a strong understanding of personal injury law, they will work to build a case that gives you the best possible chance of winning compensation.
Personal injury attorneys also understand that insurance companies are not your best friend. When filing a personal injury claim, you are often going up against the insurance companies, who have an incentive to give out as little as possible. They will often resort to tactics during the settlement process to try to get away with a lowball settlement or dodge the claim altogether. Some companies will even resort to dirty tactics such as tracking your social media or other behaviors to attempt to establish that the severity of your injuries is not as much as your claim, or that that specific accident did not cause your injuries. Simply put, having a qualified and experienced personal injury attorney on your side does a great deal of good towards getting compensation for your claim, and making sure those that are responsible for the accident don't walk away without consequences.
Why should I hire the Jurewitz Law Group Injury & Accident Lawyers?
Jurewitz Law Group Injury & Accident Lawyers brings a significant amount of experience and knowledge to every case we handle, establishing ourselves as some of Southern California's most accomplished personal injury attorneys. Being featured on high-profile media outlets such as CNN and TIME Magazine, we seek to be advocates of those injured in accidents while avoiding the distant big law firm attitude, promising to treat every case and client as unique. This is how we have maintained a perfect A+ rating in service towards our clients from the Better Business Bureau since 2011, with our lead attorney, Ross Jurewitz, maintain a perfect 10/10 rating on legal services website Avvo, which aggregates client experience, attorney experience, and awards. With this commitment to attention to our clients comes an outstanding level of service – as members of the Million Dollar and Multi-Million Dollar Advocates Club, we have an extensive track record of bringing down large settlements for our clients.
Our attorneys, on an individual basis, have also been the subject of much acclaim for their work in the courtroom and their dedication to every one of our clients' cases – at Jurewitz Law Group Injury & Accident Lawyers, you are not just another name in our system. Several of our attorneys have been named to San Diego Business Journal's "Best of the Bar" over the last few years, representing the top legal talent in San Diego. Attorney Ross Jurewitz has been selected to Super Lawyers in California, demonstrating a high level of peer recognition and results, as well as a Top 100 Trial Lawyer by National Trial Lawyers.
What Damages Can Be Recovered After a San Diego Cell Phone Accident?
While taking legal action may seem unnecessary and inconvenient after an auto crash, or the loss of a loved one' filing a personal injury or wrongful death case against the negligent driver can provide the financial support you need in your recovery. Money cannot erase the emotional and physical trauma you have suffered', but obtaining a significant settlement can ease the costs of the following types of damages:
Medical bills
Lost current and future wages
Rehabilitative care
Pain and suffering
Loss of companionship
Funeral and burial expenses
Unfortunately, accident survivors are often left with severe and life-changing damages', but taking legal action may bring a sense of justice in addition to financial relief.
Can You Prove a Driver was Using a Cell Phone While Driving?
To prove the at-fault party was responsible for the collision' there must be proof that the driver was negligent. It may be in your best interest to contact a legal team that has the resources necessary to investigate the circumstances of the cell phone-related collision on your behalf.
The Jurewitz Law Group Injury & Accident Lawyers has helped numerous clients find success in cell phone accident cases by gathering the following types of evidence:
Cell phone records
Accident reconstruction reports
Police reports
Traffic surveillance footage
Medical records
Witness testimonies
With an experienced attorney on your side' it will be possible to gather vital evidence that the negligent driver was breaking the law. It is important to note that 'negligence' is a term with a specific legal meaning, and is a process to prove. To prove that the driver was negligent, we must prove that the other driver violated a duty to keep you safe on the road – and that their specific actions led to your injuries. Generally, we will also have to prove that you suffered financial losses from the incident to obtain a settlement. Luckily, with an experienced personal injury attorney on your side, you will have the best chance possible to obtain a settlement that can help you pay off medical bills and get your life back on track.
Is it Legal to Use a Hands-Free Cell Phone Behind the Wheel in San Diego?
Studies have found that even hands-free cell phones can be as dangerous and distracting to use on the road as manual texting. While it may not be illegal for drivers ages 18 and older to use hands-free phones behind the wheel in California' if an accident occurs as a result of the driver's inattention' the injured party may still be entitled to recover financial reimbursement for his or her losses.
It can be challenging to prove that a driver's mind was not focused on the road', but an experienced and knowledgeable lawyer can build a strong case supported by evidence. Obtaining the at-fault driver's cell phone records can be particularly valuable in showing that the driver was either visually' manually' or cognitively distracted behind the wheel.
Even if the driver was not breaking any laws by using a hands-free phone while driving does not mean that he or she cannot be held accountable for causing a catastrophic car accident.
San Diego Car Accident Attorneys Protecting Your Right to Compensation
The experienced and compassionate San Diego car accident attorneys at the Jurewitz Law Group Injury & Accident Lawyers can provide the guidance and legal representation you need to overcome the challenges following a cell phone auto accident. If you have been injured or lost a loved one' you may be entitled to receive significant financial compensation from the at-fault driver. Do not wait to take action.
Contact our San Diego distracted driving accident lawyers by calling (888) 233-5020 to discuss your legal options. We will work on your behalf to protect your best interests while you focus on your recovery.
Additional Information