Top-Rated Child Injury Attorneys
Your child deserves a fighting chance at life. No one's negligence should be able to change that. Jurewitz Law Group Injury & Accident Lawyers takes an injury to a child seriously. Whether a dog attack, a car crash, or a school incident caused the trouble, we'll treat your child like our own.
Recovering Damages For Children
The San Diego child injury attorneys of Jurewitz Law Group Injury & Accident Lawyers know the importance of receiving full and fair compensation. The person who caused your child's injuries should have to suffer the consequences of their actions. When you hire us, you can depend on our legal team to seek the justice you deserve.
If your child was injured in San Diego, call Jurewitz Law Group Injury & Accident Lawyers for your initial free consultation and case evaluation.
Let us fight by your side and help you heal from your serious injuries and be on the road to recovery. Not all law firms are the same. See how we value and treat our San Diego attorney-client relationship. Reach out today for a free case evaluation.
Download PDF
CHILD INJURY ATTORNEYS IN SAN DIEGO
Legal Help for Children Who Have Been Seriously Injured
If your child has been injured due to another person's careless actions, contact Jurewitz Law Group Injury & Accident Lawyers as soon as you can. With our assistance, you and your child will have a fighting chance at gaining the financial support necessary for medical care, lost time at work, and other losses. But do not wait to call. The sooner you act, the stronger your chances are of getting full and fair compensation from the at-fault party. Call (619) 233-5020, we have a No Fee Guarantee. If we accept your case, you will not owe us a cent unless we reach a settlement or judgment in your case.
Common Types and Causes of Child Injuries
The injuries your son or daughter sustained depend on the type of accident that occurred. The most common causes of injuries are:
Child Care Abuse – When you leave your son or daughter in another person's care, you trust that they will keep them safe and healthy. Common signs that your child is the victim of abuse are unexplained injuries, night terrors, fear of a specific individual, and withdrawal from friends and activities.
Child Pool Accident – Public swimming pools are hazardous to young children, especially those that don't know how to swim. A poorly trained lifeguard, broken pool tiles, or a slippery surface could lead to injury or death of a young person.
Defective Baby Sling – Carrying your baby safely in a sling makes your life easier and frees up your hands for other tasks. Unfortunately, defective and recalled baby slings result in suffocation, falls, and other problems.
Electrocution – Children are unaware of the potential shock they could receive from playing around electrical cords and outlets, and sometimes, they're harmed by using toys or devices in the appropriate way.
Motor vehicle crashes – Car accidents can result from driver error, vehicle part malfunctioning, adverse weather, or dangerous roadways.
Defective toys – Manufacturers should test their products for safety and quality standards before releasing them to the public. Toys containing dangerous defects could lead to suffocation, electrocution, and various other injuries or death.
Falls – Small kids haven't developed balance skills yet and might fall frequently. However, specific situations could allow you to hold someone else accountable for your child's injuries during a fall. For example, a business owner could be at fault for failing to mop up a wet floor.
Fires – A toy containing faulty electrical components could spark a fire, causing burn injuries to a child.
Medical malpractice – Healthcare professionals can make errors, such as misdiagnosing the patient, using unsterilized tools during a procedure, or implanting defective medical devices. Injuries, illnesses, and fatalities could result from these mistakes.
Dangerous playground equipment – Things you might find on a playground, such as a swing set, could contain toxic chemicals or flimsy materials used to construct or assemble it. The manufacturer could be liable for using a poor design, making an error during the manufacturing process, or failing to warn the user about potential hazards.
Defective furniture – Children's dressers, baby cribs, and other furniture could easily tip over and pin a child beneath, leading to injuries or death.
Dog bites – Dog owners should restrain their pets, especially when out in public. Children are especially vulnerable to severe injuries during a dog attack and could suffer subsequent injuries if they get knocked to the ground or bitten during the attack.
The most common injuries children suffer are:
Suffocation
Internal injuries
Nerve damage
Lacerations
Facial disfigurement
Infections
Soft tissue injuries
It's upsetting to know the injury your child suffered was potentially avoidable. The negligent party that caused the accident should be held liable. The medical bills and other expenses you're likely to incur while your child recovers should not be your responsibility. The at-fault party should provide the necessary compensation, so you're not forced to pay for anything out of pocket.
How Can an Attorney Help Me with My San Diego Child Injury Claim Case?
At Jurewitz Law Group Injury & Accident Lawyers, our San Diego child injury lawyers not only provide clientele with aggressive and devoted legal representation, but also have the resources to back it up. We will use the full scope of our skills, knowledge, and connections to ensure that the party responsible for your child's injuries is held liable, whether that party is comprised of an individual or a company. In order to accomplish this, we may:
Consult with medical experts to determine the extent of your child's injuries and the associated costs;
Make a complete reconstruction of the accident that hurt your child, with help from professionals;
Conduct a thorough investigation of the accident site and gather material evidence; and,
Obtain witness statements.
We will also help you handle the insurance company and prevent them from sabotaging your claim. Please be sure to speak with one of our attorneys before giving anything, whether it's a recorded statement or a signature, to the insurance adjuster.
Possible Compensation Available in a Child Injury Case
The amount of compensation you can pursue for your child's injuries will depend on the party who is at fault for the incident. For example, a negligent driver that caused a car crash could be held liable through an insurance claim. A business owner could be to blame for inadequate maintenance of their property, and you might sue them in court. The losses you might be able to seek include:
Medical bills
Lost wages
Lost earning capacity
Pain and suffering
Physical impairment or disfigurement
Property damage
Emotional distress
Loss of enjoyment of life
Below are the most common types of accidents that cause children's injuries and the parties that may be held liable in children's injury cases.
Car Accidents
California follows a fault system, meaning the driver responsible for the accident becomes financially responsible for your child's injuries and resulting losses. Filing a liability claim with their car insurance company could recover compensation for a range of past and future losses.
Premises Liability
Kids can injure themselves at someone else's home or business. Owners must routinely maintain and repair their properties to prevent visitors from getting hurt. Many companies carry business liability or general liability insurance to cover an accident victim's losses. Homeowners might purchase homeowner's insurance with liability coverage. You could file a claim or even sue the owner of the company or home for compensation.
Examples of places that could contain dangers resulting in injuries to children are:
Daycare centers
Public swimming pools
Playgrounds
Parks
Schools
A friend or family member's house
Defective Products
Manufacturers of children's products could be responsible for a defect if they used a dangerous design, incorrectly assembled the product, or failed to provide warning labels. Filing a lawsuit against the manufacturing company could result in a significant payout if there's sufficient evidence of their mistakes.
Common defective children's products include:
Toys
Strollers
Cribs
Clothes
Bicycles
Car seats
Medical Malpractice
Doctors, nurses, and other healthcare professionals have experience and training in caring for young children. However, they're also human and can make mistakes. Unfortunately, those mistakes could cause injury or illness. A medical malpractice claim against a specific individual or facility might be necessary if your child's doctor:
Prescribed the wrong medication or dosage
Provided inadequate pre- or post-op care
Administered the incorrect amount of anesthesia
Performed an unnecessary surgery
Used too much force during delivery, causing birth injuries
Used a defective medical device
The San Diego child injury attorneys of Jurewitz Law Group Injury & Accident Lawyers are familiar with cases like this and can investigate and determine who the responsible party is. We will remain in your corner throughout the entire process and aggressively seek the justice your child deserves.
If your child was injured as a result of someone else's negligence, our attorneys can help you hold the responsible party accountable. Get in touch with our child injury attorneys for a free consultation.
Contact Us

What Are the Statistics Regarding Child Injury?
Below are important facts and statistics on child injuries based on data collected by the Centers for Disease Control and Prevention:
Male children generally have a higher injury rate than female children.
Falls are the leading cause of child injury, sending approximately 2.8 million children to the emergency room each year.
Children between the ages of 0 and 9 are more likely to be injured by being struck by or against an object, bitten by an animal, or stung by an insect.
Children between the ages of 10 and 14 are more likely to be injured by being struck by or against an object and overexertion.
Children between the ages of 15 and 19 are more likely to be injured in motor vehicle accidents.
Suffocation is the leading cause of injury for infants less than 1 year of age.
It is very important that you watch your child closely in order to prevent him or her from being injured. If your child is a teen, remind him on a frequent basis about safe behavior, even if it doesn't seem like he's listening; he is.
An average of 12,175 children between 0 and 19 years old die in the United States every year from unintentional injuries. The cause of these fatalities depends on the age group:
Less than one year – Suffocation
One to four years – Drowning
Five to 19 years – Occupant in a motor vehicle accident
It is very important that you watch your child closely to prevent him or her from being injured. If your child is a teen, remind them frequently about safe behavior. Even if it doesn't seem like they're listening, they are.
The Ugly Truth About Child Injury
As much as we don't want to think or hear about a child being hurt, we can't avoid the fact that children are extremely vulnerable and serious injuries do happen to them. As a parent, you do everything in your power to protect your children and keep them safe. Unfortunately, that is not always enough. Let's look at some cases where negligence led to the injury of children:
As a resident of the San Diego area, you probably remember the incident where a 70-year-old grandmother accidentally ran her car into ten people – nine children, including an 11-month-old – outside a Del Mar Heights elementary school. Fortunately, the most serious injury was a broken leg that a 5-year-old suffered. While the grandmother was not criminally charged, she could face civil charges for the recovery of medical costs, and more from parents whose children were injured.
A truly tragic event occurred in Seal Beach when a reportedly "drugged" driver caused a chain reaction collision that resulted in the death of a 7-year-old girl and severe injury to her 13-year-old sister. The 36-year-old driver who caused the accident has been charged with gross vehicular manslaughter, but he may also face civil charges for wrongful death and serious injuries.
It's not always a negligent driver that causes injury to a child. A defective product can also injure a child. Car seat manufacturer Combi USA recently issued a recall for certain models of its car seats. Government studies have found that these seats put small children at an increased risk for chest injuries. If a child was injured due to a design or manufacturing flaw in this product, the car seat's manufacturer could be held liable.
These are just a few real-world examples of negligence causing injury to a child. Unfortunately, this could occur in many ways: falls from playground equipment, swimming pool accidents, trips and falls, sports injuries, and more.
The Centers for Disease Control and Prevention (CDC) report that more than 9.2 million individuals between the ages of 0 and 19 visit the emergency room for accidental injuries.
The Centers for Disease Control and Prevention (CDC), report that more than 9.2 million individuals between the ages of 0 and 19 visit the emergency room for accidental injuries
READ OUR MOST
Child Injury Frequently Asked Questions
Jurewitz Law Group Injury & Accident Lawyers understands the importance of getting the answers you need after this traumatic experience. You probably have questions about the legal process and how to recover compensation. We've answered some of the questions clients asked us most often about their child injury cases. For a more comprehensive understanding of how to prepare for what's to come, contact us at (619) 233-5020 for a free consultation.
Is there a deadline to file a lawsuit?
Yes. California has a two-year statute of limitations for injury cases. That means you have two years from the accident date to sue the party responsible for your children's injury or illness.
What should I do if my child died in an accident?
You might be entitled to compensation from a wrongful death claim if your child died in a car crash, from medical malpractice, or from another negligent act. You only have two years from the date of their death to file your lawsuit. There's a range of losses you could pursue from the at-fault party, including funeral and burial costs.
What should I do if someone causes my child's injuries?
Take your son or daughter to the hospital or doctor immediately. You should also hire an experienced attorney to assist you with the legal aspects of your case. It's best that we begin the investigation soon after the accident to obtain the evidence necessary to prove who was at fault.
Keeping Your Child's Future Bright
Contact Jurewitz Law Group Injury & Accident Lawyers Today
The San Diego personal injury lawyers at Jurewitz Law Group Injury & Accident Lawyers are committed to ensuring that every child has a fair shot at a bright future. If another person is responsible for harming your child, we will take every measure possible to hold him or her accountable.
You won't have to go through this devastating ordeal alone. Our legal team will provide the one-on-one attention you need and deserve. You will be our top priority as we're seeking the maximum compensation available to cover your losses.
Our San Diego child injury attorneys are available 24/7 to speak with you about your case. We aim to provide dependable customer service to accident victims throughout the Golden State. You can reach us when you need us the most and receive legal guidance and support.
Let us fight to get you the money you need to give your child the best care possible. Contact Jurewitz Law Group Injury & Accident Lawyers today at (619) 233-5020 for a free consultation.
No words can begin to describe the relief I feel to be able to pay my medical bills and continue on with my life with a fresh new start. The fact that there is absolutely nothing lingering over my head makes me incredibly happy.
- - JOSHUA H.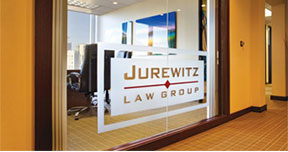 600 B Street, Suite #1450 San Diego, CA 92101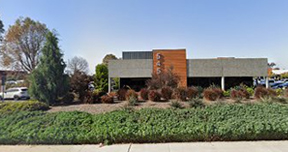 5451 Avenida Encinas, Suite H, Carlsbad, CA 92008