Compensation for Trolley Accidents and Injuries
San Diego has a great public transportation system. The most popular of which is the "red-line" trolley system operated by the Metro Transit System (MTS) that runs throughout San Diego County. San Diego's trolley system can take you pretty much anywhere you need to go throughout the City. Nearly 120'000 people ride it every day and it is the 6th oldest trolley system in America.
Unfortunately' the San Diego trolley system has been the site of serious and fatal injuries throughout recent years. These injuries can occur both inside and outside the trolley car. People have been injured while riding the trolley when the operator makes a sudden stop or if the train gets detailed.
Outside the trolley car' many people have been struck and killed by a moving trolley car. At times' these collisions are not the fault of the pedestrian or bicyclist. Sometimes an operator will fail to honk their horn and warn the pedestrian of the train's presence. Other times' the trolley car's lights won't work' and the pedestrian does not see the trolley car until it is too late.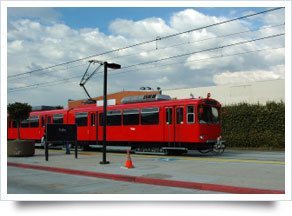 A trolley can injure or kill it's passengers' pedestrians and bicyclists walking nearby' and car drivers who cross on the trolley tracks. Our top attorneys are here to help.
Primary Causes of Trolley Accidents:
Sudden stops made by the trolley operator.
Pedestrians and bicyclists that step onto the trolley tracks.
Worn and improperly maintained trolley tracks.
Negligent operation of the trolley.
Defective trolley car.
How Can Our San Diego Trolley Accident Lawyers Help?
The San Diego car accident injury lawyers at the Jurewitz Law Group Injury & Accident Lawyers are experienced trolley car accident attorneys. We have represented people that have been injured while riding on the trolley' and also people who were struck by a trolley. We have been able to attain favorable settlements for our client's claims because we have been handling trolley accidents for years. If you or someone you know has ever been in an accident involving the San Diego trolley' please call our law office at (888) 233-5020 for a free consultation.
Let Our San Diego Personal Injury Attorneys Answer Your Trolley Accident Case Questions
What Are Some Common Causes of Trolley Accidents?
Trolley accidents are caused by a wide range of human and mechanical errors. Many times' pedestrians will step onto the tracks' and if the trolley does not turn on the necessary warning signals' a collision can easily occur. When the tracks or the trolley itself are damaged or poorly maintained' the chances of an accident occurring increase significantly. Also' if the trolley operator is inexperienced' inattentive' or intoxicated' the lives of passengers' pedestrians' and drivers are placed at risk. Accidents involving two or more trolleys on the same track have also occurred when the driver of one made a sudden or unexpected stop during a normal route.
I've Been Involved in a Trolley Accident. Am I Entitled to Monetary Compensation?
Depending on the circumstances surrounding your accident' and who is at fault' you may be able to file a civil claim against the trolley company' the makers of the trolley itself' or the driver. Even if the responsible party is not found guilty of a criminal act' most of the time' the law will still allow you to take that party to civil court. If a judge determines that you deserve compensation' the court will decide the amount' not your lawyers. A court may find that the responsible party owes you for:
Present and future medical bills
Lost wages
Pain and suffering
Living expenses
At any time during the trial' the responsible party can present you with a settlement offer. This is a monetary amount that a person or organization offers to the plaintiff. If this occurs' your lawyer may offer legal counsel' but only you can choose to accept or reject the settlement. If you accept' the trial will not move forward.
Do I Have to Hire an Attorney?
The answer to this question is no; you are not required by law to hire legal representation. However' if you choose to represent yourself in court' the odds will more than likely be stacked against you. The defendant will hire numerous attorneys' trolley and transportation experts' and other specialists to defend themselves against you. If you lack the necessary legal knowledge to defend yourself' you will probably lose your case. The court system is also very formal' and there are many procedures to follow and rules to adhere to. If you want to increase your chances of getting the compensation you deserve significantly' it would be incredibly wise to hire an attorney.
Someone I Care About Was Killed or Severely Injured in a Trolley Accident. Can I File a Claim on Their Behalf?
This is a common question' and there is no concrete answer. In the event of death' immediate family members' such as parents' children' siblings and spouses are almost always allowed to file a civil claim on behalf of their loved one. If you are not in one of these categories' you more than likely will not be allowed to put forth a claim. Losing a loved one in this manner can be terribly painful' and you will need legal representation if you decide to take the responsible party to court.
It's Been Years Since I've Been in a Trolley Accident. Can I Still File a Claim?
Depending on your jurisdiction' you may still be able to file a claim. Unfortunately' most jurisdictions only provide victims with a limited amount of time to file a suit. This window of time is known as a "statute of limitation."
The Experience You Need
Jurewitz Law Group Injury & Accident Lawyers has extensive experience handling trolley cases' and our team of San Diego personal injury attorneys would love to review your case. We have helped pedestrians' passengers' and drivers win cases against MTS. Call our law office today at (619) 233-5020 to learn more about us.