San Diego Bike Accident Lawyers
Bicycling is great – until a distracted driver bumps into you. Then, you're facing serious injuries, jaw-dropping medical bills, and other inconveniences like not being able to work (or sleep). Let Jurewitz Law Group Injury & Accident Lawyers help you hold that negligent driver responsible.
The San Diego bicycle accident attorneys of Jurewitz Law Group Injury & Accident Lawyers know the importance of receiving full and fair compensation after a crash. Another person caused your injuries and should have to suffer the consequences of their actions. When you hire us, you can depend on our legal team to seek the justice you deserve.
If you or a loved one were injured in a bike accident in San Diego, call Jurewitz Law Group Injury & Accident Lawyers for your initial free consultation and case evaluation.
Let us fight by your side and help you heal from your serious injuries and be on the road to recovery. Not all law firms are the same. See how we value and treat our San Diego attorney-client relationship. Reach out today for a free case evaluation.
Download PDF
Top Bicycle Accident Lawyers in San Diego
Legal Representation for Victims of Bike Accidents
San Diego provides an excellent environment for cycling, which is why so many residents use bicycles to run errands, commute to and from work, and just get around town. And while it's a good thing that people choose to get fit and contribute to a better global environment, more bicycles on the roads means more potential for accidents. When a bike is involved in an accident with a motor vehicle, the bicyclist has a higher likelihood of severe injury or death. Drivers of cars, trucks, and motorcycles have a duty to look out for cyclists and allow them their legal right-of-way while navigating San Diego's busy roads and streets. Unfortunately, many drivers do not take this duty seriously.
If you've been injured or lost a loved one in a bicycle accident due to the negligence or reckless behavior of a motor vehicle driver, you have the right to compensation from them and their insurance company. But don't expect the insurance company involved just to cut you a check. That's not likely going to happen. Insurance companies are notorious for denying claims, delaying payouts, and trying to get plaintiffs to settle for far less compensation than they deserve.
Don't let them do this to you. The San Diego injury attorneys at Jurewitz Law Group Injury & Accident Lawyers hate seeing injury victims get taken advantage of by insurance companies and have spent nearly 20 years fighting to ensure that it doesn't happen. To get Ross Jurewitz's experience and knowledge behind your claim, call (619) 233-5020 for a free case evaluation.
San Diego Bicycle Accident Laws & California Vehicle Code
Why Choose Jurewitz Law Group Injury & Accident Lawyers to Handle My Case?
Jurewitz Law Group Injury & Accident Lawyers has spent nearly 20 years fighting for the rights of bicycle accident victims in California. We are a member of the Million Dollar Advocates Forum, one of the most well-respected trial lawyer groups in the country. Membership is limited to attorneys who have won multi-million dollar verdicts and settlements. Less than 1% of attorneys in the United States are members of this prestigious group.
Some of our notable bicycle accident settlements include $235,000 awarded to the family of a child riding a bicycle who was struck by a truck in Imperial County, $200,000 in a bicycle-motor vehicle sideswipe accident, $100,000 in a San Diego bicycle accident, and $67,500 in a San Ysidro bike accident.
If you've been severely injured in a bicycle accident by no fault of your own, you are almost always better off when you hire an attorney. Legal representation will get you, on average, 3.5 times more settlement money than if you do not hire an attorney.
At Jurewitz Law Group Injury & Accident Lawyers, our experienced San Diego bicycle accident attorneys listen to our clients and treat them the way we want to be treated. When you sit down with us for an initial consultation, our compassionate personal injury lawyers will walk you through the process. We will explain what you can expect from your particular bicycle accident case, and you can make an informed judgment about your best legal options.
Do not wait to contact Jurewitz Law Group Injury & Accident Lawyers if you've been injured in a bicycle accident in the San Diego area. The sooner you call us, the sooner we can get started on your case and help you recover the full and fair compensation you deserve. Call us any time at (619) 233-5020.
What Should I Do If I'm Injured in a Bicycle Accident?
If you get hurt in an accident while riding your bike, you need to take specific steps immediately. After leaving the crash scene, go to the hospital or visit your doctor. It's vital that you seek treatment right away. Don't wait until days or weeks later for an evaluation of your injury. Insurance companies are rarely on the claimant's side. They want to avoid paying out a settlement, and a gap in treatment is the perfect reason to offer a lowball settlement number or deny the claim entirely.
You should also hire a San Diego bike accident lawyer from Jurewitz Law Group Injury & Accident Lawyers. We can focus on the legal aspects of your case while you're recovering from your injuries. Be sure to attend all doctor's appointments regularly and inform us of your medical providers' names so we can request copies of your records.
Medical evidence could improve your chance of securing the maximum available settlement. These records show that you suffered an injury in the accident instead of having a preexisting condition or being injured in some other incident. They also provide a timeline of the treatment you received and the costs you incurred.
Some people fall victim to common pitfalls during insurance claims and lawsuits. Making these mistakes could negatively affect the outcome of your case:
Speaking to the insurance adjuster. They will likely call you after you file your claim to try to speak with you about the accident. Give them our contact information, and we'll communicate with them on your behalf. During these conversations with accident victims, the tactics they use are to get them to admit fault or provide information that justifies a denied claim.
Admitting partial responsibility for the crash. State laws allow juries to reduce a person's monetary losses by the percentage of fault they share. You might feel the need to apologize to the driver immediately after the accident or explain what happened to the officer at the scene but don't. It's best that you say as little as possible while your case is pending.
Oversharing information on social media. Sometimes, accident victims will post about what they've just been through or share pictures of the damage to their bike or physical injuries they sustained. That could hurt your case. Believe it or not, defense attorneys and insurance companies will often review the plaintiff's online activity for evidence they can use against them.
Common Bicycle Accident Scenarios
The following scenarios are common among bicycle-motor vehicle collisions:
Left-hand turn collision: California Vehicle Code section 21801(a) states that all drivers attempting a left-hand turn must first check for and yield to any vehicles approaching from the opposite direction, including bicycles. Unfortunately, many drivers do not see bicyclists coming and crash into them while making a left turn.
Sideswipe: All motorists are expected to give bicyclists enough space when passing. However, some motorists get impatient and attempt extremely risky passes, which can resulting in a sideswipe collision or the bicyclist getting run off the road.
Dooring: On many streets, the bicycle lane is adjacent to the parking lane, without much space in between. In this type of accident, a driver forgets to check for bicyclists before exiting their parked vehicle, which causes the unlucky bicyclist to crash into the door or swerve out of the way into traffic. In either scenario, the consequences can be deadly.
Intersection collisions: A motorist may fail to stop at an intersection, or fail to yield to a crossing bicyclist, causing a dangerous or fatal collision.
Rear-end accidents: There isn't always a designated bike path. Sometimes, a bicyclist must share the road with motor vehicles. If a driver tailgates someone on their bike and traffic suddenly comes to a standstill, they could crash into the back of the bicyclist, launching them onto the pavement.
Road hazards: Potholes, debris, and other hazards in the middle of the road could prompt a motorist to maneuver around them, crashing into a bicyclist traveling next to their car.
Ignoring traffic signs and signals: Traffic laws don't just apply to motor vehicles. They also apply to bicyclists. There are times when the bicyclist has the right of way. Blowing through a stop sign at an intersection could result in a collision with a cyclist crossing the street.
Of course, there are bicycle accident cases that do not involve car or truck drivers. Unsafe roadway conditions and defective bicycle design/manufacturing can also contribute to accidents. If they do, those road designers and bike manufacturers could be held liable.
Types of Brain Injuries a Victim May Suffer
Even with helmets on, bicyclists are at elevated risk for traumatic brain injuries (TBI) in a collision, such as:
Concussion: The "mildest" form of TBI, concussions still present a risk of long-term brain damage if the victim has already suffered previous concussions, or suffers additional ones in the future. This can lead to a condition known as chronic traumatic encephalopathy, or CTE, which is linked to severe brain damage in professional football players and other athletes.
Contusion: Contusions are similar to "bruises" on the brain, resulting in swelling and internal bleeding. Surgery might be necessary to relieve pressure on the brain and prevent further damage.
Rotation or shaking injury: If the victim is shaken in the crash, he or she can suffer brain tissue tearing, internal bleeding, and more.
Coup-contrecoup injury: Occurs when the head is snapped back and forth, causing damage to both sides of the brain, usually cerebral contusions and subarachnoid hemorrhage. The frontal and temporal lobes are most often affected by a coup-contrecoup injury.
Penetrating or "open" injury: When an object penetrates the skull and reaches the brain, it is known as an "open" brain injury. A skull fracture may also lead to this injury. Immediate dangers include cerebral hemorrhage, brain tissue damage, and swelling. Open injuries are visible; "closed" head injuries like concussions, contusions, and coup-contrecoup are not.
Symptoms of a TBI include a headache, nausea, blurred vision, difficulty concentrating or remembering, slurred speech or dilated pupils, excessive fatigue, and seizures or convulsions. If you suspect a head injury, get medical help immediately.
Other common injuries bicycle accidents cause are:
Loss of limb
Broken bones
Road rash and lacerations
Spinal cord injuries
Disfigurement
Neck and back injuries
Paralysis
Psychological trauma
Permanent disability
Some injuries are permanent and can cause lifelong complications for the accident victim. If you become disabled after the bike crash, your life and daily routine will be significantly impacted. Ongoing physical therapy and other necessary treatment can lead to expensive medical bills. If you can't afford them, you'll continue to suffer through the pain and symptoms of your injury.
At Jurewitz Law Group Injury & Accident Lawyers, we understand the importance of receiving the maximum compensation possible. You need to pay for the costs associated with the accident and shouldn't be forced to reach into your own pocket. The at-fault driver should be held liable for their actions and provide the compensation you need to cover your total losses.
Possible Compensation You Could Seek After a Bicycle Accident
California has a traditional fault car insurance system. That means the at-fault party becomes financially responsible for the injured victim's losses. It's a legal requirement for all drivers to purchase liability insurance for their vehicles. The minimum coverage limits are:
$15,000 – Injury/death to a person
$30,000 – Injury/death to multiple people
$5,000 – Property damage
Even though you were on your bike at the time of the accident, you could still file a car insurance claim with the at-fault driver's insurance company. The settlement you might receive could compensate for the losses you suffered, such as:
Medical bills
Pain and suffering
Loss of enjoyment of life
Property damage
Physical impairment or disfigurement
Emotional distress
Inconvenience
Lost wages
Lost earning capacity
The San Diego bike accident lawyers of Jurewitz Law Group Injury & Accident Lawyers can file the claim on your behalf and obtain crucial evidence to prove to the insurance company that you deserve compensation. We could seek up to the maximum limit on the negligent driver's policy, depending on the circumstances of your case.
Most bicycle accidents involve collisions with motor vehicles, whose drivers commit negligent and/or reckless acts.
Contact Us

Bicycle Accident Statistics
In 2019, 843 bicyclists were killed in crashes with motor vehicles in the United States, according to the Insurance Institute for Highway Safety (IIHS). Bicyclist fatalities increased by 36% since 2010, the year when the number of deaths was at its lowest.
The IIHS also discovered that more males than females died in bike accidents in 2019. According to the data:
67 males under 20 years old and 652 at or above 20 years old were killed
12 females under 20 and 107 at least 20 years old died
Of all bicyclists 16 years of age and older involved in a fatal bike crash in 2019, 21% of them had a blood alcohol concentration of at least 0.08%. That's 791 people.
During that same year, the IIHS also broke down when and where bicyclists lost their lives in accidents:
# of Fatalities By Month
January – 55
February – 57
March – 58
April – 62
May – 68
June – 82
July – 102
August – 91
September – 77
October – 77
November – 59
December – 55
# of Fatalities By Time
Midnight to 3 a.m. – 58
3 a.m. to 6 a.m. – 52
6 a.m. to 9 a.m. – 105
9 a.m. to noon – 84
Noon to 3 p.m. – 96
3 p.m. to 6 p.m. – 130
6 p.m. to 9 p.m. – 177
9 p.m. to midnight – 139
# of Fatalities By Location
# of Fatalities by Road Type
Freeways and interstates – 22
Other major roads – 549
Minor roads – 267
In California, the period from 2016 to 2018 saw more bicyclist deaths in the last 25 years than other three-year periods during that time. Traffic-related accidents resulted in 455 bicyclist fatalities. That amounts to around 3.9 deaths per one million people.
Los Angeles County had the highest number of fatalities during the same three-year period. San Diego County was eighth on the list, with 15 biker deaths.
Men also seemed to be involved in fatal bicycle accidents more than women. In fact, 86 males between 45 and 54 years old lost their lives while biking compared to only 13 females in that same age group.
READ OUR MOST
Frequently Asked Questions
Jurewitz Law Group Injury & Accident Lawyers understands that the aftermath of a bicycle accident can be disorienting, confusing, and overwhelming. We have answered the most commonly asked questions below so you can prepare for the legal road ahead. You deserve the opportunity to recover the compensation you need to pay for your medical care and seek justice for the suffering you endured.
What's the deadline to file a lawsuit?
California has a two-year statute of limitations. That means you have two years from the date of the accident to file your lawsuit against the at-fault party. This is a strict deadline. If it passes before you can file suit, you'll likely lose your chance to hold them liable in court.
What should I do if an uninsured driver caused the accident?
Most people don't realize that they can file a claim with their own car insurance company even if they were injured on their bicycle. Uninsured motorist (UM) coverage follows the policyholder whether they're a bicyclist, pedestrian, or in another person's vehicle. It's available when the at-fault driver doesn't carry liability insurance.
However, UM is optional coverage. You'll need to check your policy to determine whether you have this coverage and what limits you chose to purchase. When you file a UM claim, you could pursue compensation for your medical bills, lost wages, and property damage. Some policies will even compensate for your pain and suffering.
Can I still seek compensation if I'm partially at fault for the accident?
Yes. However, the jury could reduce your monetary award by the percentage of fault you share under the pure comparative negligence statute. For example, if your losses totaled $100,000, but a jury determines you were 20% to blame for the crash, you could only pursue up to $80,000.
Protecting the Rights of Bicycle Accident Victims
Contact Us
The San Diego bicycle accident lawyers of Jurewitz Law Group Injury & Accident Lawyers understand how traumatic this experience has been. Many people face significant debt while paying their medical bills and associated expenses. Others can't afford treatment and wonder how they'll ever recover from their injuries.
When you hire our legal team, we will tirelessly work to secure a favorable outcome in your case. We are available 24/7 to take your call and speak with you when you need us most. You can feel confident knowing you have a capable advocate in your corner fighting for the justice you deserve.
If you were injured in an accident with a motor vehicle while riding your bike, you're going to need a dedicated legal advocate on your side. The San Diego personal injury attorneys at Jurewitz Law Group Injury & Accident Lawyers are passionate about accident victim rights. We will not let you get screwed by the unscrupulous insurance industry. Call (619) 233-5020 for a free consultation.
What I really appreciated about the Jurewitz Law Group Injury & Accident Lawyers is that they were prompt in their communication with me. They know what they are doing and I recommend them.
- BILL P.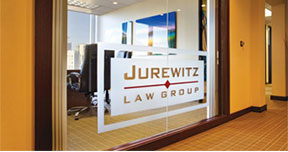 600 B Street, Suite #1450 San Diego, CA 92101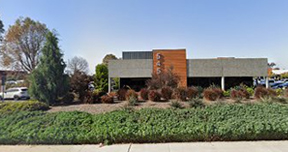 5451 Avenida Encinas, Suite H, Carlsbad, CA 92008