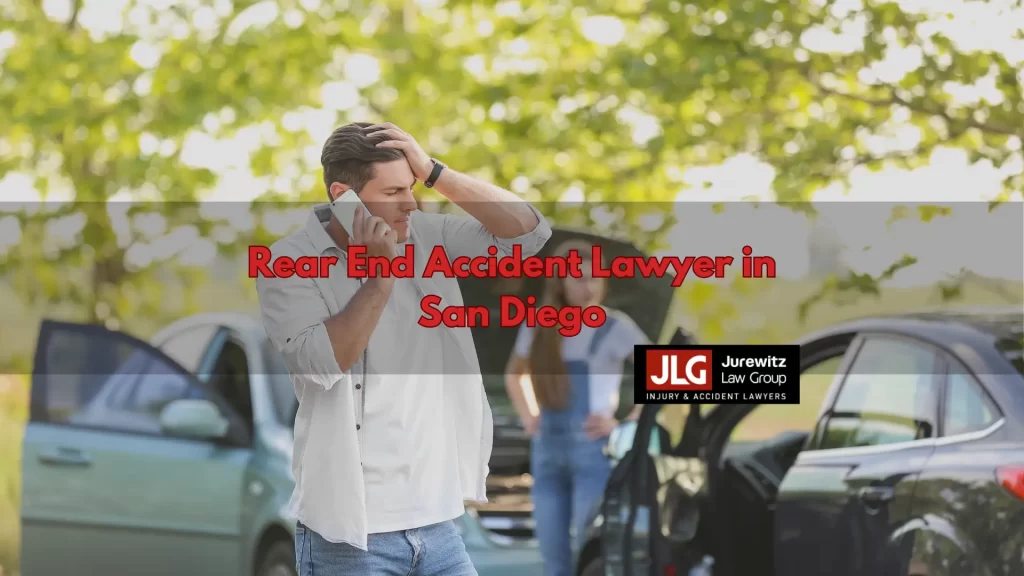 Hurt in a Rear-End Car Collision? We Can Answer Your Legal Questions
Have you recently been involved in a rear-end car collision? Has the accident left you' or a loved one' in significant pain? Are your injuries so severe they have impacted your work performance? Was the accident the direct result of another individual's lack of attention or outright disregard for the road? If so' you may have grounds to take legal action against the at-fault party. Call the Jurewitz Law Group Injury & Accident Lawyers today and explore your rights and options in a comprehensive case consultation. Our team has years of experience helping drivers and their families' located throughout the greater San Diego area' obtain the compensation they deserve. With proper representation through our firm' you stand an excellent chance of securing monetary awards from one or more of the following categories:
Emergency medical expenses
Property damage
Loss of wages
Hospital bills
Doctor's fees
Call (619) 233-5020 or submit your information online and a member of our team will contact you shortly.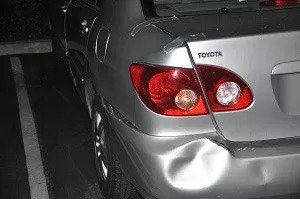 If you were the victim of a rear-end auto accident' you may be entitled to compensation. Contact our San Diego rear end accident attorneys immediately.
Keep in mind that time is of the essence when it comes to a personal injury claim in San Diego. The longer you wait to file' the harder it will be to obtain a favorable outcome. The reason for this is two-fold. First' a strong case is built upon strong evidence. Unfortunately, evidence and records can fade or get lost over time. By starting the process early we can head off any loss of vital information. Second' the state of California maintains a statute of limitations on all claims. This means' if you fail to meet the mandatory deadline' you will forfeit your right to compensation. Don't let the responsible party walk away while you struggle in pain. Contact us today and get the help you need to effectively fight back.
How Common Are Rear-End Collisions?
On San Diego roads, rear-end collisions are some of the most commonly occurring traffic accidents. In fact, according to a two-year report from the National Transportation Safety Board (NTSB), researchers found that approximately 50% of all two-vehicle accidents in the United States were rear-end collisions. Although these types of collisions are typically thought of as minor, they actually have the potential to be extremely destructive – even fatal at high speeds. Tragically, rear-end accidents result in an average of two thousand fatalities each year on a national level. According to a study from the Insurance Information Institute (III), these fatalities peaked at nearly 2.5 thousand in 2017.
How Could This Happen?
Fender benders happen a lot in San Diego and North County. However' when a rear-end accident is significant enough to cause moderate to serious injuries' it could point to something a bit more significant than underestimating a turn or bumping into a car while parallel parking. In all likelihood' the person that struck you was completely unaware or oblivious to your car being in front of them at all. As you can imagine' there are a multitude of ways in which this can happen' but some of the more common reasons often include:
Distracted Driving: a Primary Risk Factor
It's worth taking a closer look at distracted driving, given its role in causing rear-end crashes. Within a recent study from the NTSB, researchers deduced that "87 percent of rear-end crashes involved a driver failing to attend to the traffic ahead." This finding suggests that the leading risk factor for rear-end collisions is, in fact, distracted driving.
Although California legislators have implemented laws aimed at reducing the overall occurrence of distracted driving, the phenomenon continues to seriously affect drivers every day. According to studies conducted by the Centers for Disease Control and Prevention (CDC), scientists have found that there are three primary classes of distracted driving, including:
Visual Distraction – These types of distractions occur when a driver takes their eyes off the road to focus on something else, like responding to a call or text message, speaking with another passenger, or switching a song on a music streaming application. In many cases, visual distractions can be accompanied by manual and cognitive distractions.
Manual Distraction – These types of distractions are also commonly accompanied by cognitive and visual distractions. A driver can become manually distracted if they're eating while operating their vehicle, soothing a fussy child, or texting while driving.
Cognitive Distraction – Cognitive distractions are characterized by a driver's failure to maintain mental focus on the task of driving. There are many things that could cause a driver to become cognitively distracted, including not getting enough sleep, becoming emotionally upset, or even focusing too much on a song.
One of the most prevalent causes of distracted driving is texting while driving. Because texting and driving incorporate visual, manual, and cognitive distractions, it severely threatens the safety of passengers, pedestrians, and other drivers on the road.
In fact, California has classified texting while driving as an infraction. According to a report from California Car Laws, "drivers are not allowed to use mobile phones for calling, nor reading or writing text messages while driving on a public road." At best, violating these parameters could result in a small fine. At worst, violating these parameters could result in a fatal collision.
What Happens During a Rear-End Collision?
Through years of carefully studying the logistics of rear-end accidents, physicists have deduced that "rear-ending a stationary car while traveling at 30 miles per hour is equivalent . . . to crashing into a wall at 15 miles per hour." Unsurprisingly, the stationary vehicle ends up absorbing the brunt of the impact force. If the impacted vehicle is smaller or more fragile than the impacting vehicle, then the impacted vehicle could sustain a severe amount of damage.
Certain types of vehicles are more susceptible to being involved in fatal rear-end collisions than others. For example, a minivan has a much smaller rear crumple zone than a standard sedan. If a minivan is rear-ended at a high speed, then that limited crumple zone could completely cave in – effectively rendering the backseat one of the most dangerous locations in the vehicle. For the disreputable Ford Pinto, a fatal design flaw meant that rear-end collisions could result in deadly fuel-fed fires.
Staying focused on the road ahead could mean the difference between avoiding a rear-end collision and causing one. If needed, set your phone on airplane mode to avoid the temptation of texting and driving, or use a hands-free device to make navigation easier. Remember: nothing is more important than maintaining your and your passengers' safety while driving.
Delayed Injuries After a Rear-End Collision
Being involved in any type of car accident can result in serious injuries. However, these injuries may not always be immediately apparent – especially within the heightened stress, commotion, and panic that occur during a collision. Some of the most common delayed injuries include:
Whiplash – Whiplash is one of the most common injuries suffered in a rear-end accident, which usually develops within a few days after the accident, but could take longer. Whiplash is a neck and back injury caused by the rapid back-and-forth movement of the neck, which results from a sudden rear impact.
Concussion and brain injury – Brain damage can be difficult to detect, especially if you don't know what symptoms to look for. Some possible symptoms of a concussion include changes in personality or temperament, changes in sleep patterns, nausea, vomiting, blurred vision, and more.
Internal Bleeding – Even minor internal injuries could develop into life-threatening medical issues if not treated properly. Some signs of internal bleeding could include abdominal pain or swelling, large areas of bruising that won't seem to heal, dizziness, or fainting.
PTSD – Post-traumatic stress disorder is a serious psychiatric disorder that can occur after a life-changing traumatic event. Signs of PTSD include intense feelings of panic or distress when reminded of the event, extreme physical reactions, and flashbacks.
In addition to the above, common injuries suffered in a rear-end accident include back injuries, spinal cord injuries, facial injuries, broken bones, and wrist and arm injuries.
What Should I do Following a Rear-End Accident in San Diego?
For the sake of brevity' we will assume that if you are reading this' your accident has occurred recently and you have already spoken with authorities as well as your doctor. If you haven't' we highly recommend speaking with both of the aforementioned parties as soon as possible. Provided that has been accomplished' we suggest contacting a San Diego car accident attorney at the Jurewitz Law Group Injury & Accident Lawyers at your earliest convenience to review your case. Not only will we assist in building a rock-solid case for you' we will also handle all the tedious and often frustrating conversations with the insurance companies. So' don't delay' call (619) 233-5020 or (888) 233-5020 today.