Getting Help for Your Child After a School Bus Injury
School bus accidents are among the most tragic events since they usually involve young children who have their whole futures ahead of them. It is not uncommon for child vehicle accident victims to suffer serious injuries or even fatalities. The resultant damages can be devastating to victims and their families and include hefty medical expenses' wages lost during the victim's recovery' pain and suffering' and more. When it comes to a fatal incident' some of the losses are irrevocable.
Your loved one has been the victim of a school bus crash that was preventable. Another party was at fault' yet you are the one paying for the consequences. Why should you? Do not waive your right to file a lawsuit against the liable party. You may be entitled to compensation that'll cover the damages you have suffered as a result of the accident. The liable party may also be justly penalized for their negligent and harmful actions' discouraging them from ever committing such actions again. Get in touch with the experienced San Diego bus crash attorneys at Jurewitz Law Group Injury & Accident Lawyers today for help on your case. Call (888) 233-5020 for a free consultation.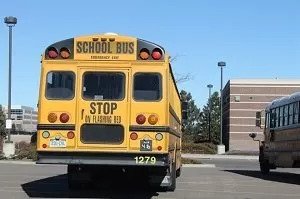 Liability in a school bus accident case may be held by a single party or shared by multiple parties' depending on the circumstances.
The Alarming Statistics on School Bus Accidents
In the first half of 2014' there were multiple school bus accidents in California. Eleven middle school students were injured when their bus launched over a curb and rammed into some trees in Anaheim Hills. One especially tragic accident involving a fiery head-on collision between a school bus and a FedEx truck resulted in 10 fatalities. Unfortunately' incidents like these occur every year.
Though school buses are the safest mode of transportation for getting children back and forth to school' a significant number of bus-related serious injuries and fatalities are reported annually. According to statistics provided by the National Highway Traffic Safety Administration (NHTSA)' approximately 24 children die in school bus crashes each year (11 bus occupants and 13 pedestrians). From 2000-2009' frontal impacts proved to be the most devastating type of bus accident for occupants' totaling 54 fatalities. During that same period' 16 single-vehicle crashes involving school buses led to 20 fatalities while 27 multiple-vehicle crashes involving school buses led to 34 fatalities.
Establishing Liability in a San Diego School Bus Crash Case
Liability in your motor vehicle accident case may be held by a single party or shared by multiple parties' depending on the circumstances. The driver may be held liable if he or she participated in negligent and/or reckless behaviors that led to the accident. The school board may be held liable' as well' if they provided inadequate training or failed to prioritize bus maintenance. If the bus experienced tire or brake failure' then the parts manufacturer may be sued for product liability. Finally' a government entity may be liable for damages if the accident was caused by a dangerous road under their jurisdiction.
The Common Causes of School Bus Accidents
A bus accident can be caused by any number of circumstances' including the following:
Inadequate training of drivers
Overloaded buses
Poor maintenance
Fatigued driving
Speeding
Lack of adjustment to poor climate
Vehicle defects
An attorney can pinpoint the cause and the crash's perpetrator through an investigation and the gathering of material evidence and witnesses.
Why You Need a San Diego School Bus Accident Lawyer for Your Case
Without an attorney's assistance' you may not receive the full compensation amount you are entitled to. You may not be able to identify all the culpable parties in your case' or you may agree to a bad settlement offer without the proper legal knowledge. Prevent this from happening by consulting with the qualified San Diego personal injury legal team at Jurewitz Law Group Injury & Accident Lawyers today. We will use the full extent of our skills in the field of law to ensure you receive an optimal settlement award. Contact us today at (619) 233-5020 to learn more about your rights and legal options.