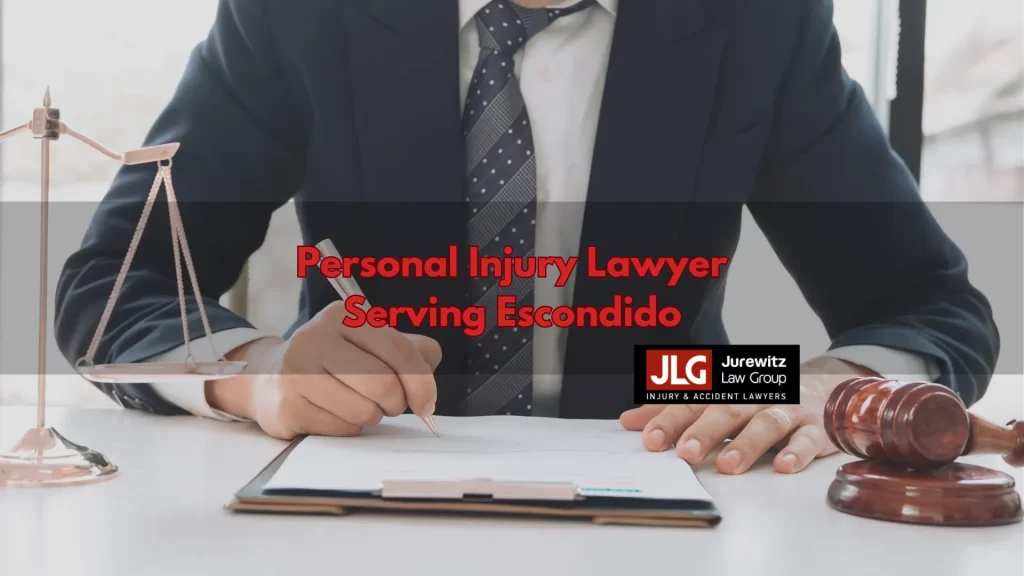 Hurt in an Accident? Jurewitz Law Group Injury & Accident Lawyers Can Help!
Escondido is one of the oldest cities within San Diego County with a thriving community nestled in a rugged landscape that affords plenty of hiking' camping' and other recreational activities. In recent years' the city has seen an increase in population and tourism' which' unfortunately' also increases the likelihood that an individual may be involved in an accident.
In the event that a person is harmed in some manner due to another's careless or negligent actions' the victim is not without legal recourse. Through a personal injury claim' it is possible for those who have been injured physically' emotionally' or mentally to not only hold the at-fault party responsible' but to also obtain much needed compensation.
The Jurewitz Law Group Injury & Accident Lawyers is focused on personal injury cases and works directly with individuals that have been injured or lost a loved one through no fault of their own. Contact our Escondido personal injury attorneys online or call (888) 233-5020 to learn more about our services and to speak with a knowledgeable lawyer about your legal options following an injury accident.
What is Personal Injury?
A personal injury claim is a legal process in which a person may recover compensation for the damages that he or she incurred due to another party's actions. Generally' damages are compensated financially by the person or company found to be legally responsible for the accident and their insurance company. The most common damages include the cost of medical treatment' the impact on the victim's wages or ability to earn an income' the value of property loss' and even the level of pain and suffering resulting from the accident.
Unfortunately for many accident survivors' complete recovery is not always possible. So' financial compensation can also provide much needed assistance with long-term costs associated with more severe injuries and permanent disabilities.
Motor Vehicle Accidents
One of the leading causes of death and injury in the U.S. is vehicle accidents. Not every traffic collision warrants legal action' but in the event that a crash was caused by someone's intentional or reckless actions' the responsible party can be held accountable.
Common causes of vehicle accidents include:
• Driver Errors
Distracted driving' driving under the influence (DUI)' fatigued driving' or violating traffic laws.
• Hazardous Road Conditions
Poor road designs' bad weather' or disrepair.
• Auto Product Liability
Product defects' poor design' improper manufacturing' or failure to provide proper warnings.
The aftermath of a motor vehicle accident' whether it involves a car' truck' or motorcycle' is often devastating for the victims. It is crucial that survivors obtain the monetary support he or she needs to afford the overwhelming expenses of physical' emotional' and mental recovery. In order to recover such funds' it is crucial to have a skilled Escondido car accident attorney to build a strong case against the liable party.
Other Types of Personal Injury Cases
There are numerous types of accidents that are covered by personal injury law. After vehicle collisions' the most common cases include:
A property owner or person in charge of a property may be liable for injuries or deaths that result from dangerous conditions on the property.
• Worksite Accidents
While most employees may receive workers' compensation benefits after an on-the-job injury' it may be necessary to pursue a personal injury claim against a negligent employer or co-worker in order to secure adequate compensation.
In California' dog owners can be held accountable for any injuries or harm caused by his or her dog' including injuries' emotional damage' and lost wages.
When an individual suffers fatal injuries in a personal injury accident' the surviving family members can seek compensation for pain and suffering' loss of consortium' funeral expenses' and more.
Get the Help You Need from our Escondido Personal Injury Lawyers
In many cases' there is a limited amount of time in which to take legal action after an accident; therefore' it is recommended that you do not wait to speak with an Escondido personal injury lawyer. At Jurewitz Law Group Injury & Accident Lawyers' we are dedicated to helping injured victims or surviving family members begin rebuilding their lives and will fight to ensure that the responsible party is held accountable. As your legal representative' we will handle the investigation and negotiations with the insurance companies' so you can focus on recovering. For a no-cost consultation' please call (888) 233-5020 or contact us online.
Sample of Case Results for Clients in Escondido
Click here to view additional case results.
DISCLAIMER: Please be aware that the case results described above are not intended to be representative of usual results and not every result is typical or expected of every case. Every case is different and case values turn on small facts and differences. Please contact our office to discuss your case and the range of reasonable case values for your personal injury case.
TERMS: By viewing and reading the case values on this website' you are agreeing not to disseminate and distribute the case results described herein. The Jurewitz Law Group Injury & Accident Lawyers retains any and all rights with respect to the use and enforcement of copywrite and trademark violations with respect to any use which violated state or federal law.