Filing an All-Terrain Vehicle Accident Claim
All-terrain vehicles (ATVs) are generally used for farm' ranch' and industrial work' as well as recreation. But when riders are reckless and don't take the proper safety precautions' they can suffer serious injuries and even death. An estimated 704'000 people were injured while operating ATVs in the U.S. from 2004 through 2008' and some 3'373 people were killed. About a third of those deaths were children under the age of 16.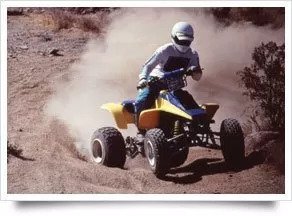 If your ATV accident was caused by another's negligence' you may have a valid personal injury claim or lawsuit in which you can seek compensation.
ATV Laws and Regulations
Though most states only require that a rider have a valid driver's license to operate an ATV' we urge you to follow these safety tips:
ATV Safety Tips
Take a hands-on safety training course before you ride.
Always wear protective gear' especially a helmet.
Do not drive ATVs with a passenger or ride as a passenger.
Do not drive ATVs on paved roads. Do not permit children to drive or ride adult ATVs.
Never drive an ATV while under the influence of alcohol or drugs.
Dealing with Insurance Companies in San Diego
Immediately after an accident' the most important thing for victims to do is get medical attention. Although it may not seem like a priority at the time' preserving evidence and documenting the scene of the accident are also very important. During the chaos and shock that often comes with the aftermath of an ATV accident' it's likely that you'll contact your insurance company or that the insurance company of another person involved in the accident may contact you.
Even if you trust an insurance company and have had a good experience with them up to this point' it may be in your best interest to speak with a San Diego car accident lawyer before giving your insurance company the details of your situation. In many instances' an insurance company only has their bottom line in mind and may offer a much lower settlement amount than you deserve. The insurance company may also deny or delay a rightful claim' making the process of getting the money you need all the more difficult. A lawyer will vouch for you and gather the right evidence so that you can be more at ease and focus on healing.
Damages for Serious Injuries
Whether an accident was caused by a defective part or another's oversight' the injuries that may result have the capacity to significantly change a person's life. From spinal cord injury to traumatic brain injury' a collision can drastically limit an individual's speech' movement' and personality. On top of the long-term medical care and treatment that may be needed for rehabilitation and recovery' a survivor may also benefit from counseling if he or she is coping with post-traumatic stress disorder (PTSD) or another form of emotional distress.
Recovering from injuries after a collision is challenging enough without having to worry about financial strain. A personal injury claim or lawsuit can help an individual obtain money for lost wages' pain and suffering' loss of quality of life' medical expenses' and other economic and non-economic damages.
San Diego ATV Accident Lawyers Standing Up for Clients
The San Diego personal injury attorneys at the Jurewitz Law Group Injury & Accident Lawyers are dedicated to holding reckless parties legally responsible. Attorney Ross Jurewitz and his legal team work with injured victims to achieve their goals through justice. In our many years of experience' we have helped many clients obtain the money that they needed to move on with their lives. Get in touch with us at (888) 233-5020 for more on the difference we may be able to make in your case.