Legal Help After a Train or Railroad Accident
In the wake of a train accident' you will need to focus on recovering and receiving the medical care you desperately need to recover from your losses. But finding high quality legal representation is just as important in making the recovery process a success. To start off your case on the right foot' contact a San Diego personal injury attorney today at (619) 233-5020 and receive a no-cost consultation concerning your crash and the potential for financial compensation.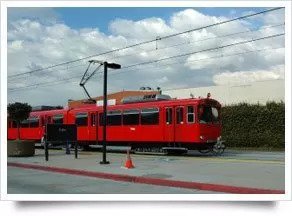 Few escape a train accident without injury. Jurewitz Law Group Injury & Accident Lawyers is devoted to the recovery of those who have been harmed in preventable train accidents & the rights of those who have lost loved ones.
Dangers on the Track
Both freight and commuter trains can become involved in a major crash should hazards affecting the track or problems with the conducting of the train arise. These incidents can cause the train to come to a sudden halt' violently shake the cars' or derail the train either partially or as a whole. Often' these hazards arise within moments and prevent train operators and personnel from being able to react properly or brace for impact.
Anyone on the train at the time of one of these accidents can be seriously injured due to the magnitude of the accident and their inability to protect themselves. Additionally' those in the area at the time of the crash may have been harmed due to the impact of train cars' flying debris' possible explosions' and spilled hazardous materials carried by the train.
Who is Responsible?
Train conductors' train manufacturers' and the companies that own the train lines are responsible for their vehicles running safely and being kept in good condition. Additionally' government agencies who own the tracks must keep them safe and free of damage so that passing trains are not endangered. By determining what caused the accident' such as improper speeds' engine failure' or broken tracks' fault can be traced back to any of these parties.
Hazards in the Cabin
Not all accidents involve the train as a whole or affect everyone on board. Sometimes' dangers present themselves within the cabin' affecting a single car or even one person onboard at the time. If fires break out or various mechanical failures occur within the train cars' anyone nearby can be seriously injured. Additionally' slippery floors' uneven entryways' or other trip and fall hazards can cause serious injuries.
Who is Responsible?
It is the duty of train personnel to keep the interior safe' both in maintaining all components of the vehicle and also preventing dangerous activities from taking place. In the event that another passenger behaves in a dangerous manner and causes injuries' both that person and the train company may be at fault. This can occur if the company was in some way responsible for creating a dangerous situation or failing to prevent the incident.
The Vital Aid of a San Diego Train Accident Lawyer
If you or a loved one has been harmed in a train accident' the losses you are experiencing right now may feel insurmountable. But there is hope for recovery and a better future. San Diego train accident attorney Ross Jurewitz and the legal team at the Jurewitz Law Group Injury & Accident Lawyers can help you hold the people who caused you harm responsible for your losses. Through fair and full compensation found by proving fault' you can have the best chance at recovering physically and financially as possible. Call us today at (619) 233-5020 to learn more about your rights.