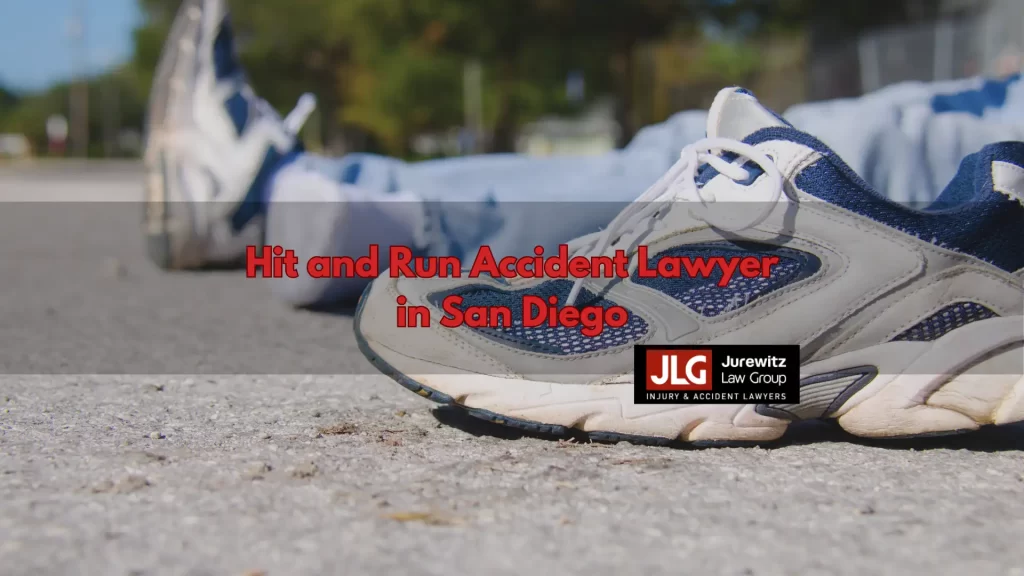 Victim Injured by a Hit and Run Driver
The difficulties that result from sustaining severe injuries in an auto accident are plentiful. Dealing with the physical pain along with the financial and emotional fallout can make for one of the most trying experiences in life. In the case of a hit-and-run accident' the situation can get even worse.
When the liable party is present and identifiable' the victim can bring a personal injury lawsuit against them to recover damages. However' in cases where the responsible party leaves the scene of the accident without providing identification' the victim may have to jump through numerous hoops to get compensation', and it is possible they may not get any financial assistance at all.
We are committed to ensuring that hit and run victims, and their families receive the compensation they need.
If you have been injured in a hit-and-run, you should get in touch with the experienced attorneys at the Jurewitz Law Group Injury & Accident Lawyers. We will do our best to identify the driver responsible for your injuries' and if that is not possible' we will help you explore your insurance options so you can get the compensation you need to recover. For a free' comprehensive legal consultation' call us today at (888) 233-5020.
How Can a Lawyer Help Me With My Hit and Run Case?
A lawyer can be a difference-maker in your hit and run case, guiding you through your claim and making sure that those that have committed such an egregious action are held accountable for their wrongdoings.
Ideally, knowledgeable hit and run accident lawyers have a good knowledge of personal injury law and how they can use the act of fleeing the scene to help you build a stronger case. In the context of filing a civil claim (outside of criminal court), what will matter the most is the financial stress you have encountered from the incident, and what exactly will fall understand what you can argue for compensation for.
Personal injury attorneys will also be able to help you face insurance companies, who are likely looking to pay you as little as possible for your claim. They will often offer a lowball settlement to get you to go away, or even try to get out of paying for your claim entirely.
Insurance companies often resort to dirty tactics, such as monitoring your public online activity or even trying to take photos or videos of you up and about, attempting to discredit your injuries or claiming that this specific accident was not the cause of your injuries. Personal injury attorneys understand these tricks and understand how insurance companies come to the table – building a strong case with these in mind can go a long way toward obtaining compensation.
How Can the Jurewitz Law Group Injury & Accident Lawyers Help?
Jurewitz Law Group Injury & Accident Lawyers is one of the leaders in personal injury cases in San Diego and Southern California. With decades of experience and award-winning attorneys, we are prepared to handle even the toughest of hit and run accident cases. Maintaining an A+ rating with the Better Business Bureau, we deliver an exceptional level of service to our clients, who give us high marks. As members of the Multi-Million Dollar and Million Dollar advocates club, we have also established a track record of bringing down 7 and 8-figure settlements for our clients – you can browse some of our recent case results here.
On the individual level, our attorneys have delivered results while establishing strong relationships with every client they have. Attorney Ross Jurewitz has been named to Super Lawyers in California as well as in the Top 100 Trial Lawyers by National Trial Lawyers, demonstrating high marks from his peers and consistent results for his clients. Maintaining a perfect 10/10 rating on Avvo, a website that aggregates client reviews, results, and attorney experience is also a testament to the firm's culture of thorough and attentive work.
If you have been hurt in a hit-and-run accident in California, the personal injury attorneys of Jurewitz Law Group Injury & Accident Lawyers are on your side. We understand the physical and emotional pain of an accident such as a hit and run accident, and we are fully prepared to assist with your case.
How Can a San Diego Hit and Run Accident Attorney Prove My Claim if the Driver Denies Involvement?
This is where hiring an attorney is vital. An experienced car accident lawyer will work with law enforcement to identify the driver who hit you and will negotiate with your own insurance company if you have Uninsured/Underinsured Motorist coverage to get the reimbursement you're owed.
Proving fault in a hit and run case is often challenging. Identifying the driver who hit you will be essential in recovering compensation. Fortunately, if they are caught, the fact that they left the scene of the accident will be the first of several possible strikes against them if they try to fight your injury claim.
What Can I Do if a Hit and Run Driver is Never Caught?
If the perpetrator of the hit-and-run cannot be found' you may turn to your insurance for financial assistance. If your insurance policy is decent enough' chances are you will have underinsured/uninsured motorist coverage. You will have your damages covered up to a certain point' depending on your policy. Hopefully' your insurance company will act in good faith and process your claim. However' if your valid claim is reduced or denied' you may legally contest your insurance company for bad faith practices.
How Do I Deal with Insurance Companies Who Don't Act in Good Faith?
Most people make the assumption that their insurance company will always back them up in case of an accident. Unfortunately, this is not always the case. Insurance companies' like all businesses' are all about the bottom line. Some are even willing to sacrifice customer relations if it means preserving profits. Your insurance company may refuse to provide you with coverage for your injuries sustained in a hit-and-run accident' even if you are entitled to them under your policy. If this is the case, it is highly advised that you speak with your attorney right away.
An experienced  San Diego car accident attorney will know the tactics insurance companies commonly employ to deny claims. As long as you follow the guidance of such an attorney, you should be able to avoid the pitfalls of the claims process and avoid being cheated. The rule of thumb is to never interact with the insurance adjuster until you have reviewed your case with your attorney and gained his or her approval.
Call Jurewitz Law Group Injury & Accident Lawyers Today
If you have been injured or lost a loved one in a hit-and-run accident' the dedicated San Diego hit and run accident lawyers with the Jurewitz Law Group Injury & Accident Lawyers can help. Through our years of experience and dedication to personal injury law, we can work to hold those who commit the egregious act of a hit-and-run accountable for their actions. Remember that the statute of limitations for filing a claim on a hit and run accident in California, like most personal injury cases, is 2 years, so it is in your best interest to contact an attorney as soon as possible following your accident to understand your legal options.
We are committed to ensuring that victims and their families receive the compensation they need for not only their current expenses but also any future losses. Contact the San Diego hit and run lawyers of Jurewitz Law Group Injury & Accident Lawyers today at (619) 233-5020 to learn more about your rights and legal options. We are here to help.