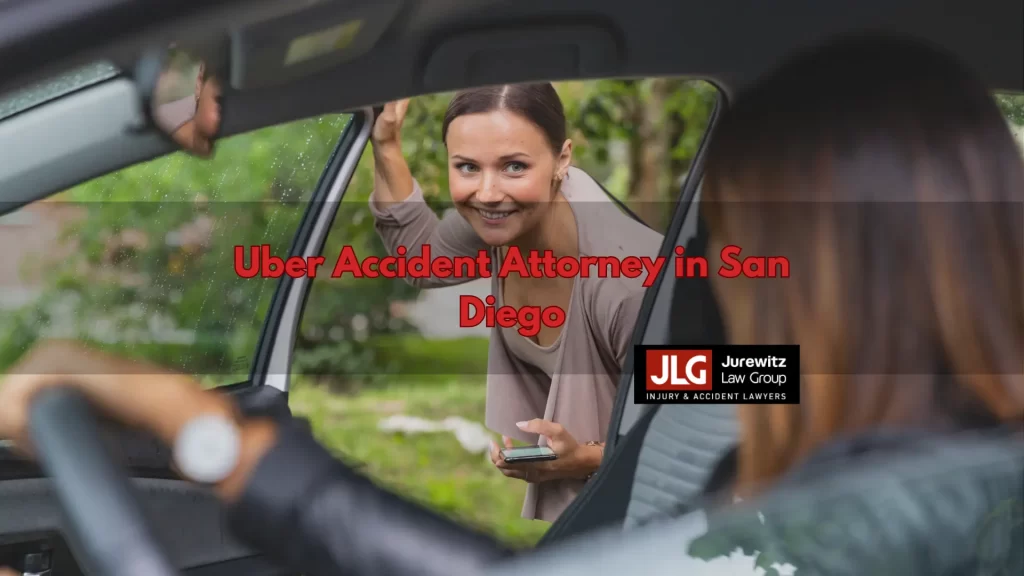 Hurt in an Uber Accident? Call (888) 233-5020
Instead of calling a friend or taxi for a ride' more and more San Diego residents are picking up their phones to contact rideshare companies like Uber or Lyft. California was the first state to legalize rideshare services back in 2013. It's now common for locals to use the Uber app on their phone to request a ride that will cost them a little over $1 per mile plus about a quarter a minute. That's much cheaper than calling a cab.
How Rideshare Works
When you travel in a taxi or limousine' you're in a vehicle that has presumably been recently inspected. Taxi and limousine drivers also undergo background checks' and they're randomly screened for drug and alcohol use. Taxis and limousines have comprehensive insurance policies that protect them' and compensate passengers in the event of a crash. In the event of an accident' passengers are able to pursue financial compensation for their injuries from the insurance policy purchased by the taxi or limousine service.
When you travel with a rideshare service such as Uber' you may be at risk. Unlike taxi companies' transportation network companies are not heavily regulated and they avoid strict scrutiny. Rideshare companies don't have the same employment relationships with their drivers as traditional taxi services. Uber separates itself from legal responsibility by claiming it only facilitates fares. They claim that they aren't actually responsible for an accident caused by one of their drivers.
Compensation for an Uber Car Accident in San Diego
This puts the financial burdens that come with being involved in an accident on the shoulders of the drivers. While Uber drivers are required to get an auto insurance policy' many do not have policies that cover commercial accidents. This provides their insurance providers with an opportunity to deny claims from injured passengers.
This creates a gap in insurance coverage that can lead to complications. Uber was involved in a court case back in 2013 when a 6-year-old San Francisco girl was killed in a crash. Uber's insurance company denied coverage claiming that they do not cover drivers between rides. This is just one example of how these types of rideshare companies can lead to complicated liability cases.
With proper legal guidance and counsel' you should be able to receive financial compensation for the injuries you have suffered while riding in an Uber vehicle. Whether you are in an Uber' a taxi' or any other commercial vehicle' you'll need help to secure fair compensation for:
Medical bills
Lost wages
Pain and suffering
Other related damages
Don't hesitate to gather evidence' seek out medical attention' and research your legal rights. Contact the Jurewitz Law Group Injury & Accident Lawyers at (888) 233-5020 for a free' comprehensive' and confidential consultation with a San Diego car accident attorney.
Were You Assaulted by an Uber Driver in San Diego?
Uber drivers are considered independent contractors' not actual employees of the ridesharing company. In the past' Uber has attempted to circumvent lawsuits by placing the vast majority of the blame on drivers. However' a rash of recent sexual assaults and rape allegations against Uber drivers has brought the issue to light' and over time' various courts have ruled that the company can be held liable for the criminal actions of its drivers.
Assault is usually defined as attempting to injure or harm another person' and in many cases' making threats. On the other hand' battery constitutes the actual act of harming another person. These two crimes are usually charged together' and even if the perpetrator failed to carry out a threat' he or she can be charged with assault. In many jurisdictions' "aggravated" assault occurs when an individual uses a weapon to harm another individual. If you have been physically harmed or verbally threatened by an Uber driver' you may be able to file a claim against the company.
Sexual Assaults Perpetrated by Uber Drivers
There are many different forms of sexual assault' but each one has the potential to cause immense psychological and emotional damage to its victims. Sexual assault is a crime of power' and many individuals of both sexes are assaulted each year. Some of the most common types of sexual assault include the following.
Forcing an unwilling participant to engage in sex acts
Rape and attempted rape
Inappropriate touching without consent
Sexual harassment or threats
The defining trait of sexual assault is the victim's lack of consent. In the past few years' there have been numerous charges of sexual assault brought against Uber drivers.
Flaws in Uber's Driver Screening Process
Traditionally' Uber has boasted about its stringent screening process and extensive background check' but unlike taxi companies' Uber does not use fingerprinting during the screening process. Using fingerprints is a superior method of screening drivers' and many passengers have felt misled by Uber's statements regarding background checks and safety. Uber has hired individuals with the following types of criminal records in the past:
Murder
Rape
Burglary
Kidnapping
Sex offenders
Many legal experts have accused Uber of neglecting passenger safety in an attempt to increase its market share.
Basic Ridesharing Safety Tips
Unlike traditional taxi cab companies' Uber loosely regulates its network of independent drivers. It does subject each driver to a background check' but sometimes' a simple check may not be enough to prevent sexual predators from driving. Despite Uber's low cost and extreme convenience' safety experts recommend engaging in the following behaviors when using the ridesharing service:
Contact emergency officials if a driver makes you feel uncomfortable or threatens you.
Share your ride with other individuals.
Avoid providing your driver with too much personal information.
Use the ETA feature to share your route and destination with your friends' family members' and coworkers. If a driver attempts to take you to another location' they will automatically notice a difference in your route.
Get the Justice You Deserve
Jurewitz Law Group Injury & Accident Lawyers understands the devastating impact a sexual or physical assault can have on its victim. For this reason' we strive to treat all of our clients with respect and dignity throughout the entire process' and we won't stop working until you get the justice you deserve. Ridesharing services should not be allowed to place their passengers in danger' and there are ways to hold them accountable for engaging in such irresponsible behavior. If you need a San Diego personal injury lawyer with a history of remarkable performance' please contact Jurewitz Law Group Injury & Accident Lawyers today at (888) 233-5020.