Legal Representation for Victims of Van Collisions
We put our lives in the hands of others just about every day without thinking twice about it. As an occupant of a passenger van' this couldn't be closer to the truth. Many car rental and airport shuttles use these types of vans to transport people. Also, tour companies and churches use 15-passenger vans to transport their passengers throughout San Diego.
Unfortunately' due to a high center of gravity' passenger vans have an increased chance of being in rollover traffic accidents. Some crashes may be the direct result of vehicle design' maintenance' and manufacture' and others may be caused by driver negligence or dangerous roadways. If you have suffered a serious injury in a passenger van accident' you deserve to know your legal rights and options. At the Jurewitz Law Group Injury & Accident Lawyers' our San Diego vehicle accident lawyers have a successful track record helping survivors hold negligent parties liable and obtain the compensation they need to move forward with life. Contact us today to learn more in a free consultation.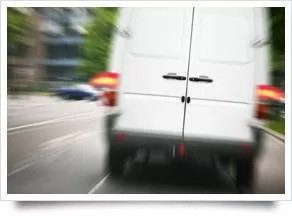 15-passenger vans are dangerous and susceptible to rolling over during an auto accident. A successful lawyer not only pursues compensation from the at-fault driver but also the manufacturer of the passenger van.
Is Filing a San Diego Passenger Van Accident Claim Worth It?
For a lot people who suffer serious injury in a van accident caused by negligence' the most important thing is to recover and have life return to normal. Unfortunately' going back to the way things used to be isn't possible for everyone. Some injuries may result in months' years' or a lifetime of medical and rehabilitative care and treatment. Although filing an injury claim or pursuing a lawsuit can be stressful and intimidating' with an experienced lawyer on your side' the process can go smoothly and be worth the positive results. By holding negligent parties liable' you can obtain compensation to offset medical expenses' lost wages' and other damages' in addition to helping prevent others from facing the same consequences.
Proving Fault In San Diego
The cause or causes of a van rollover accident will determine how much compensation an accident survivor can receive. Rollover accidents can be caused by the below:
The van being too top heavy
The van being overloaded in relation to its maximum limit
Underinflated tires
Sudden turns from distracted driving or emergency manoeuvers
To counteract some of these issues' a passenger van driver must make sure to do the following:
Have proper training and experience to drive these vehicles
Keep passengers in their seats and properly fastened
Not load anything on top of the vehicle
Check the tire pressure often' especially on long trips
Even when all these precautions are taken' driver negligence can still take place and other risks may cause a crash to occur.
It is essential to preserve as much evidence as possible after a passenger van accident. A skilled San Diego traffic accident attorney will work with both medical and accident reconstruction experts to ensure that the full story gets properly represented. Additionally, witness statements will help back up this evidence.
Help is Available – Call our San Diego Passenger Van Accident Lawyers at (888) 233-5020
If you have ever been involved in a passenger van accident' be sure to contact our personal injury law offices in Carlsbad and San Diego. Jurewitz Law Group Injury & Accident Lawyers has successfully represented numerous passenger van accident clients in the past. Please contact our law office at (888) 233-5020 or (619) 233-5020 for a free consultation and helpful information about your personal injury claim.