Helping Victims of Moped and Scooter Injuries
With the increased cost of gas' riding a scooter in San Diego seems like a viable alternative to driving a car in Downtown San Diego and in nearby neighborhoods such as Bankers' Hill' Little Italy' and Hillcrest. Scooters make up for their speed with their gas efficiency on city streets. However' despite all of the good qualities of scooters' they can be dangerous if they are involved in a collision.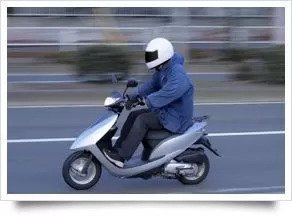 Experienced scooter accident lawyers in San Diego can help you if are injured when struck by a car.
Use Extra Caution When Riding a Scooter
Since most scooters do not have many (if any) safety features' scooter drivers must be extremely careful when they ride a scooter' especially on a crowded road. It is important to wear a helmet at all times. Wearing a helmet will decrease the scooter rider's chances of suffering a permanent brain or spinal injury. It is also not a bad idea to wear a motorcycle jacket and/or pads as well' especially if you are new to the scooter.
Here are some more safety tips when you're riding a scooter:
Drive extra slow while going through speed bumps
Pretend like you are on a bike' use that same amount of care
Assume that other cars cannot see you
Make sure your lights are working and you are wearing light clothing at night
Contact our San Diego Scooter Accident Lawyers
Even if scooter drivers take all safety precautions' they cannot control the other cars on the road. Some scooter accidents are just unavoidable' and scooter drivers can be seriously injured from no fault of their own. If this ever happens to you when riding a scooter' be sure to talk to a San Diego motor vehicle accident lawyer who is qualified to handle scooter accident cases. At the Jurewitz Law Group Injury & Accident Lawyers' we have represented several people injured in serious collisions and have achieved favorable results for our clients. If you or someone you know has ever been involved in an accident involving a scooter or moped' please call a San Diego injury lawyer at the Jurewitz Law Group Injury & Accident Lawyers at (888) 233-5020 for a free initial consultation.
Additional Information