Bus Accidents Happen More Often Than You Think
Many people think buses do not often get into accidents' but it happens. Millions of people take public transportation every year. Although it is one of the safer ways to travel' buses still can get into accidents which can lead to passenger injuries. In San Diego County' the major bus line providers are San Diego Metropolitan Transit System (MTS) and North County Transit District (NCTD).
Who is Responsible for Your Injury?
If you are involved in an accident on a bus and you are hurt' the bus company will generally be held liable for any injuries that you may have since buses are considered "common carriers." Basically' a common carrier has special laws imposed on them in the event of a collision. They are held to the "utmost care" in operating their bus' making the threshold for proving the bus line responsible for your injuries very low. Buses' trolleys' planes' trains' and cruise ships are all considered common carriers. It is much easier to prove that the bus is liable because of this rule' but it is a good idea to hire an experienced San Diego accident attorney to ensure you get all the compensation you are entitled to.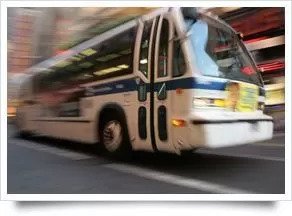 Bus companies are notoriously difficult to deal with after an accident – despite the common carrier obligations – and they typically low-ball injured people and force them to bring lawsuits.
What Injuries are Caused by Bus Accidents?
Since most buses are not equipped with seat belts' even a minor bus collision can be harmful to its passengers. The most common types of injuries are concussions or whiplashes. Back' shoulder' and neck sprains are also common. If the crash is serious' a passenger can even fly out of their seats and hit their heads on the top or side of the bus' causing serious contusions or broken bones. These injuries could even be fatal.
Common Causes of Collisions in San Diego
There are many reasons why a bus may get into an accident. Sometimes the bus driver does not pay attention as much as he should and he will run into another car. Sometimes' other cars will attempt to cut in front of a slow moving bus' causing the bus driver to swerve and crash into another car. These types of collisions are especially common during the morning and evening commute to work and school. There could be a defect in the bus that was not probably repaired by the bus company. Finally' inclement weather or poor roads can also cause a bus to get in an accident.
Hiring the Right Lawyer
Before taking on the bus company' you should hire an experienced lawyer with an established history of trying transportation companies. During the trial' even if the bus company is clearly at fault' the responsible party will spend an astronomical amount of money on attorneys' experts' and other specialists to ensure that you don't get the compensation you are seeking. Many times' accident victims are forced to accept a settlement that barely covers their medical expenses. Jurewitz Law Group Injury & Accident Lawyers doesn't want this to happen to you' and that is why we will try our best to hold the responsible party accountable.
Legal Responsibility and Wrongful Death
As a passenger' motorist' or pedestrian' you trust the drivers of buses to be responsible and attentive at all times. If a bus driver fails to do these things' the consequences can be dire' and it is the responsibility of the bus company to ensure that their drivers are experienced and careful enough to operate a vehicle. Since it is the responsibility of the bus company to keep its passengers' other drivers' and pedestrians safe' if the accident is fatal' the company could be held liable for wrongful death.
Statute of Limitations in San Diego
In many jurisdictions' victims of accidents have a certain amount of time to file a claim against a person or organization. This predetermined time frame is called a 'statute of limitation'' and if you file outside of it' your case may never make it to court. This is why it is important to seek legal help from a San Diego personal injury law firm immediately after an accident' whether you are injured or not. If you were involved in a bus accident years ago' you should consult a lawyer – you may still have time to file a civil claim.
Compensation for Your Injuries
Legally' there are two types of courts and claims: criminal and civil. If a bus company is found guilty of a criminal charge' such as negligence or reckless endangerment' they will face a judge in a criminal court. This court will decide if the actions of the company warrant imprisonment' a monetary fine' or community service' and no financial compensation is awarded. You will' however' be allowed to take the bus company to civil court' even if they are not found guilty of criminal charges. In a civil court' you will seek compensation' and a judge and/or jury will decide on the amount.
During the trial' the bus company may offer you an upfront payment known as a "settlement." If you choose to accept this amount' you will have to drop your charges against the bus company. If you do not believe that the amount is sufficient' you can choose to proceed with your charges. The final decision is yours to make' and your attorney will only be able to advise you. However' it is important to note that bus and transportation companies are notorious for offering exceptionally low settlement amounts to accident victims.
School Bus Accidents
Accidents involving school buses can be particularly painful for all those involved' especially if children are injured or killed. If you are a parent whose child was involved in a school bus accident' you may still be able to get compensation for you and your child's pain and suffering. In the event of a school bus accident' the driver of the bus' school system' and the manufacturers of the bus can all be held liable.
If you are involved in a bus accident in Carlsbad or San Diego' don't hesitate to contact one of the personal injury lawyers at Jurewitz Law Group Injury & Accident Lawyers. We are ready and willing to review your case' and we can be reached toll-free at (888) 233-5020. Reach out to us today to schedule your legal consultation.
How Can Our San Diego Bus Accident Lawyers Help?
The San Diego car accident lawyers at the Jurewitz Law Group Injury & Accident Lawyers are experienced in dealing with this kind of public transportation accident. We have handled several public bus accident claims and have successfully recovered compensation for our client's personal injuries. If you or a loved one has ever suffered an injury while riding on a bus' please call our law office at (619) 233-5020 or (888) 233-5020 for a free consultation.
Bus Accident Case Results
DISCLAIMER: Please be aware that the case results described above are not intended to be representative of usual results and not every result is typical or expected of every case. Every case is different and case values turn on small facts and differences. Please contact our office to discuss your case and the range of reasonable case values for your personal injury case.
TERMS: By viewing and reading the case values on this website' you are agreeing not to disseminate and distribute the case results described herein. The Jurewitz Law Group Injury & Accident Lawyers retains any and all rights with respect to the use and enforcement of copywrite and trademark violations with respect to any use which violated state or federal law.