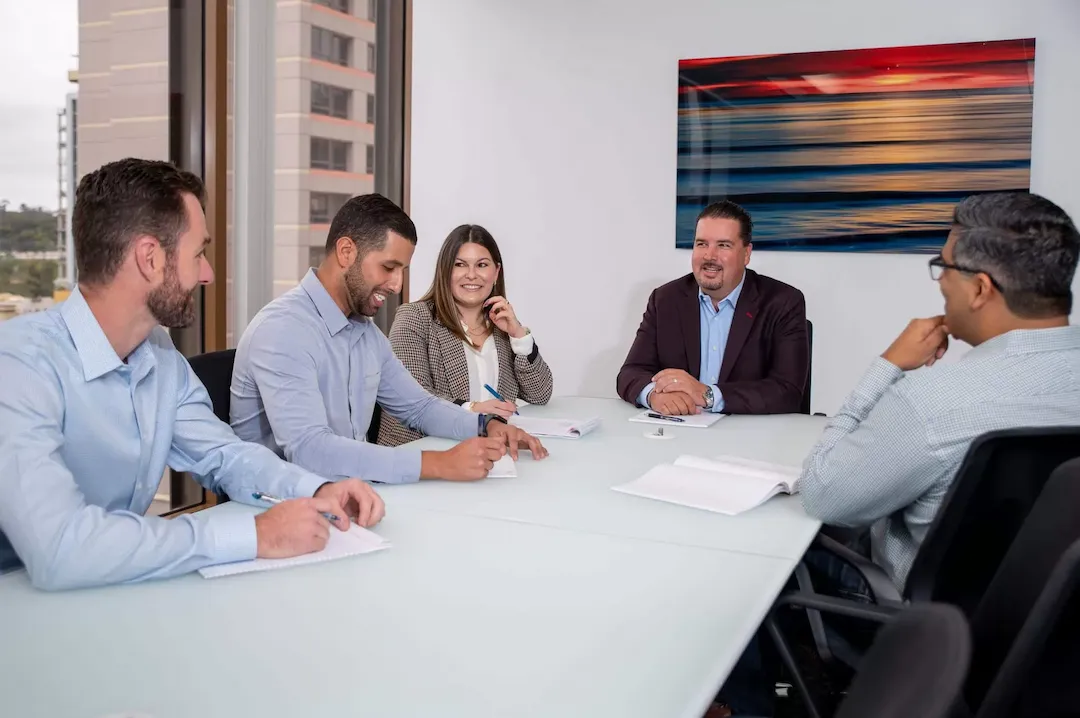 San Diego Personal Injury Lawyers
If you've been injured or lost a loved one because of another driver, a property owner, a nursing home facility, or the manufacturer of a defective product – you need a blue-jean lawyer who will sit down with you, share a drink, and understand where you're coming from.
Then, he flips the switch and becomes a legal pitbull, a knowledgeable and experienced advocate on your side of San Diego personal injury law. You need Ross Jurewitz.
If you need to consult a San Diego personal injury lawyer, you need to contact the accident and injury attorneys of the Jurewitz Law Group Injury & Accident Lawyers. Call us at (619) 233-5020 to schedule a free consultation.
Get Ross - for Your Next Personal Injury Case
As San Diego personal injury lawyers who represent people, and never corporations, it is our job to make sure that negligent parties and the companies that insure them live up to their obligations. We will do everything in our power to make sure that you get the compensation you need to rebuild your life and move on from this unexpected event.
Ask any of our previous clients what you should do if you've been hurt in an accident caused by someone else's negligence, and they'll tell you: "Get Ross."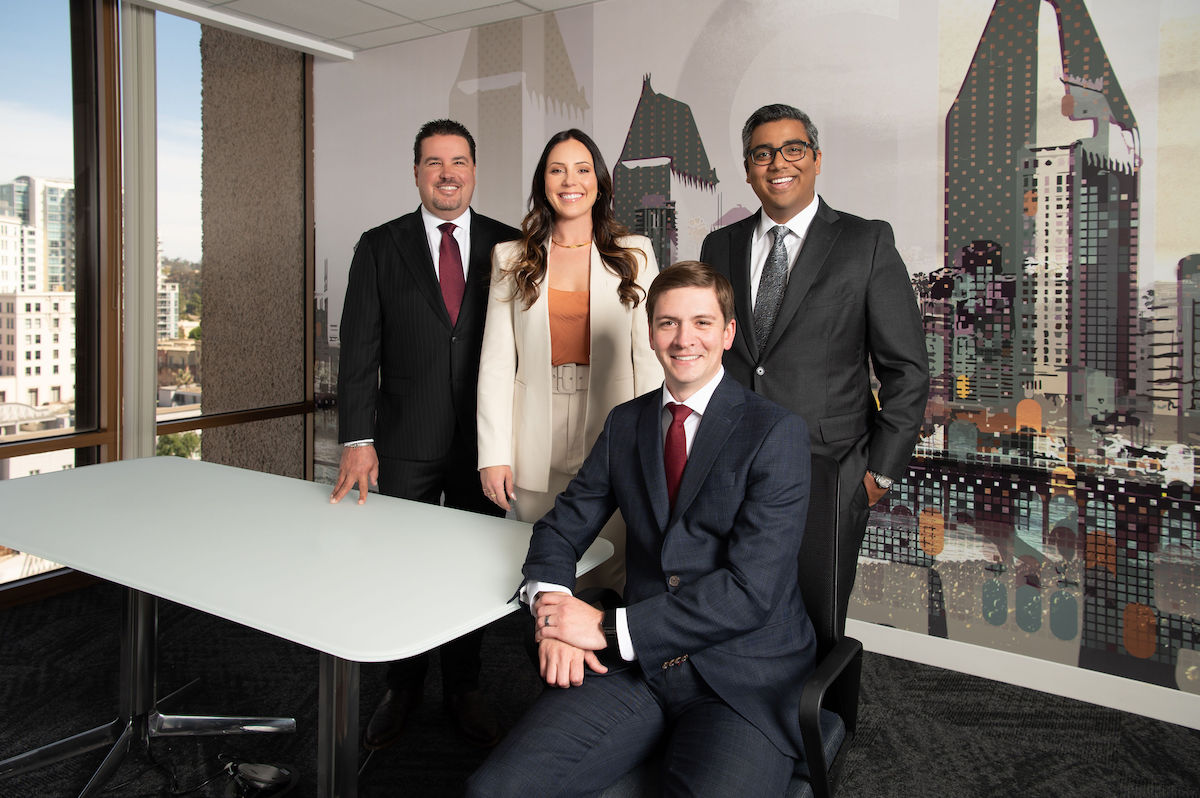 An Effective Team of Professionals
Our team of experienced injury attorneys knows that the physical and emotional struggles of recovery are challenging. We also know those accident victims also are left to figure out how to pay their medical bills for their severe injuries as they watch missed time from work pile up. Far too many people fail to realize that you have options, and you have the right to seek compensation for the harm you've suffered.
Not Your Fault, You Shouldn't Pay
At Jurewitz Law Group Injury & Accident Lawyers, our San Diego personal injury attorneys, paralegals, and support staff believe that you should never have to pay out of pocket for someone else's poor judgment.
We also know that no amount of money can ever reverse time and stop the accident, or personal injuries from happening. What we do know is that someone needs to pay for what happened to you.
The Power to Rebuild Your Life
You should be able to rebuild your life without having to worry about medical bills and other expenses. You also deserve answers and justice, and we won't rest until you get it.
Reach out to us today, for your free consultation. We're your go-to law firm for the San Diego area personal injury lawsuits.
Don't Get Screwed in San Diego
Insurance companies don't care about you; they care about those little dollar signs floating above you. When it comes time for them to pay up…let's just say they aren't too eager. And they don't play fair.
And Ross Jurewitz doesn't like that. Neither does his team at Jurewitz Law Group Injury & Accident Lawyers. As residents of San Diego CA 92101 ourselves, as parents, as friends and colleagues, we really hate it when we see big insurance companies refusing to pay our fellow man what he's owed after an accident. Why do we even pay insurance premiums in the first place?
When It Happens to You
When it happens to you, you need someone you can count on. Someone who will give you the straight answers you want and the sound advice you need. Someone who will get those insurance companies to cough up what they owe. That's what we at Jurewitz Law Group Injury & Accident Lawyers do for injury victims and their families.
Remember, when you need us- you've got a free consultation with our law firm at our San Diego office.
Why Our San Diego Injury Lawyers Are the Right Choice For You
After a serious injury accident, you are likely asking yourself "How am I going to pay my medical bills?" and "How will I support myself and my family if I can't work?"
Ultimately, the party responsible for your injuries should be held accountable for their carelessness and recklessness, but rarely is getting compensation from them easy. In most cases, it will be up to their insurance company to pay you for the damages you've incurred.
Despite the advertisements that you see on TV that pretend insurance companies are 'on your side' or that you're in 'good hands' with them, these companies are really interested in only one thing: making money.
So, don't get screwed, get Ross.
A Member of The Multi-Million Dollar Advocates Forum
Attorney Ross Jurewitz and his San Diego car accident team know the tricks and tactics that the insurance company will try to use to underpay you for your valid injury claim. We have seen firsthand the unscrupulous way their adjusters and legal teams will try to bully victims into accepting lowball settlements or damaging their claims through recorded statements designed to trip them up.
We won't let the insurance company take advantage of you. When you hire us, we'll handle all of the negotiations with the insurance company, and we'll protect you from their predatory practices. Our idea of a successful outcome for your case is one that compensates you fully for the losses and suffering associated with your accident, lost income, medical treatment, and financial compensation.
The compensation we'll seek could include:
Current and future medical expenses
Lost wages
Loss of future earnings
Loss of opportunity
Loss of companionship or loss of household services
Pain, post-traumatic stress, and anguish
If you lost a loved one in a tragic accident caused by someone else's carelessness or a wrongful act, we'll help you file a wrongful death claim to get the compensation and measure of justice that your family deserves.
If the insurance company refuses to offer you a fair settlement to recover compensation that will make you whole again, we will not be afraid to take them to court. An inexperienced or apathetic lawyer might be willing to accept a lowball settlement just to wrap up the case, but that is not how we work.
You've Taken a Hard Hit
Car accidents are no joke and we're just as serious as you are.
Our skilled San Diego personal injury lawyers prepare every single case as if it is going to trial. We know the insurance companies will want to settle when they see us coming, but we will always be ready to fight for what you are owed through tenacious litigation if necessary.
That's what sets us apart from other firms, and that's why so many people in San Diego and Carlsbad choose us to represent them when the stakes are high. So, call 855-GET-ROSS today and schedule a 100% free, confidential consultation with us today. We're your San Diego personal injury advocate.
Did you hear about our NO FEE GUARANTEE? We promise that you won't pay us anything…not one penny…until we win your case. If we don't win money for you, you won't owe us anything.
It doesn't matter if you have a car accident case, medical malpractice, or were a victim of dog bites, we're your San Diego personal injury experienced attorney and we offer a free initial consultation.
We know you'll be impressed with how we represent clients and maintain our attorney-client relationship with you.
Don't get screwed. Call Ross today- your experienced attorney- we've recovered millions.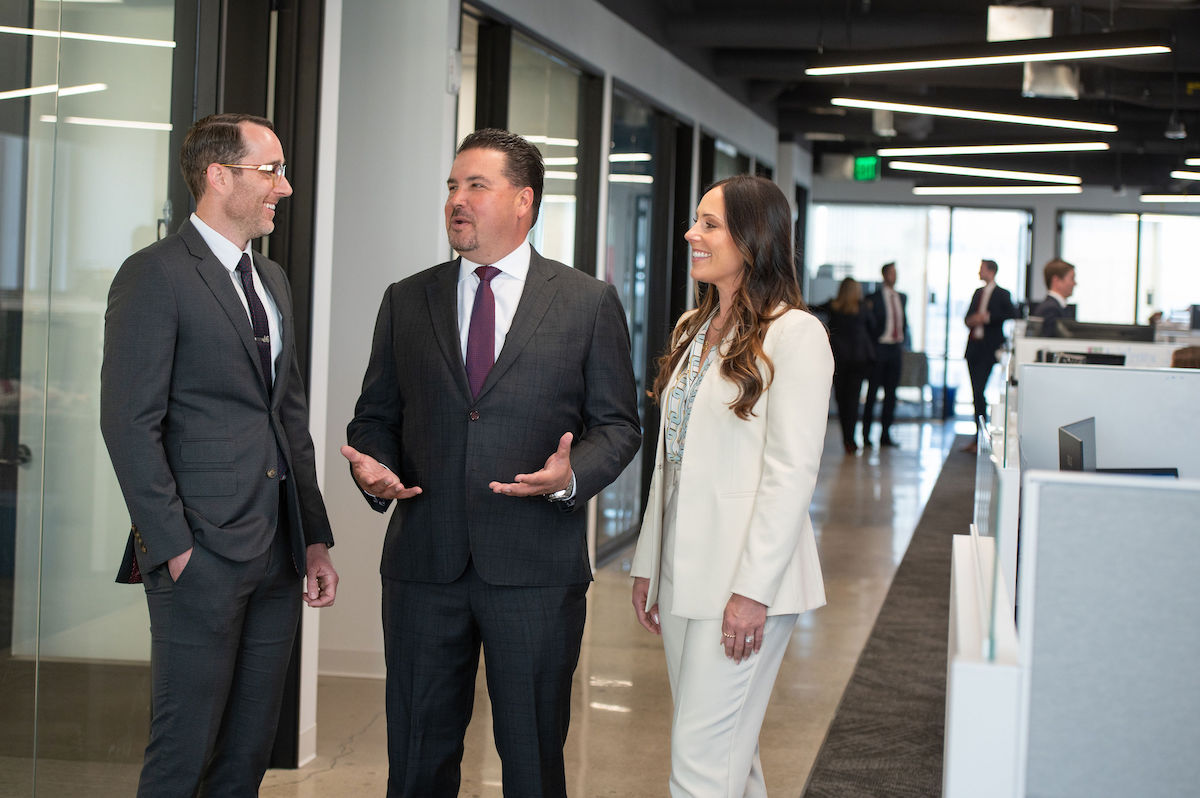 How do I get my car repaired after an accident?
Jurewitz Law Group Injury & Accident Lawyers offers a guide that is designed to empower you to be able to get the car repairs you need on your own, depending on the insurance coverages of you and the at-fault driver. If you follow this guide carefully, it can help resolve 99% of all property damage claims.
Client Testimonials
Attorney Review: Angel T.
I want to thank jurewitz law group for handling my case with such professionalism. Accidents could be frustrating and could sometimes be confusing on how the case if being handled. Ross did an amazing job being clear with the process of the cases and always kept me informed. One thing to highlight was the Quality of the work and how they valued my case. I was more than pleased with the outcome of my case and would highly recommend this firm.
Attorney Review: Frank N.
I reached out to the Jurewitz Law Group after finding them on Yelp. And I'm glad I did, they answered my questions and helped and after retaining them, they always followed up and let me know what was going on. The staff is knowledgeable and helpful, and they keep you up to date with everything going on. I recommend this law group, and will continue to do so.
Attorney Review: Joseph P.
I have recently closed a case with this wonderful Law Group. They exceeded my expectations. The great people there who managed my case were Hope and Ivonne they were caring, outstanding and sincere. If I ever need Jurewitz again I have comfort that my case will be in more than good hands. If anybody out there needs an injury attorney, don't call anyone else.
Attorney Review: Irvin
The team that was working with me were top notch and very informative. Never felt like i was being lied to or anything like that. They were very professional and attentive to all my questions. I hope not to need to see them again but if i do, i will undoubtedly return with Jurewitz Law Group.
Attorney Review: Nadia O.
Jurewitz exceeded my expectations and they were professional, kind, and diligent for the 2 years they worked with me after I was in a car accident. James, my attorney, always checked in and communicated, helping me feel secure and supported. I'd come back to them if I ever had to and would recommend them to any friend or relative needing legal assistance. They're awesome!
Car Accident Attorney Review: Demetria A.
After a tragic and painful car accident, I felt like I hit a dead end and had nowhere to turn. With little hope left, I did a quick google search as a last resort and luckily made my first call to Jurewitz. BEST DECISION EVER! They have a great team of professionals that will take care of you. Immediately after I reached out, I was assigned an attorney who started working with me right away. I definitely appreciated the level of professionalism from this law group and how stress free they made the process. Special shout out to Cecilia and Jeremy, who are both amazing and made this a pleasant experience. THANK YOU!!
Attorney Review: Mike H.
I have always been well served by Jurewitz Law and recommend them for complex cases that require seasoned, professional representation. Hope and James are trusted and experienced experts who care about my needs and are very responsive. I recommend you look no further than Jurewitz for a great team to handle your case.
Our Areas of Practice
AT THE JUREWITZ LAW GROUP INJURY & ACCIDENT LAWYERS, WE TAKE CARE OF OUR CLIENTS. THAT'S WHY YOU'LL BE WORKING WITH A DEDICATED ATTORNEY AT ALL TIMES, AND OUR STAFF WILL BE SUPPORTING YOU AND YOUR LOVED ONES THROUGHOUT YOUR CASE.
MEET OUR SAN DIEGO TEAM
Our Dedicated Attorneys in San Diego
Jurewitz Law Group is looking for the perfect partner – and you might be it. When clients hire us, they're a part of our team. That means access to all our information on the opponent, the battleground, and the likely outcome.
We don't believe in putting a good spin on a bad situation – we tell it like it is. If you were a personal injury victim, seriously hurt through the fault of someone else, here's the truth: you deserve to get money from the guy who did this to you. And we are the legal counsel that can help you get it.
Car accidents in San Diego are no joke, and neither are we.
California Crash News
California Crash News
You can read through shelf after shelf of legal documents, or you can look through our collection of easy-to-understand legal blogs
READ OUR MOST
Personal Injury FAQs
It is important to remember that insurance companies are interested in protecting their profits' not your best interests. So' it is likely your insurance adjuster is advising you against getting your own legal representation because s/he knows that a lawyer will help you get the best claim possible' and thus cutting into the insurance company's profits. Do what is best for your situation. Consult with a qualified personal injury lawyer in San Diego right away.
Perhaps one of the most frequently asked questions we receive' it is understandable that accident victims are concerned about costs. The main goal of taking legal action is to secure financial compensation for the various expenses you've accrued as a result of your accident. Let us assure you that our firm not only provides FREE consultations' but we also offer our legal services on a contingency basis. This means that if our San Diego injury attorneys represent your claim' you do not owe us attorney fees or out of pocket expenses; our payment is simply a percentage of the final verdict or settlement we win on your behalf.
The sooner you take legal action' the better your chances of securing the best possible outcome. In the state of California' the deadline (statute of limitations) for most personal injury claims is within two years from the date the injury was sustained or discovered. If you fail to file your claim or suit before the statute of limitations expires' you could forfeit your right to take legal action at all. Do not let this happen. Contact an attorney to evaluate your circumstances.
The amount of money you are entitled to will depend on the severity of your injuries and the type of accident' such as a car crash' truck accident' slip and fall' or defective product accident. You may receive compensation for the following past' current' and future damages:
Costs of medical care
Rehabilitation
Lost wages
Loss of earning ability
Mental anguish
Pain and suffering
Property damage
Funeral/burial expenses
However' the amount you are entitled to and the amount that you receive will also depend on those who represent your claim. Your insurance provider may attempt to minimize or outright deny your rightful claim' whereas a lawyer will pursue compensation for the full scope of damages you have suffered.
You may be questioning whether you have the right to take legal action after an injury accident. Personal injury law deals with disputes between individuals or entities in which one party believes the other is legally responsible for the harm s/he has suffered. If you were involved in a vehicle accident' for example' and the other party caused the crash as a result of carelessness or willful wrongdoing' you will likely have a legitimate claim. Contact an injury lawyer in San Diego at the Jurewitz to evaluate your situation and determine whether legal action is the right choice.
We understand that there are plenty of personal injury firms competing for your attention' but we can confidently say that our years of experience and strong track record set us apart from the rest. Our dedicated attorneys understand what it takes to succeed in a variety of personal injury claims in San Diego and we strongly believe in putting our clients' needs and goals first. To learn more about how we can help you and your loved ones during this challenging time' please give us a call.
AWARDS & MEMBERSHIPS
Our Achievements in San Diego CA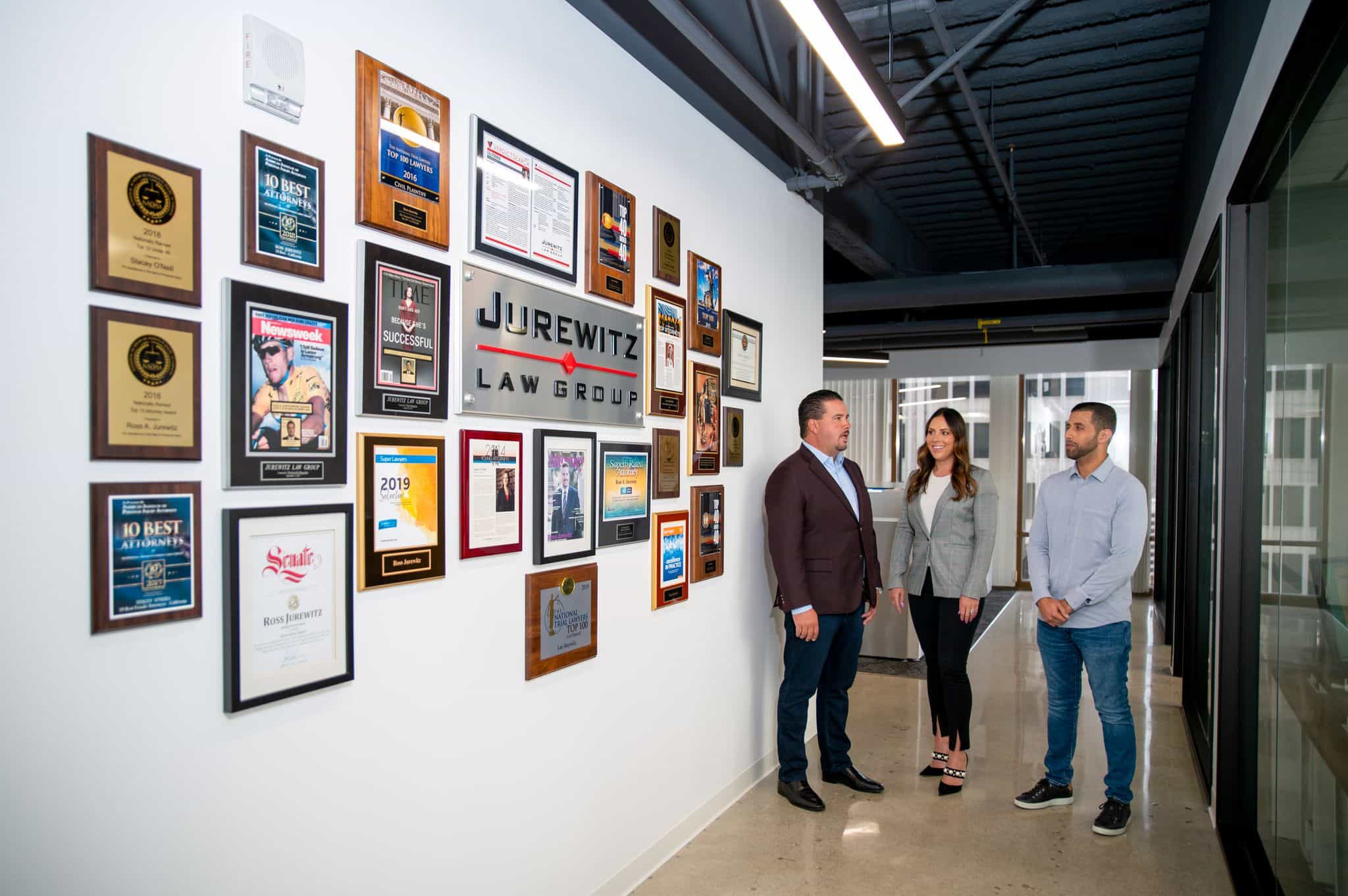 AWARDS & MEMBERSHIPS
Our Achievements in San Diego CA
Ross Jurewitz and his team won't let you be duped or intimidated by multi-million dollar insurance companies that have no interest in your well-being. Unlike other firms, we're not looking for a quick low-ball settlement so we can move on to the next case.
Our goal is to get you the compensation you deserve, and nothing less. We've stepped into the ring with insurance companies and their high-priced lawyers plenty of times before and none of this process shakes us.
We've Seen it All
We've seen it all when it comes to personal injury matters- on the way to realizing justice for our clients. It's an ethos you'll notice from our initial consultation all the way to the best possible resolution for your case.
We have access to expert witnesses in all fields who will be glad to testify on your behalf. We have a network of medical providers and caregivers who can treat you right now at no upfront cost, while we take care of your claim.
Whether you were bitten by a dog, involved in a multi-car accident on the 15 with catastrophic injuries, tripped on one of San Diego's cracked sidewalks, a victim of sexual abuse, hit by a driver performing a left turn while on your motorcycle, or lost a loved one in a terrible accident, we're your San Diego CA 92101 personal injury team. When our law firm takes your case, you pay no fees. We only get paid if we win your claim.
SEND US YOUR MESSAGE
Request a Free Consultation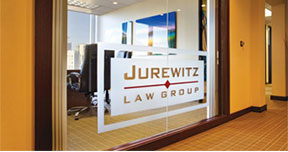 600 B Street, Suite #1450 San Diego, CA 92101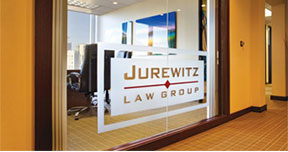 2667 Camino del Rio South, Suite 301-12, San Diego, CA 92108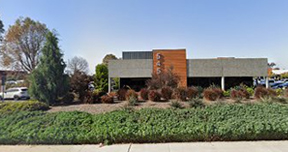 5451 Avenida Encinas, Suite H, Carlsbad, CA 92008