If you or a loved one were injured or worse in a crash on California roads due to a lack of maintenance on the road, you may be entitled to financial compensation. Improper highway maintenance can present hazardous situations, and if you find yourself in an accident due to a roadway hazard caused by poor maintenance, you should contact an attorney as soon as possible to discuss your case.
We rely on government-maintained roadways to make countless trips to work, to school, and our next vacation destination. If the roads are not maintained to the high standards that are agreed upon by safety and technical consultants, they can pose a massive safety risk to the people that use them.
The San Diego-area hazardous roadway attorneys of Jurewitz Law Group Injury & Accident Lawyers have the knowledge, experience, and resources to take on the government agencies that may have created a hazard through their lack of attention to the maintenance of the roadway and its facilities. To speak with a member of our legal team today about your case, please contact the San Diego personal injury attorneys of Jurewitz Law Group Injury & Accident Lawyers today at (619) 233-5020.
Accidents on Dangerous Roads
The National Highway Traffic Safety Administration (NHTSA) estimates that a motor vehicle collision occurs in any part of the world every 60 seconds, resulting in more than 5 million crashes each year. Traffic accidents are a common and very devastating occurrence' and collisions can be caused by a number of different factors' such as driver negligence. However' many drivers each year are injured in a crash due to no fault of their own.
With more than 100 million licensed drivers in the U.S.' it is imperative that the nation's roadways are properly maintained and that state and city governments provide safe streets and highways for people to travel on. But when those responsible for the upkeep of the roadways are negligent' a dangerous hpcollision may occur and seriously injure those involved.
Anyone injured in a crash caused by an unsafe roadway may want to contact a hazardous roadways lawyer to make sure any at-fault parties are held accountable.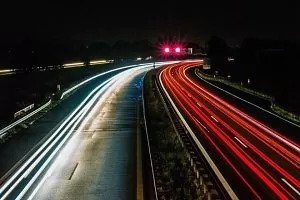 Hazardous roadway conditions are a common factor in traffic accidents every year.
Why Should I Hire a Lawyer For My Case?
Choosing the right lawyer can make a significant difference in your hazardous roadway case. The attorney you choose should have a solid understanding of personal injury law, whose responsibility it is to maintain the roadway, and where their responsibility falls if you find yourself a victim of an accident due to poor highway upkeep.
A qualified and experienced personal injury lawyer will be able to help you understand your legal options, build a strong case and work to win the compensation that you need to pay for medical bills and to get your family's finances back on track. They will be able to represent you in the settlement process, no matter who the opponent may be – government, an insurance company or otherwise. By working with a lawyer who has handled similar cases to yours, you can rest easier knowing that your case is in good hands.
Your lawyer will fight to get you the compensation you need for your medical bills, damage to your property, and other expenses. The action you take can ensure that agencies in charge of maintaining our roads are held responsible if their negligence causes an accident. Going up against powerful government entities is never easy, but both our lawyers and their lawyers work out of the same playbook – the law, and we will use this in the most effective way possible to ensure that the government cannot get away with neglecting the standards they were mandated to provide.
How Can Jurewitz Law Group Injury & Accident Lawyers Help Me?
Jurewitz Law Group Injury & Accident Lawyers is one of the most accomplished personal injury firms in San Diego and Southern California. We achieve successful outcomes for our clients by giving individualized attention to every case we handle. Despite garnering attention from high-profile media outlets such as CNN, TIME Magazine, and Newsweek, we still strive to maintain a small firm culture. You're never just another name in our system. We want to get to know you and your family so we can fully understand the impact this accident has had on your life. With our A+ rating in client satisfaction and service from the Better Business Bureau and the customer satisfaction to prove it, Jurewitz Law Group Injury & Accident Lawyers works to place our clients at the center of all we do, helping you to get the compensation you need to recover.
As members of the Million Dollar and Multi-Million Dollar Advocates Club, we also back up our service to our clients with results of bringing down large settlements, holding negligent drivers, contractors and others accountable for their actions. Our lead attorney, Ross Jurewitz, has been named a Top 100 trial lawyer by National Trial Lawyers, and he has also been named a Super Lawyer in California, showing a track record of results and high levels of peer recognition.
Who Can be Held Liable for a Hazardous Roadways in San Diego?
In a crash caused by another person' it is typically clear who the at-fault party is and who will be responsible for giving you the compensation to pay for any vehicle damage and personal injuries you sustain. However' when a crash is caused by a hazardous roadway condition' who is supposed to pay? In the state of California' the Department of Transportation is responsible for keeping roads throughout the Golden State safe and free from hazardous conditions' but with the roads in California consistently under repair and construction' drivers are at risk for a serious accident far too often.
A San Diego personal injury lawsuit can be brought against the designers and the maintainers of the public roadways' primarily the state or city government who oversees the roads. A person must prove that damage in the road caused the crash, which can be difficult. Seeking assistance from an experienced San Diego hazardous roadway accident attorney who can consult with experts and gather evidence can help you hold the government entity responsible.
Types of Hazardous Conditions
Many different roadway conditions can put the occupants of a vehicle in danger. Each state's Department of Transportation is responsible for maintaining safe road conditions for the many motorists who make use of the roadways and highways daily. However' due to tighter budgets and various forms of negligence' the following are some examples of dangerous road conditions that may exist when the roads are not properly maintained:
Lighting: Inadequate lighting may make it more difficult for a driver to see other landmarks' pedestrians' signs' or even vehicles.
Pavement: Potholes' bumps' changes in texture' drop-offs' or any other substandard patches of pavement can make driving conditions dangerous for a motorist.
Road rails: Road rails' or guard rails' are meant to keep vehicles safely on the road. However' improperly installed road rails can present a hazard to drivers' as well as a lack of a road rail.
Road construction: Debris from road construction or lanes being closed off without ample warning to drivers can cause a severe crash to occur.
Bad roads: A "bad" road can include the design' width of lanes' angle of curves' and general wear and tear of the road itself.
Traffic signs and signals: If a sign or traffic signal is blocked and poorly visible' or if the latter is not correctly functioning' a traffic accident is very likely to occur.
San Diego Hazardous Roadway Accident Attorneys Provide Exceptional Legal Representation for Injured Victims
An auto accident is one of the most devastating things a person may experience in their lifetime. If a person is seriously injured in a crash' they may be left with mounting medical bills and an extensive recovery time' which can greatly complicate the recovery process.
Though bringing a lawsuit against the state or city government may seem very daunting' it is crucial to know that you have legal rights if their negligence is what caused your accident. It is important to note that like most personal injury cases, the statute of limitations in California for cases involving highway hazards is two years. This means that it is in your interest to contact an attorney as soon as possible after your accident to begin your claims process. If you were previously involved in a crash in the past two years, you should speak with a lawyer regarding your ability to file a claim.
At the Jurewitz Law Group Injury & Accident Lawyers' our knowledgeable San Diego car accident lawyers are committed to protecting the rights of accident victims and will work diligently to ensure any at-fault parties are held liable. Call our offices at (619) 233-5020 or (888) 233-5020 for a free consultation.