San Diego Car Accident Property Damage Attorney
If you were involved in a car accident and your car or other personal property was damaged due to someone else's negligence, you may be owed compensation for the damage. Getting in a car accident can be frustrating, especially when you did everything you could to avoid it and someone else was at fault. You may be recovering from injuries, missing time at work, and experiencing other major disruptions to your lifestyle.
In addition to resolving your physical injuries, you may be feeling financial stress as you consider the medical bills and property damage, among other expenses that followed your accident. Many people know they can turn to a personal injury lawyer for assistance in recovering compensation for their injuries, but it is important to remember that an attorney may also be able to help you recover compensation for your vehicle damage and other damaged property.
To learn more about how our attorneys can help you pursue compensation for your damaged property, contact the San Diego car accident lawyers of Jurewitz Law Group Injury & Accident Lawyers today at (619) 233-5020 to schedule a free consultation.
Why You Need a Lawyer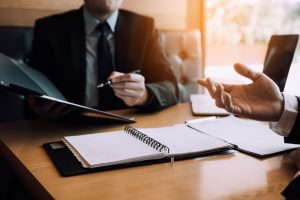 If you sustained severe injuries in a car accident, you probably already know the importance of seeking legal representation. However, if you only had minor injuries or walked away unharmed, you may be thinking that filing a simple insurance claim will cover the cost of your vehicle and other damaged property. Unfortunately, insurance claims are anything but simple.
As you begin working with your insurance company and that of the other driver, at first they may seem friendly and helpful, leading you to believe that if you provide them with the correct information, they will quickly process your claim and give you a fair settlement. Remember, the insurance company is a business, and they will always put their own interests first. They may try to trick you into admitting that you were at fault in order to reduce your compensation or invalidate your claim entirely. If they do offer a settlement, it will often be less than you deserve, and they may become aggressive or use other manipulative tactics to convince you to accept that settlement.
Our attorneys have vast experience negotiating with insurance companies. We will help you understand your legal rights under the applicable insurance policies, and help you build a strong case to fight for those rights. We will help you evaluate any settlements they offer, and if they do not offer what you deserve, we can negotiate for something higher. Most property damage cases are settled outside of court, but we can take the case to trial if that is what is necessary.
Why Choose Us?
The attorneys of Jurewitz Law Group Injury & Accident Lawyers have devoted our careers to fighting large insurance corporations to protect the rights of individuals like you. No matter how much the insurance company seems to care about you, they really don't. They just care about money. Our attorneys will get to know you personally and understand how the accident has impacted your life. We will then give everything we have to fight for the compensation you deserve.
Some inexperienced attorneys may back down and accept a lower settlement just to get the case over with. At Jurewitz Law Group Injury & Accident Lawyers, we will see your case through till the end and support you every step of the way. We prepare every case as if it were going to trial, and even though most cases are settled out of court, we are always prepared to go all the way. We believe communication with our clients is important, so we utilize updated technology to connect with you and we will keep you in the loop as much as you would like.
Types of Property Damage from Car Accidents
When you are involved in a car accident, the damaged vehicle is the first type of damage that comes to mind. Without a working vehicle, you may have trouble getting to doctor's appointments necessary for your recovery and getting to other places that your daily life requires you to go.
Many people travel with a lot of personal belongings, and aside from your car itself, there are other types of property that may be damaged in your vehicle during an accident, including:
Cell phones
Navigation devices
Photography equipment
Laptops
Tools
Jewelry or clothing
An attorney can help you assess the total property damage from your accident and determine what compensation you may be owed.
Does Insurance Cover Property Damage?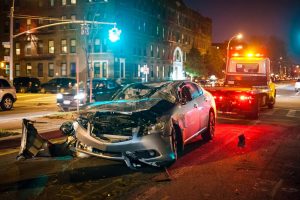 All drivers in California are required to carry auto insurance. However, if the other driver has the minimum amount of liability insurance required, it likely won't cover all of the property damage that occurred. In this case, you could file a claim with your own insurance company to cover the difference.
As you can imagine, working with two insurance companies is even more complicated than working with one. They may try to pass the responsibility back and forth, leaving you stuck in the middle of a confusing, frustrating battle that seems to go nowhere. Our attorneys understand the legal obligations spelled out in the insurance policy, and we will demand that all involved insurance companies comply with these obligations, even taking them to court if necessary.
However, because the damage to your car and other property occurred in an accident in which you were injured, these losses will be included in your personal injury case. Your Jurewitz Law Group Injury & Accident Lawyers attorney will know how to handle the inter-relationship between any claim with your own auto insurance carrier and the compensation we are pursuing from the at-fault driver's insurance company. And if we can't come to terms with the at-fault party's insurance company, we're prepared to take them to court.
Contact a San Diego Car Accident Property Damage Lawyer Today
Understanding what you are and are not entitled to under an insurance policy can be complicated. What complicates things even more is when the insurance company gives confusing information or tries to bully you into admitting fault or accepting a lower settlement than you deserve. Unfortunately, this is not an exception, it is how most insurance companies operate.
Our attorneys are used to this. We will tell things as they really are, so you understand the big picture. We can help you understand exactly what the insurance companies are asking for and offering you, and we will utilize our legal knowledge to help you pursue the full amount of compensation you are owed for your damaged property.
We operate on a contingency basis, which means the consultation is free and we won't charge you anything unless we successfully secure compensation on your behalf. Contact us today at (619) 233-5020 to schedule a free consultation.