Speeding is so commonplace on San Diego roads that most drivers don't think about it. But speeding is one of the most dangerous ways a driver can break the rules of the road. It is no wonder, then, that the California Office of Traffic Safety reports there were 1,066 speeding-related deaths statewide in one recent year.
If you have been injured in a speeding accident in California, contact Jurewitz Law Group Injury & Accident Lawyers right away.
Our San Diego car accident attorneys have recovered more than $100 million in compensation for our clients since 2007, and in many cases, we were able to recover more than the insurance company's first offer.
We can help you find the proof you need to show that a speeding driver should be held liable for your injuries, and we will be there for you through every step of your case. Contact us in San Diego or Carlsbad today for a free consultation.
Why Is Speeding So Dangerous?
Because speeding is so common, many drivers do not believe it is dangerous, or they think the dangers do not apply to them. But speeding is incredibly dangerous, and there are two main reasons why:
Speeding makes it harder to control your car — The faster a car is moving, the harder it is for the driver to safely control it. Speeding leaves you with a smaller margin for error when passing and maneuvering, increases your stopping distance, and can make you lose control when you are turning. All these factors make an accident more likely.
Speeding tends to make injuries in an accident more severe — According to basic physics, the faster something is moving, the more force it has when it collides with another object. This means that a speeding car hits with more force than a car that is not speeding. And the more force involved in a car crash, the more likely it is that someone will suffer serious injuries or be killed.
Common Injuries from San Diego Speeding Accidents
Speeding accidents tend to cause severe injuries to any drivers and passengers involved, such as:
Disfiguration of the face or body
Neck and back injuries
Spinal cord damage, including paralysis
Damage to internal organs
Internal bleeding
Damage to joints, muscles, and connective tissues
Amputation
Mental health disorders (depression, anxiety, nightmares, suicidal thoughts, PTSD, etc.)
Why You Need a Speeding Accident Lawyer
If you have been involved in an accident with a speeding driver, you may think you will have an easy time proving they were negligent. However, you do not want to take the risk of losing your case if you have suffered severe injuries. Here are a few important reasons to hire a San Diego car accident lawyer:
Identifying all the liable parties — A speeding driver can be held liable for your injuries in an accident, but they may not be the only liable party. For example, the other driver's car may have had a defective part that contributed to the accident, in which case the company that made the car or the part could be liable for your injuries.
Finding evidence to support your case — You need to prove that a speeding driver or another party was negligent if you want to recover any compensation for your injuries. You will need strong evidence to build your case, and a car accident attorney can help you find that evidence.
Getting proper medical treatment — Depending on the nature and severity of your injuries, you may need specialized medical care. A car accident lawyer can help you find the doctors and other specialists to give you the best chance of a full recovery.
Insurance settlement negotiations — Most personal injury cases involving speeding drivers end in a settlement with the at-fault driver's insurance company. Insurance companies have lots of tricks they can use to shift liability or minimize the value of your claim. If you want to fight back against the insurance company, you will want help from an experienced lawyer.
Bringing your case to trial — Trials are rare when it comes to speeding accidents, but occasionally an insurance company will refuse to make a reasonable settlement offer. If this happens, you will need to take your case to trial if you want to recover fair compensation for your injuries, and a lawyer is indispensable if you want to win your case.
Compensation for Victims of California Speeding Accidents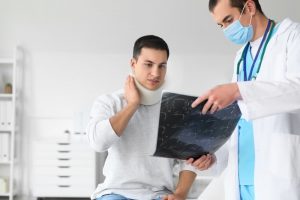 A speeding accident can take a severe toll on your body, your mental health, and your finances. But by filing a personal injury lawsuit against the other driver, you may be able to recover compensation for:
The cost of past and future medical treatment related to your injuries
Lost income while you are recovering from the accident
Reduced earning potential due to a long-term or permanent disability
Pain and suffering
Mental and emotional distress
Statute of Limitations for Car Accident Lawsuits in California
In most cases, the deadline to file a personal injury lawsuit after a car accident in California is two years from the date of the accident. Waiting too long to file a lawsuit could reduce the value of your claim or prevent you from recovering any compensation at all.
What if the Other Driver Does Not Get a Speeding Ticket?
Some accident victims are reluctant to file a lawsuit after a crash because the other driver was not cited for speeding. But you are still eligible to claim compensation for your injuries, even if the other driver does not get a speeding ticket.
A speeding ticket is a traffic offense that falls under California criminal law. A personal injury lawsuit is a civil case, meaning there is a different standard of proof required if you want to win your case.
If the other driver is ticketed, that can be a strong piece of evidence in your favor. But as long as you have additional evidence showing the other driver was negligent, you can still prove your case even if the other driver was not ticketed for speeding.
Contact a San Diego Speeding Car Accident Lawyer Today
If you have been injured in a speeding accident, the San Diego car accident lawyers of Jurewitz Law Group Injury & Accident Lawyers are here to defend your rights and help you secure fair compensation. Call (619) 233-5020 or visit our contact page for a free consultation.