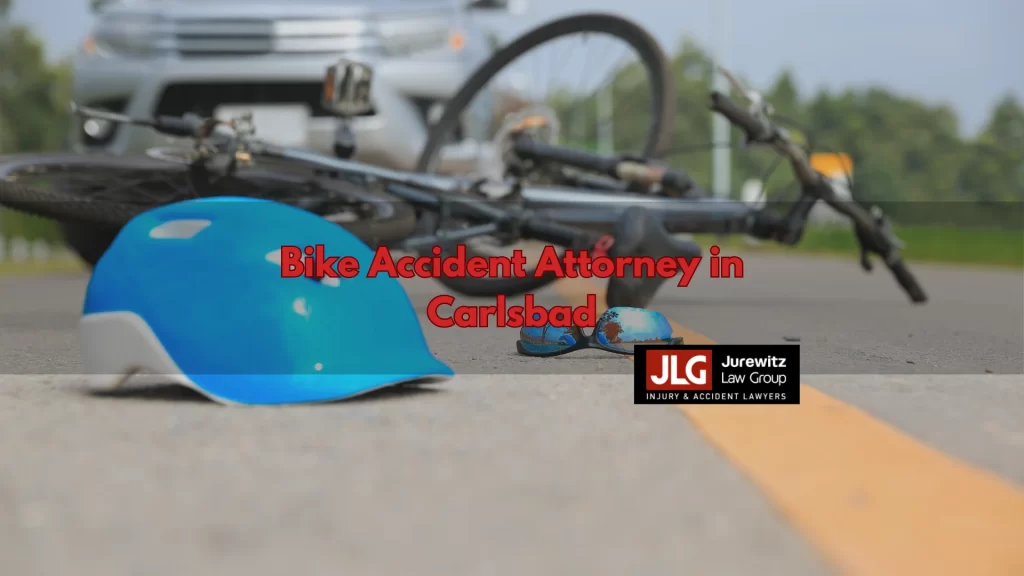 Get Legal Help After a Bicycle Accident
Has a Carlsbad bicycle accident left you with physical pain' mental distress' and expensive medical bills? You may be entitled to compensation for the costs of treatment and rehabilitation' therapy' pain and suffering' and more. Find out more about your legal options by contacting the Jurewitz Law Group Injury & Accident Lawyers. Our knowledgeable Carlsbad personal injury attorneys can help you determine the best path towards recovery and get you back to your life. Don't wait! Call us today at (760) 585-4640.
Bicycles are a popular and invigoration form of transportation and recreation in Carlsbad and throughout Southern California. Bikes obviously have to share the road with cars, and, unfortunately, too many drivers fail to give bicyclists the same level of respect that they give other motor vehicles.
When the National Highway Traffic Safety Administration (NHTSA) released Traffic Safety Facts relating to bicyclists and other cyclists in May 2018, California had the highest number of pedal-cyclist fatalities with 147, which was followed by Florida with 138 and all other states had fewer than 100. Los Angeles was the major city with the most pedal-cyclist fatalities (20); San Diego only had one.
It is far too common for motorists to claim that a crash occurred because the bicyclist "came out of nowhere." But it is nothing new to expect cyclists on the road' especially in a city built for biking' such as Carlsbad. Bikers are entitled to the same rights as other motorists' which entails the right to share the road. In the event that a driver causes a collision with a bicycle' the cyclist is well within his or her right to pursue a personal injury claim against the negligent driver.
The personal injury attorneys at Jurewitz Law Group Injury & Accident Lawyers can quickly go into action and help you obtain the compensation you need and deserve from the at-fault motorist. To explore your legal rights after a bike accident, call (619) 233-5020 or contact us online to schedule a free consultation. We can also set up a video conference via Skype if that is more convenient.
Who Is Responsible for My Bike Accident in Carlsbad?
When you have been hit by a motor vehicle while riding your bike, you need to hold the responsible party or parties legally accountable. And if one or more parties did not take reasonable care to avoid an accident, they may be made responsible for the resulting damages. The most effective way to do that is to retain an experienced Carlsbad personal injury lawyer to determine who is at fault.
Following a traffic collision' it is crucial for each party involved to assume responsibility for their own actions. If one party did not take reasonable care to avoid an incident' he or she may be held accountable for the resulting damages. Bicycle crashes are often caused by the following parties:
Careless drivers that simply do not pay attention' drive while distracted' intoxicated or drowsy' or break the law.
Negligent property owners or government agencies that fail to address road hazards' such as potholes' poor lighting' or faulty road designs.
Bicycle manufacturers who fail to properly design' test' or sell a bike that is reasonably safe for use.
Bike mechanics that fail to properly inspect and repair a damaged or defective bike.
Insurance companies for any of these parties tend to accuse a bicyclist of being at fault in their injuries as one way to avoid paying out money damages.
Unlike an insurance company that wants to deny or minimize liability, a Carlsbad bike accident attorney represents your best interests. Once retained, the lawyer will investigate the accident to determine fault, collect key evidence, and identify the liable parties. From there, your legal counsel takes charge at the negotiating table, or when necessary, in court, to seek a full range of financial compensation on your behalf.
Why Choose Jurewitz Law Group Injury & Accident Lawyers To Handle My Bike Accident Case?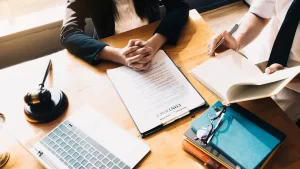 At Jurewitz Law Group Injury & Accident Lawyers' we've earned a reputation for providing the aggressive' dedicated representation cyclists often after a crash. We will not settle for anything but the best possible outcome for your case.
Jurewitz Law Group Injury & Accident Lawyers has been a corporate sponsor of the League of American Bicyclists, Silent Soldier, and America Walks since 2013. Our firm has office locations in Carlsbad and downtown San Diego.
Firm co-founder and managing partner Ross Jurewitz is a proud member of the Million Dollar Advocates Forum, to which fewer than one percent of lawyers in the U.S. are members. He was named a Super Lawyer by Southern California Super Lawyers in 2016, 2017, and 2018.
Hiring the Jurewitz Law Group Injury & Accident Lawyers personal injury team comes at no upfront cost. You only pay when you receive a monetary award.
Types of Bike Accident Cases We Handle
Most bike accidents in Carlsbad involve motor vehicles, and driver negligence is often to blame. Some of the most common causes of bicycle accidents include:
Left-turn accidents
Failure to yield at an intersection
Backing out accidents
Failure to stop at traffic sign or signal
Parking lot accidents
Rear-end accidents
Loss of control
Speeding
The so-called dooring accident is also a very common kind of collision in Carlsbad when a motor vehicle occupant swings open the car door into the path of an oncoming bicyclist. Bicyclists have no way of avoiding such collisions and can often be thrown several feet upon impact.
Some of the kinds of injuries riders may suffer in bicycle accidents include:
Road rash
Traumatic brain injuries
Muscle strains
Spinal cord injuries
Sprains
Paralysis
Fractures
Amputation
Soft tissue injuries
Musculoskeletal trauma
Internal organ injuries
Neck Injuries
When a bicyclist dies from injuries suffered in an accident, the family left behind may have possible legal recourse. A wrongful death lawsuit can often be filed against a negligent party or parties.
Frequently Asked Questions (FAQs) About Bicycle Accidents
Below are some frequently asked questions about delivery bike accidents. To discuss the specific details of your Carlsbad bike accident claim, call us today at (619) 233-5020 or reach out to us online. Also, check out our client testimonials page.
What Damages Can I Recover after a Carlsbad Bike Crash?
When a motorist or other party is found responsible for a collision' the victim may be entitled to receive financial support comparable to the damages caused by the negligent party. This means that the injured biker or surviving family of a bicyclist killed in an accident may receive compensation for the following:
Medical bills
Lost wages
Physical therapy
Pain and suffering
Property damage
Funeral expenses
Will a failure to wear a helmet prevent me from recovering compensation?
The only people required to wear bicycle helmets in California are those under age 18. A bicyclist's failure to wear a helmet may be used as a basis for a reduced award. Even with a helmet, however, most of a cyclist's body remains exposed during a crash. The lack of a helmet could be a factor for a jury to offset the type of driver negligence involved along with other arguments that go to legal causation.
The insurance company has offered me a lump sum settlement to resolve my case. Is this fair?
You need to really think about what the cost of your entire lifetime of recovery rather than just the bills you are currently facing. The major consequence in accepting a quick settlement offer before you know the full extent of your injuries is that it will close out your case most likely without fully taking into consideration your future challenges.
It is generally advisable to decline a settlement offer and instead let an experienced attorney handle the negotiations. Based on a solid track record, a dedicated Carlsbad personal injury lawyer has a far better understanding of what your case is worth and the kinds of damages that should be obtainable. They also have the ability to file a lawsuit in civil court if settlement negotiations reach a stalemate.
Can I still recover compensation if I was partially at fault for my bicycle accident?
Yes. California is considered a pure comparative negligence state, which allows lawsuits regardless of to what degree the plaintiff, i.e., the person suing, is at fault. A court will proportionately reduce the award accordingly. For example, if an injury victim who wins $100,000 in a bicycle accident case is found to have been 60 percent responsible, the court can reduce the award by $60,000, resulting in a $40,000 payout.
Bicycle Accident Statistics
The California Department of Public Health reported in February 2018 that bicyclist injury rates increased by 21 percent from 2007 to 2013, going from 28.4 to 34.4 per 100,000 residents. Almost four percent of all people killed in traffic crashes were bicyclists.
The year 2012 had the most bicyclist injuries with 13,940, while 2007 was the year with the least (10,574). During that same time period, the 45-54  age group had the most fatalities (203), followed by the 55-64 cohort (169), and 65 and over with 146 fatalities.
Aggressive Representation for Injured Bicyclists in Carlsbad
At the Jurewitz Law Group Injury & Accident Lawyers' we have a strong reputation for providing the aggressive' dedicated representation cyclists often need after a crash' and we will not settle for anything but the best possible outcome for your case. Let us help you get the results you deserve. Schedule a free consultation by calling (760) 585-4640 today.
Additional Information