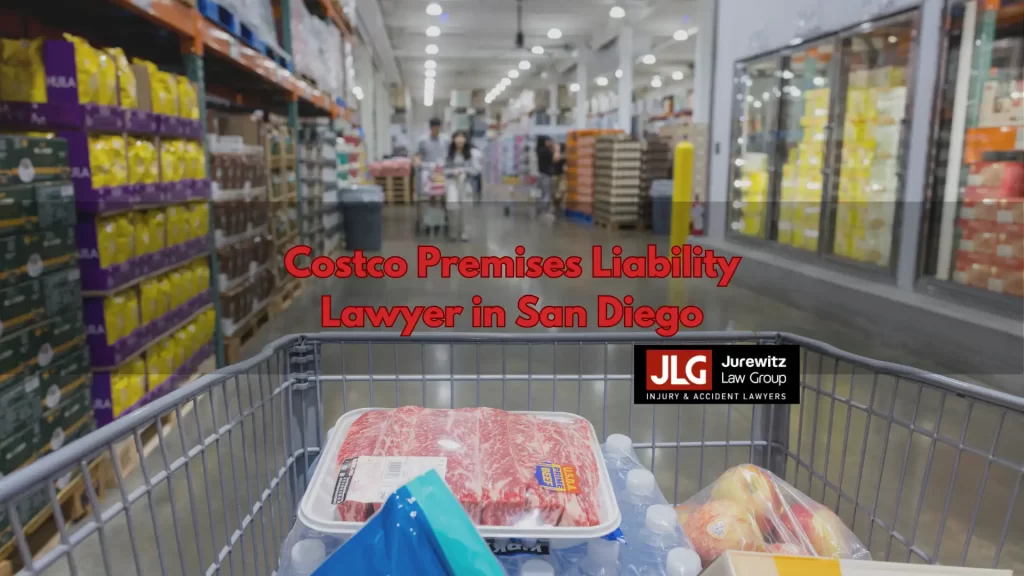 Costco Slip and Fall Accident Lawsuits
Costco is a national chain of warehouse-type stores with 120 locations in California. These stores offer a huge selection of products at competitive prices' with required annual memberships designed to help keep prices down.
Costco stores are huge' with heavy equipment and merchandise' and many customers shopping at any given time. These factors contribute to a greater possibility of accidents' and victims of these accidents – often innocent shoppers – can suffer serious injuries. If you or your loved one has been injured in a Costco store accident' it is important to speak with a knowledgeable San Diego Costco injury lawyer as soon as possible. You may be entitled to file a claim for compensation for your losses.
Our San Diego premises liability attorneys at Jurewitz Law Group Injury & Accident Lawyers can tell you if you have a valid premises liability claim. Depending on the circumstances and extent of your injuries' your damages may include:
Past and future medical expenses
Lost wages
Lost earning potential
Pain and suffering
Other losses
How Accidents Happen in Costco Stores
As a warehouse-type chain' Costco does some things differently than other retailers. Instead of shelves and standard displays' Costco stores may stack items on palettes. When items are not properly removed' displays can fall over and items can fall on shoppers in the area.
Costco employees frequently operate forklifts and other heavy equipment' which can make conditions even more hazardous for shoppers. Wet or uneven floor surfaces and improper maintenance can result in a slip and fall' with varying levels of injuries. A slip and fall may lead to broken bones' traumatic brain injury' spinal cord injury' or painful and debilitating soft tissue injuries such as sprains and bruising.
Costco Premises Liability Lawsuits
A number of injured shoppers have filed premises liability claims against Costco in recent years. Examples include:
A California woman slipped on a puddle of liquid soap in a Costco store and shattered her knee in 2012. This woman claimed that Costco employees had passed by the spill and ignored it. A jury awarded her more than $400'000 for medical expenses and pain and suffering.
In 2010' upon leaving a Costco in Burbank' a heavily medicated' elderly man with an amputated right foot got into his car (with a modified gas pedal that allowed him to drive with the left foot only)' hit the wrong pedal and backed into the food court at 25 mph' hitting a woman in the food court. She was awarded $2 million for her injuries after Costco was found liable for not installing a barrier to protect food court patrons from such a risk.
A notary in California slipped on a substance in the food court at a Costco in 2012' sustaining a patella fracture of her right knee. She was taken to the hospital' where she underwent surgery for her injuries. The jury awarded this woman nearly $415'000 in damages.
Our San Diego Costco Premises Liability Attorneys Are Here To Help!
Retail stores and property owners have a duty to their customers to maintain their premises reasonably free of hazards' or to at least adequately warn of hazards when they exist. When they breach that duty and accidents occur' victims are entitled to recover compensation for the losses they have suffered.
Our San Diego injury lawyers at Jurewitz Law Group Injury & Accident Lawyers have handled many premises liability claims for our clients' and we have an extensive track record of success. If you have been injured at a Costco' contact us at (619) 233-5020 or (888) 233-5020 for a free case review' to find out if you have a case' and what damages you may be entitled to claim.