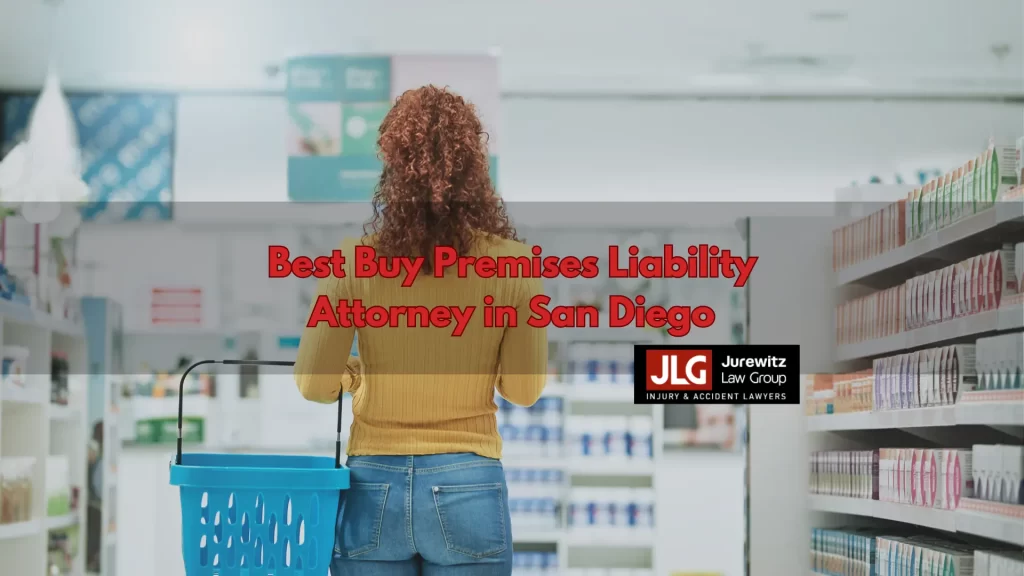 Premises Injury Accident at Best Buy
Sooner or later' most of us shop at large national retail chain stores' such as Best Buy. This Fortune 100 Company claims to be the largest specialty retailer of personal computers' consumer electronics' and related goods in North America.
Although most large retailers have company policies that require inspection and maintenance of store premises to prevent safety hazards for customers' policies may not cover all contingencies' or rules may not be followed by employees. Accidents and injuries can and do happen at Best Buy.
If you have been injured in a Best Buy store as the result of a hazardous condition on the property' you may be entitled to claim compensation for the losses you have suffered. Our San Diego premises liability lawyers at Jurewitz Law Group Injury & Accident Lawyers have dedicated our practice to representing injured people in San Diego and throughout the state. We can assist you in a premises liability claim against Best Buy or other large national retailers.
Hazardous Conditions in Large National Retail Chain Stores: Best Buy
Management or employee negligence can cause a wide range of injuries to shoppers in national chain stores' such as Best Buy. Injuries can result from a number of hazardous conditions' including:
Slippery substances left on the floor
Inventory stacked improperly or too high (so it becomes unstable)
Improper use of cleaning products
Carts or boxes creating tripping hazards in an aisle or walkway
Unsecured items on shelves (heavy or oddly shaped objects may need bars' fencing' or rope support)
Failure to provide assistance to customers in retrieving items from shelves
Premises Liability Lawsuits against Best Buy
Injured shoppers have filed lawsuits against Best Buy for injuries suffered in accidents that occurred in stores. Examples include:
A Philadelphia man tripped and fell over a flatbed cart negligently left in the aisle in a Best Buy store. He claims to have sustained numerous injuries' including herniated disc' aggravation of pre-existing degenerative disc disease' spinal cord compression' lumbar and thoracic sprain and strain' carpal tunnel syndrome' knee and elbow contusions' and trapezius (back' neck' and shoulder muscle) sprain and strain.
A Georgia man tripped and fell over a curb while entering a store' which he claims resulted from Best Buy's negligence. Losses he suffered because of his injuries include substantial medical bills' lost wages' and diminished earning capacity.
While television shopping with her two sons' an Ohio woman tripped and fell on a metal strip on or near the floor at an end cap television display. The court denied Best Buy's motion for summary judgment to dismiss this shopper's injury claim.
San Diego Best Buy Premises Injury Lawyers for Your Retail Store Accident
While Best Buy and other large retailers have policies in place to prevent accidents' employees are not always properly trained' or fail to follow store safety policies. Store personnel may create or allow hazardous conditions to exist that cause injury to innocent shoppers.
If you have been the victim of an accident caused by hazardous conditions in a Best Buy or other large chain retail store' contact a San Diego personal injury attorney at Jurewitz Law Group Injury & Accident Lawyers at (619) 233-5020 or (888) 233-5020 for a free case review. We can tell you if you have a case and what damages you may be entitled to claim.