Representing Slip-and-Fall Accident Victims
Slip and fall accidents can happen anytime, anywhere. Some cause minor injuries that can heal with medical treatment. However, others lead to severe injuries requiring extensive physical therapy and could result in permanent disability. Jurewitz Law Group Injury & Accident Lawyers understands the pain and suffering caused by this type of accident. It may be possible for you to hold the property owner liable for the injuries you sustained. Our legal team can help you pursue the maximum available compensation you need to heal so you can get back to your routine.
Property owners must create an environment that's entirely safe for their guests. That means performing routine maintenance, repairing discovered damage promptly, and removing tripping hazards. Negligent or careless actions can result in dangerous conditions that lead to serious injuries and property damage. Our San Diego slip and fall accident lawyers understand the frustration you feel from getting hurt when something that the owner could have done would have prevented your injury. You have the right to seek legal action against the at-fault party and recover the money you need to afford medical treatment and other associated expenses.
Call Jurewitz Law Group Injury & Accident Lawyers today at (619) 233-5020 to learn more about our legal services and how we can help. We're happy to meet with you for a free consultation to discuss the details of your case and advise you of the legal options you can choose from.
The San Diego slip and fall attorneys of Jurewitz Law Group Injury & Accident Lawyers know the importance of receiving full and fair compensation after an injury. Another person caused your injuries and should have to suffer the consequences of their actions. When you hire us, you can depend on our legal team to seek the justice you deserve.
If you or a loved one were injured in an accident in San Diego, call Jurewitz Law Group Injury & Accident Lawyers for your initial free consultation and case evaluation.
Let us fight by your side and help you heal from your serious injuries and be on the road to recovery. Not all law firms are the same. See how we value and treat our San Diego attorney-client relationship. Reach out today for a free case evaluation.
Download PDF
Why You Should Hire Jurewitz Law Group Injury & Accident Lawyers
Our hardworking legal team has earned an outstanding reputation for dedication to our clients and the positive results we can achieve. Legal organizations, such as The National Trial Lawyers Top 100 Trial Lawyers and Super Lawyers, have recognized us for our hard work. We're members of the Million Dollar Advocates Forum®, the San Diego Regional Chamber, and the National Association of Personal Injury Lawyers. We also hold a 10.0 Superb rating from Avvo.
Since 2007, the San Diego slip and fall accident attorneys of Jurewitz Law Group Injury & Accident Lawyers have helped accident victims fight for the justice they rightfully deserve. We know this can be an overwhelming and stressful time in your life. When you're injured and attending doctor's appointments, you probably don't want to think about the responsibility that comes with a legal case. That's where we come in. We can take on that responsibility and handle every legal aspect for you. Our team will be available 24/7 to answer your questions and provide the guidance you need during the confusing legal process.
At Jurewitz Law Group Injury & Accident Lawyers, we don't place our interests above our clients' interests. You will be a priority when you hire us. We will discuss your case at length to understand the goals you're trying to reach. We'll keep your interests in mind as we create the right strategy that gets the positive result you want. We'll provide the personalized one-on-one attention you deserve, so you always know the status of your insurance claim or lawsuit and what to expect next. You can depend on us to treat you with respect, compassion, and professionalism from start to finish of your case.
Were you injured in a slip and fall accident?
Contact Us

What To Do After A Slip and Fall Accident Causes Your Injuries
Whether your slip and fall was the result of inadequate repairs, dangerous conditions, or another safety issue, there are steps you need to take right away to protect your rights to financial compensation from the property owner. It's critical that you don't wait to initiate a legal case. If you wait too long, you could miss the deadline and lose your opportunity to hold the owner accountable for their actions.
Laws and statutes require filing an insurance claim or lawsuit within a specific timeframe. You might think you have plenty of time to prepare, but unexpected challenges could delay the process. The sooner you get started, the more likely you'll be able to recover a monetary award that covers the costs associated with the accident.
Step 1: Seek medical treatment.
We cannot stress enough how important medical treatment is after suffering injuries in a slip and fall accident. Even if you think your injury is minor, you should still see a doctor. Sometimes the shock of what just happened can mask the pain and diminish the severity of an injury. You won't know how serious your situation is until a physician performs a thorough evaluation.
You should allow an ambulance to transfer you to a hospital from the accident scene or make an appointment with your doctor as soon as you leave. Don't wait days or weeks before your initial appointment. Insurance companies look at gaps in treatment as evidence that an injury didn't occur or isn't serious enough to require medical intervention.
Your doctor could refer you for imaging tests, physical therapy, rehabilitation, or another type of treatment plan. Follow their orders explicitly. Failing to do so could result in a denied insurance claim or low settlement offer. The medical records associated with your treatment will reflect your injury's severity and how long it takes to recover. It can also establish any mental or physical limitations caused by the accident. If you're unable to work, you could pursue compensation for any income you're unable to earn.
Continue with your treatment until your doctors release you from their care. They will release you if your injury fully heals or whenever you reach maximum medical improvement (MMI). MMI indicates that a person's medical condition won't improve further, even with additional medical care. If your doctor places you at MMI, they might provide an impairment rating, indicating the level of impairment to a specific body part or the body as a whole. This will show the potential for necessary treatment in the future to manage chronic pain or aid in mobility.
Step 2: Hire a lawyer.
You should seek legal representation immediately after your slip and fall. You might think you can handle your case alone, but you could encounter obstacles that you don't know how to overcome. At Jurewitz Law Group Injury & Accident Lawyers, we know the challenges that can arise during a legal case and how to avoid them. Without assistance from an experienced San Diego slip and fall accident lawyer, you could run into roadblocks that stall the progress of your case.
Step 3: Maintain records.
Maintain all documents regarding the accident, your injury, and the treatment you're receiving. Keep copies of all medical bills your doctors send to you. If they prescribe medication, keep a copy of those prescriptions and receipts as well. You should also write down any out of pocket expenses you incurred due to the accident. For example, if you were vacationing in Los Angeles when you suffered an injury, you might have paid for extra nights at a hotel so you can seek treatment. You might be able to pursue compensation for the hotel stay and other costs you were forced to pay to extend your visit.
Handling An Accident Investigation
Jurewitz Law Group Injury & Accident Lawyers knows how to effectively investigate a slip and fall accident to determine who was at fault and maximize the value of our client's case. You should receive full and fair compensation for the losses you suffered. Evidence is critical in showing another person caused your injuries and should be held liable for any resulting expenses.
The type of evidence we might need to collect during our investigation includes:
Statements from eyewitnesses
Property owner's maintenance and repair records
Your medical bills, prescriptions receipts, out-of-pocket expenses, and other costs
Your medical records, imaging test results, and other reports
Video surveillance of the fall
Incident report
Accident scene photos
We can also request a copy of the property owner's liability insurance policy. Businesses typically purchase liability coverage to cover an accident victim's injuries and associated costs. We will review the policy to determine the amount of available coverage and whether it will be sufficient to compensate for your losses. We not only need to account for the costs you already incurred but also any future bills you might receive for the ongoing medical treatment you need to undergo.
Possible Compensation In A Slip and Fall Accident Case
There are multiple losses you likely suffered as a result of your injury from the slip and fall. They could include physical, emotional, and financial losses. During an insurance claim or lawsuit, you could seek a monetary award that fully compensates for your total past and future losses, so you're not forced to pay for anything out-of-pocket.
Examples of losses you could pursue are:
Pain and suffering
Lost wages and earning capacity
Medical bills
Property damage
Loss of enjoyment of life
Emotional distress
Physical impairment or disfigurement
While the cost of medical bills is easy to calculate, other losses, such as emotional distress, are a bit more challenging. At Jurewitz Law Group Injury & Accident Lawyers, we know how to place an appropriate value on a client's case. We can review the circumstances of the accident and might consider some of these factors when determining a fair amount that the at-fault party should pay:
Type and seriousness of the injury
Degree of fault placed on all parties involved
Whether a physical or mental disability developed from the injury
Duration of the recovery period
Psychological injuries caused by the accident, such as anxiety or post-traumatic stress disorder
Effect of the injury on your daily routine
Amount of liability insurance coverage listed on the policy
Availability of substantial evidence proving the property owner was negligent
Statements made by witnesses
Impact of the injury on your ability to work, care for your family, or complete routine tasks
There are various losses you could seek compensation for if your loved one died in a slip and fall accident. California defines wrongful death as the death of a person caused by another's neglect or wrongful act. You're only entitled to compensation from a lawsuit if you're a surviving family member in order of eligibility:
Spouse
Domestic partner
Children
Anyone entitled to the deceased's property through intestate succession
Putative spouse and children
Stepchildren
Parents
The potentially compensable losses could include:
Burial and funeral costs
Value of lost household services
Loss of future financial support the deceased can no longer provide
Lost income, including any income the deceased would have earned if they were still alive
Loss of attention, love, affection, guidance, and support
Medical bills associated with the slip and fall accident or fatal injury
You should hire a qualified San Diego slip and fall accident attorney to determine the losses you're entitled to in a slip and fall or wrongful death case. Jurewitz Law Group Injury & Accident Lawyers is familiar with state laws and deadlines we must comply with to recover the maximum compensation available from the negligent party.
# of work-related fall injuries by industry
| industry | # of Work-Related Fall Injuries |
| --- | --- |
| Construction | 24,700 |
| Manufacturing | 22,040 |
| Wholesale Trade | 10,250 |
| Retail trade | 29,830 |
| Transporation and warehousing | 23,490 |
| Professional and business services | 22,090 |
| Education and health services | 43,660 |
| Government | 63,350 |
Common Causes of Slip and Fall Accidents
A slip and fall accident can happen to anyone. However, older adults are more susceptible to severe injuries due to their vulnerable bodies. This type of accident can cause physical impairments, chronic pain, and crushing medical debt. The property owner or their employee's careless actions could result in hazards or dangerous conditions that put guests in harm's way.
The most common causes of slip and falls include:
Loose carpeting or rug
Spilled drink
Wet or slippery floor
Uneven or cracked pavement
Icy sidewalk
Potholes in a parking lot
Inadequate lighting
Inexperienced security personnel
Damaged or defective staircase
Malfunctioning escalators and elevators
Hazards
Obstructed walkways
Broken or missing handrail
These are only some of the examples of negligence that can lead an unsuspecting visitor to be injured. You should seek legal representation if you're unsure if your situation qualifies for compensation in a legal case. Jurewitz Law Group Injury & Accident Lawyers is ready to help you hold the property owner responsible for their wrongdoings.
Injuries Commonly Caused By Slip and Fall Accidents
Whether your leg became trapped in a defective escalator or you fell down a poorly lit staircase, you can suffer severe emotional trauma and painful physical injuries. Some injuries don't heal, causing the victim to struggle in their daily life. Others may heal properly but leave behind psychological damage that can have long-lasting effects.
Injuries sustained in slip and fall accidents can be minor or severe, but medical treatment is necessary most of the time. The most common injuries include:
Broken bones
Nerve damage
Soft tissue injuries
Torn ligament
Strained muscle
Dislocated joint
Paralysis
Bruises and cuts
Concussion or traumatic brain injury
Neck and back injuries
Spinal cord damage
At Jurewitz Law Group Injury & Accident Lawyers, we know how much you've suffered since the accident. We've seen many of our clients struggle to get their lives back on track after a traumatic injury. It can take years to feel normal again, and you may experience a great deal of stress and frustration. When you hire us, we will treat your case as a priority and do our best to reach an outcome that satisfies your financial needs.
Jurewitz Law Group Injury & Accident Lawyers Takes All Cases On Contingency
Our San Diego slip and fall accident lawyers ow that some of our clients already struggle to make ends meet. The additional cost of medical treatment can put anyone into debt. We don't want to add to the stress you're already experiencing. That's why we take cases on a contingency fee basis. That means we don't charge upfront fees or costs. You will only have to pay us if we win your case. If we lose, you won't owe us anything for our services.
California Laws That Can Affect Your Case
You must follow deadlines set by state laws when you decide to file a lawsuit. Slip and fall accident cases follow a two-year statute of limitations. This is a strict deadline that you can't overlook. If it passes before you're able to sue the property owner, you could end up without the compensation you need to satisfy the expenses and losses you suffered. If you try to file your lawsuit anyway, the court will likely dismiss your case.
Insurance claims differ from lawsuits when it comes to deadlines. There are no state laws requiring that you file your claim within a specific timeframe; however, every insurance policy is unique. You should review the policy to determine if they provide a window for when you should initiate an injury claim. Some ask that you do so "promptly" after an accident, while others might require you to advise them of your claim within a specific amount of days or months following the accident.
The pure comparative negligence rule at play in California could impact the amount of money you're entitled to pursue. If a jury determines you share any amount of fault for the injuries you sustained, they could reduce your compensation proportionately by the percentage of fault they assign you. For instance, if your total losses are $20,000 but you were 50% to blame for the accident, you could only receive up to $10,000 in compensation.
If you slipped and fell because of unsafe conditions, you may be entitled to compensation for your injuries.

READ OUR MOST
Slip and Fall Accident Frequently Asked Questions
Jurewitz Law Group Injury & Accident Lawyers will prepare you for the legal road ahead and help you navigate all the roadblocks and challenges you end up facing. We know you probably have many questions about what to expect and the steps you should take to protect your right to financial compensation. Below we have answered the most common questions we receive from clients.
Should I bring anything to my initial consultation?
It's important that you bring anything associated with the slip and fall accident. That could include:
Incident/police reports
Name and address of the location where you fell
Business owner's insurance policy
Accident scene photos and videos
Your medical records and medical bills
Health insurance cards
Recent paycheck stub
List of medical providers you're treating with
Names and phone numbers of witnesses
Can I pursue a case if I slip and fall at work?
Yes. However, you wouldn't file a personal injury claim or lawsuit as you would if you were injured on someone else's property. Instead, you might be able to file a workers' compensation claim for benefits from your employer's insurance company. An experienced San Diego slip and fall accident attorney can discuss your legal options based on the facts of your case.
Should I pay my medical bills before my case is over?
That depends on your financial situation. If you can afford it, pay all the bills you receive, and we can calculate the appropriate amount of compensation that can reimburse you for those costs. However, if paying those bills could land you in severe debt, you might be able to delay payment for a bit. Some medical providers will place a hold on your account until you resolve your case, so they don't send anything to collections. You should consult with a lawyer to determine which options are available based on your specific situation.
Who should be held liable after a slip and fall accident?
You might think the business owner is to blame for your injuries. However, multiple other parties could be responsible for the accident. Common examples include:
Owner of the property
Leasing company
Property management company
An employee
Third-party contractor or subcontractor
Maintenance worker
Speak To An Experienced and Compassionate San Diego Slip and Fall Accident Attorney
At Jurewitz Law Group Injury & Accident Lawyers, we fight to hold responsible parties accountable, so they are forced to face the consequences of their actions. You suffered long enough and shouldn't face additional hardships while you're recovering. You can depend on our experienced and dedicated legal team to handle your case with care. You're not just a number to us. You're an important client who was wronged by someone else. We will work diligently on your case to resolve it promptly so you can get back to the life you had before this devastating accident occurred.
We know no amount of money can make up for the injustices caused by another person's negligence, but we hope the compensation we win for you can relieve your financial burden. Our San Diego slip and fall accident lawyers have extensive knowledge in cases like yours and will work tirelessly to seek the justice you deserve. You will receive transparent communication from start to finish and the guidance and support you need to get through this difficult ordeal.
If you sustained injuries in a slip and fall accident or suffered the tragic loss of a loved one, do not hesitate to reach out to Jurewitz Law Group Injury & Accident Lawyers. We have two conveniently located offices in Carlsbad or San Diego to meet you for a free consultation. We can also speak with you through Skype or over the phone. Call us at (619) 233-5020 today.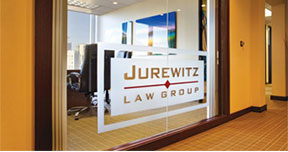 600 B Street, Suite #1450 San Diego, CA 92101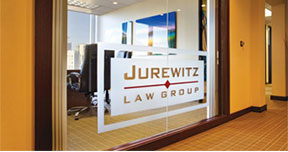 2667 Camino del Rio South, Suite 301-12, San Diego, CA 92108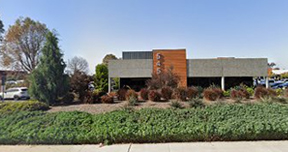 5451 Avenida Encinas, Suite H, Carlsbad, CA 92008