Suffered a Serious Injury at a Southern California Amusement Park?
San Diego is fortunate to have many amusement parks in close proximity. Knott's Berry Farm' Disneyland' Raging Waters' Knott's Soak City' Six Flags Hurricane Harbor' Wild Rivers' and Six Flags are only a short driving distance away for San Diegans in Southern California. In addition' San Diego boasts Legoland' SeaWorld' Belmont Park' the San Diego Zoo' and the San Diego Wild Animal Park. The last thing that people want to think about is getting injured on a roller coaster or while enjoying themselves at one of these amusement parks' but it happens more often than you think.
Ross Jurewitz Discusses Roller Coaster Accident Liability on San Diego 6 News
---
Rides: Dangerous and Potentially Deadly
Because amusement park rides can be dangerous' it's a good idea to take as many safety measures as possible. Practicing the following rules will minimize your chances of getting injured at whatever Southern California amusement park you choose: Do not ride if you already have an injury. An amusement park ride can only worsen the problem.
Try to keep all of your limbs inside the cart. Many roller coaster rides are designed to restrict a person's movement for this reason.
Do not take items that could fly out of your possession with you on a ride. Those possessions could be dangerous to you or others if they escape your grasp at a fast speed.
Be mindful of what is around you. Pay attention to all of the speed changes and barriers that may come your way.
Make sure you only go where you are supposed to go. Stay out of places where only operators and maintenance workers are supposed to be.
When Ride Operators Don't Pay Attention' Make Sure That You Do.
Always double-check your safety restraint. Don't be afraid to call the ride operator over if something doesn't feel or look right. Trust your gut!
Check out the ride before you go on. If it seems too scary or you feel unsure about it' then don't ride it.
If there is a problem with a ride' report it to guest services to have them look into it.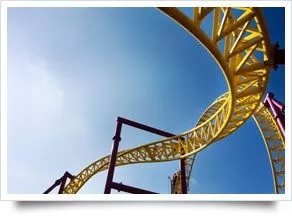 Roller coasters and amusement parks can be very fun' but serious accidents do happen' causing injury and even death.
Primary Causes of Roller Coaster Accidents
Here are the main causes of roller coaster accidents:
Faulty safety harnesses or safety belts
Negligent maintenance of the roller coaster track
Cart derailment
Broken carts
Careless operation of the roller coaster
Flying debris from the coaster track
In addition to injuries that may occur while you're riding a roller coaster or amusement park ride' there are the typical premises liability accidents' such as slip-and-fall accidents or negligent security.
Summer is the perfect time to load up on fried foods' cotton candy' and ride those roller coasters you've been waiting all year for. Protect yourself' and still have a fun time.
Call a San Diego Personal Injury Attorney Today
Getting hurt while you are supposed to be having fun is something no one wants to happen.
Fortunately' we can provide assistance in your time of need. We don't only handle personal injury cases, we are skilled San Diego premises liability attorneys too. So' if you or someone you know has ever been injured while enjoying themselves at an amusement park' please call the Jurewitz Law Group Injury & Accident Lawyers office at (619) 233-5020 or (888) 233-5020 for a free consultation.
Additional Information
Amusement Park Accidents Aren't Much Fun