HomeTestimonialsMartha D.
San Diego Pedestrian Accident Attorney Review: Martha D.
Settlement: $50,000.00
"I Got the Closure I Need to Finally Move On."
"The Jurewitz Law Group is amazing. They are very professional and yet still make you feel right at home.
I really enjoyed working with Attorney Stacey O'Neill. She is very professional and also down to earth.
I got the results I needed to be able to pay off all my medical bills and I got the closure I needed to finally move on."
- Martha D.
Lemon Grove, CA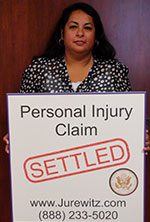 Martha entered the intersection when the walk signal allowed her to do so. At that moment, a motor home driver stopped at the intersection before making a right-hand turn. The driver then proceeded to turn right and struck Martha with his motor home; throwing her to the ground. Martha sustained injuries to her spine, cervical area, myalgia/myofascitis, and cervicalgia. Our office successfully settled Martha's case without going to trial and took care of all of her expenses.