HomeTestimonialsAdrian P.
Lemon Grove Bicycle Accident Attorney Review: Adrian P.
Settlement: $100,000.00
"They Strive for the Best Possible Outcome"
"After speaking to the Jurewitz Law Group team, I felt reassured that they could handle my case effectively and they seemed to really be experts in the field of personal injury law.
I appreciated that the Jurewitz Law Group didn't just contact me for decision making or information, but to also make sure that my treatment was going well and to see if there was other treatment I needed.
The Jurewitz Law Group keeps their clients informed, they truly care about the well-being of each client, and they strive for the best possible outcome."
- Adrian P.
HIllcrest, CA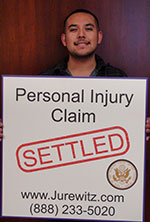 Adrian was operating his Schwinn bicycle, traveling on Federal Boulevard in Lemon Grove. A vehicle that was also traveling on Federal Boulevard swerved and collided with Adrian. As a result, Adrian suffered from a left ankle/foot sprain as well as lacerations to his chest, elbow, and lower body. Our office successfully got our client a six figure settlement and reduced his medical bills by approximately $40,000!