HomeTestimonialsBill P.
Encinitas Bicycle Accident Attorney Review: Bill P.
Confidential Settlement
"They Know What They are Doing"
"What I really appreciated about the Jurewitz Law Group is that they were prompt in their communication with me.
I was very impressed with Clarisa Hernandez! She always kept me informed and also made sure I was receiving great medical treatment.
They know what they are doing and I recommend them."
- Bill P.
Carlsbad, CA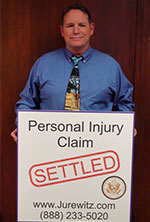 Bill was riding his bicycle northbound in Encinitas and was hit by a car traveling southbound that began to make a left turn without yielding to oncoming traffic and collided with Bill and his bicycle. As a result of the accident, Bill suffered from injuries to his right knee and left shoulder. After the insurance company offered our client a low settlement, our office successfully fought to help Bill win double the amount!