HomeTestimonialsJoyce S.
Lemon Grove Rear-End Accident Attorney Review: Joyce S.
Confidential Settlement
"They Have Their Clients Interest as a Top Priority."
"The Jurewitz Law Group made me feel like they were genuinely concerned about me as a person.
They are thorough, professional, and they have their clients interest as a top priority.
I am very happy that my case is finally over because it relieves some of my anxieties I have had because of this accident."
- Joyce S.
Lemon Grove, CA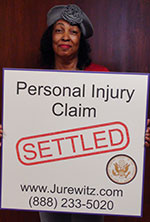 Joyce was at the intersection of Federal Blvd. and San Miguel Ave. waiting for the east and west traffic to clear so that she could turn onto Federal Blvd. The driver that was directly behind Joyce failed to stop and rear-ended Joyce. As a result of the accident, Joyce suffered from strain to her cervical and thoracic region, cervicalgia, thoracalgia, and muscle spasms. Our office was able to reduce Joyce's medical bills by nearly $10,000.00!