HomeTestimonialsRene & Kamila S.
Oceanside Car Accident Attorney Review: Rene & Kamila S.
Confidential Settlement
"It is a Big Relief to Not Worry about Medical Bills."
"We were reassured by the 'No Fee Guarantee' and it was nice to not pay anything out of pocket.
It is a big relief to not worry about medical bills and we are so happy to put all of this behind us so that we can move on with our lives.
If someone we knew was injured, we would ensure that Jurewitz Law Group is the first Law Office they call."
- Rene & Kamila S.
Oceanside, CA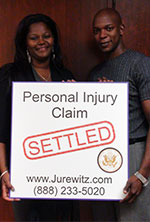 Rene was traveling south on South Ditmar Street in Oceanside while his wife, Kamila, was seated in the front passenger's seat. Rene was making a left turn at the intersection of Oceanside Boulevard, when another vehicle, traveling southwest on Oceanside Boulevard failed to stop at the red light and collided into Rene and Kamila's vehicle. As a result from the accident, Rene suffered from Cervicobrachial syndrome, spinal enthesopathy, and acute post-traumatic headache. Kamila suffered from pain in thoracic spine, muscle spasms, and migraines due to sprains on her back and neck. Collectively, our office was able to reduce Rene and Kamila's medical bills by $8,861.07!