HomeTestimonialsKarla H.
San Diego Car Accident Attorney Review: Esmeralda M. & Karla H.
Settlement: $30,650
"Best group anyone can pick."
"I have so much relief now that I don't have to worry about this case anymore. They made sure we got everything we needed. Stacey was the sweetest and most helpful member!"
-Esmeralda M.
"This group actually cares and helps."
"They provided us with everything we needed; never did we ever feel like just a client. Stacey was the best attorney anyone could ask for. Thank you!"
- Karla H.
Poway, CA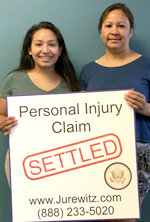 Esmeralda and Karla were traveling southbound on Interstate 163 when she slowed her vehicle to traffic ahead. Due to the inattention and speed of another driver, Esmeralda and Karla's vehicle was rear-ended. As a result, Esmeralda suffered knee, neck and spine injuries; Karla H. was pregnant at the time of the accident. Not only did she fear the life of her unborn child, but also suffered neck, lower back and shoulder injuries.