HomeTestimonialsBrooke B.
Coronado Car Accident Attorney Review: Brooke B.
Settlement: $310,000.00
"Didn't Make Me Feel Like I Was a Dollar Sign!"
"My attorney, Stacey O'Neill, was the best! She took the time to talk to me like a friend and didn't make me feel like I was a dollar sign to her.
I am happy to say that this is over. It has been almost three years since my accident, but it was worth the wait. I am very happy with my results."
- Brooke B.
Santee, CA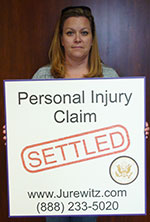 Brooke was traveling south on Orange Avenue near the intersection with Second Street. As Booke approached the intersection, she slowed down and looked for any vehicles coming from her left and right. When she noticed that there was a vehicle stopped at the stop sign, Brooke, who had the right of way, proceeded into the intersection. Another driver failed to yield to Brooke and t-boned the front driver side of her vehicle. Due to the collision, Brooke sustained cervicobrachial syndrome, lumbar and thoracic sprain and myospasm, and traumatic shock irritability. Although the insurance company offered $65,000.00, our office was able to get Brooke a $310,000.00 settlement!