San Diego Attorneys for Child Injuries from Electrocution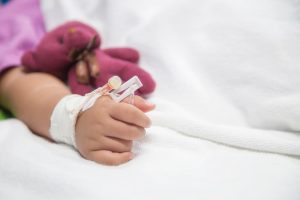 More and more devices a child uses every day involve electricity, from simple battery-operated toys to educational computers. Defects in any of these products can result in an electric shock to the child, causing severe injuries. Even power lines near where children play could harm them if an electric utility improperly maintains the grid.
As parents, it profoundly hurts us to think of any child suffering the complications of an electric shock injury, and we do everything in our power to keep our young loved ones safe from harm. Unfortunately, electrocution accidents from someone else's carelessness can still injure children, and when they do happen, the responsible parties should be held legally liable. The San Diego child injury lawyers of Jurewitz Law Group Injury & Accident Lawyers represent parents seeking justice for their child's electrocution injuries and fair financial compensation to support their recovery.
Our attorneys offer no-cost, no-obligation case reviews for prospective clients, and our No Fee Guarantee means that you never pay for our services unless we win or settle your case. Starting early with experienced counsel on your side increases your odds of a successful outcome, so don't wait to call our office at (619) 233-5020 today.
What Is Electric Shock?
"Electrocution," or electric shock, occurs when someone is injured or killed after electric force passes through their body. They may have accidentally touched or grazed a surface carrying live electricity, such as a wire, line, or metal item.
Electrocution accidents can happen at different magnitudes. No matter the severity of the shock, the injured person may experience immediate pain. In mild cases, they may be able to move away from the source by reflex. However, the more intense the shock is, the harder it is for the person to pull away, both due to the electricity itself and resulting muscle contractions that are not within the person's voluntary control.
Possible Complications of an Electric Shock
Depending on a child's health background and the nature of their shock injury, they may suffer from life-changing medical issues that require urgent attention. Possible complications of an electric shock include:
Burns – Electricity is a form of energy and thus produces heat. Intense electric shocks can cause second or third-degree burns and tissue damage within seconds.
Abnormal heart rhythm changes – The heart relies on a form of electricity to keep its natural rhythm, and the additional electrical force from a severe shock can cause arrhythmia (an abnormal rhythm.) If an arrhythmia isn't addressed immediately, it could stop the heart.
Nervous system damage – Our nervous system, like our heart rhythm, is "electric," and electrocution injuries can thus damage nerves. Some neuropathies can heal over time, but others may affect mobility or even healthy brain function.
Second-order injuries – Other secondary injuries can result from electric shock. For example, someone jerking away from an electric source could slip and fall, leading to a fracture.
Child Electrocution Injury Prevention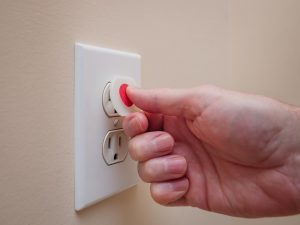 To avoid electric shock injuries, you and your child should follow key safety steps, including:
Dispose of defective electrical products immediately – A damaged electrical product, especially one where wires are frayed or exposed, puts curious children at greater risk of injury from electric shock. You should dispose of and replace these products as soon as possible.
Cover all outlets and power cables – Children could play with plugs or outlets at home, unaware of the danger of electric shock. To protect them, consider purchasing plastic covers that fit in outlets and over plugs.
Keep children away from power lines – Even normally working power lines can injure. Ensure your children do not play around power lines and teach them not to tamper with electrical equipment at any voltage.
Liability for an Electric Shock Injury
Electric shock injuries can occur under a variety of different circumstances. Your attorney will carefully determine who could be liable during an investigation of the events of the injury. Your case could relate to:
A defective product – Manufacturers of electric toys, electronics, appliances, and communications devices are responsible for ensuring that their products' design does not leave customers vulnerable to shocks from exposed live electricity. If a company does not take action to ensure the safety of their product, they or the retailer could be legally liable for your child's injuries.
Improper electrical work – If an electrician working on your home's power infrastructure does not follow codes or safety procedures, they could leave you vulnerable to shock injuries later. A negligent tradesman may be legally liable for injuries resulting from their negligence on the job.
Unsafe power lines – Electric utilities must ensure the security of their power lines, as defective lines, transformers, poles, and other hardware could cause shock injuries or death. If your child's injuries are related to unsafe electrical infrastructure, the power company or component manufacturer may be liable for financial compensation.
Another negligent party – To hold someone liable for your child's injuries, California law requires you to show that the party was careless and failed in their duty to reasonably protect others and that their failure and carelessness caused the injuries.
How Can an Attorney Help?
For the full range of legal services we provide, Jurewitz Law Group Injury & Accident Lawyers is one of the top San Diego personal injury law firms for child injuries, including electrocution injuries. We could:
Determine who should be held liable for the electric shock injuries your child sustained, based on the facts of the case
Investigate factors leading up to the shock injuries, including defects and negligent behavior
Collaborate with medical experts and your child's medical team to document the nature of their electrocution injuries and estimate the cost of their medical bills
Determine how much additional compensation would be appropriate for intangible losses
Write a demand letter to a defendant's insurance company and represent you in settlement negotiations
Defend your rights in court if an appropriate settlement can't be agreed upon
Why Work with Jurewitz Law Group Injury & Accident Lawyers?
For the past fifteen years, our firm has helped parents of injured children fight against insurance companies for the compensation they deserve. We take a collaborative approach to each case we build, meaning that you'll benefit from the knowledge of subject matter experts and the skill of multiple attorneys and advocates. These tactics have won our multi-million-dollar verdicts and settlements for our clients in the past, which you can see on the Results page of our site.
Contact Jurewitz Law Group Injury & Accident Lawyers Today
If the actions of another party hurt your child, don't wait to begin seeking the compensation you deserve. For a free case evaluation, contact the San Diego child electric shock attorneys of Jurewitz Law Group Injury & Accident Lawyers today at (619) 233-5020. Jurewitz Law Group Injury & Accident Attorneys fight child injuries in San Diego, Carlsbad, Tampa and St. Petersberg, Florida. Our firm is here to support you and protect you.