Child Accidents
It is no secret that children are prone to injury. Children do not have the capacity or experience to recognize dangers as adults do. Also' children are more susceptible to injury because their bodies are not as durable as an adult body. Their bodies are still developing' making them more likely to be hurt in an accident that would not injure an adult – if the accident happened at all.
Therefore' child injury claims are very common. When your child is injured' the legal process is similar to adult personal injury claims' but is very different in many other respects. Here' we will focus on the most significant ways child personal injury claims are handled differently than adult personal injury claims.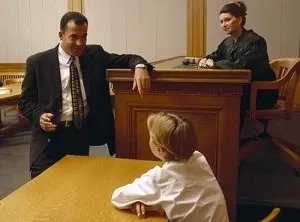 Child injury claims are not the same as adult personal injury cases. Find out what the differences are between these types of claims.
A Guardian Ad Litem Must be Appointed
The first major difference is that when a child is injured' a guardian ad litem must be appointed to represent the interests of the child. A guardian ad litem is a person appointed by the Court to act on behalf of the child. These guardians are needed because children do not have the capacity to represent themselves in a personal injury case. To think about this practically' a child would not be able to determine what a reasonable settlement is and the opposing counsel could take advantage of that failure to reason and think strategically like an adult.
In California' a guardian ad litem is chosen by the Court. The Court selects a person – often nominated by the child's attorney after discussing possible candidates with the parents–who it believes would most legitimately and honestly represent the minor's interests. In general' that means that the court will select one of the minor's parents to be the guardian ad litem. Thus' the parents will be legally required to make most of the decisions on behalf of their children even though the parents are not the injured party.
It should be remembered that guardians ad litem are not parties to the lawsuit and claim and have no legal right to recovery. They are simply acting on behalf of the injured child.
The Child's Settlement is Placed into a Blocked Account
When' after the settlement or judgment is reached' the child's personal injury recovery will be deposited into a blocked account or annuity until the child is no longer a minor (i.e.' turns 18 years old). After all of the legal fees have been paid' the proceeds of the settlement will be held by the Court in a low-interest-bearing account. After the child turns 18' the Court will disburse all funds to the child.
These rules were enacted to ensure that the child will receive their settlement and to ensure that the money will not be used for any other purpose. So' parents' this means that you will be unable to reach you child's personal injury settlement and use it as you see fit as your child gets older. You will need to petition the Court for periodic' necessary expenditures which the Court will most likely only grant if it is related to the injury accident claim.
Recent Developments Regarding Attorneys Fees
Typically' adults can enter into any personal injury contract they so choose and under any terms, they believe are fair. Typically' in California' that means entering into a personal injury fee agreement with contingency fee rates ranging from 33.33% to 50% depending on the case and the attorney they hire.
That is not the case with child injury cases. Beginning January 1' 2010' the California Judicial Council made changes to how attorney's fees will be handled in minors `personal injury claims. In the past' it was well accepted that attorney's fees would be capped at 25% of the child's settlement. But now' the laws are moving away from that archaic model. Many attorneys complained that the 25% cap for child personal injury claims was arbitrary because child claims require the same amount of work' risks' and skills as an adult personal injury claim. The attorneys argued that their fees should not be set by their client's age or disability' but by the merits and severity of the case.
So now' the 25% cap is removed and now the attorney's fees are based on a "reasonable fee standard" and are subject to court approval. Thus' the attorney could receive more than 25% in an appropriate case if the representation agreement will allow for that opportunity. Of course' an attorney can still cap themselves at 25% if they so choose. This new "reasonable fee standard" is uniform all over California and will trump any local rules that say the contrary.
Now you may be wondering how this new attorney fee standard could affect your case. Fortunately' this new standard will help parents and children receive more competent and experienced personal injury counsel. In the past' many prominent personal injury attorneys have been reluctant to take on child personal injury claims because they did not like that they were capped at an arbitrary 25% settlement amount. Since the cap has been lifted' this means that children will get the competent representation that they need' and this will ultimately lead to higher and fairer settlements for the injured child.
The most important thing to remember' however' is that attorneys' fees for child injury cases are subject to court approval.
Here at the Jurewitz Law Group Injury & Accident Lawyers' we are experienced in handling child personal injury claims in San Diego and throughout California. If your child has been injured or killed due to the negligence of someone else' please a San Diego child accident lawyer at our office at (888) 233-5020 for a free consultation.
We'd like to thank our friends at Consumer Attorneys of San Diego and the San Diego Child Injury Law Center for providing valuable information used in the preparation of this article.