When your child gets injured on a playground, you'll need the help of an experienced child injury lawyer from the Jurewitz Law Group Injury & Accident Lawyers. We can help you pursue financial compensation for your child's injuries and any resulting expenses.
Your child probably loves playing at your neighborhood's local playground. You enjoy taking advantage of the beautiful weather, so your kid gets fresh air and physical activity. You might assume your child is safe, but, unfortunately, a lot of equipment at parks and playgrounds is defective or damaged.
When an accident happens, you might think it's just that: an accident. However, specific entities are responsible for maintaining a safe and hazard-free area where children can play. If they fail to meet safety regulations, they could be held liable for any injuries suffered by children.
If your child has been seriously injured or hospitalized due to a playground hazard, contact the San Diego child injury attorneys at the Jurewitz Law Group Injury & Accident Lawyers today. Call (619) 233-5020 or (888) 233-5020 to schedule your free consultation.
Injuries from Playground Accidents in San Diego
There are many ways children can enjoy their time at a playground, and there are just as many ways they can get injured. Emergency rooms commonly report the following injuries resulting from a playground accident:
Brain injury, such as a concussion
Broken or fractured bones
Internal injuries
Lacerations or wounds
Joint dislocation
Amputation
Spinal injury or paralysis
Several children die every year as a result of an accident on a playground. Deaths typically occur because of strangulation or a severe fall. Most injuries are avoidable if equipment receives proper maintenance and necessary repairs. The party responsible for maintaining a playground must perform routine tests and promptly fix any damage that occurs. If they don't, it could lead to life-threatening injuries or fatalities.
Holding Responsible Parties Liable for Your Child's Injuries
Whether on a public or private playground, injuries usually happen as the result of one of the following reasons:
Lack of adult supervision
Improper playground surface
Poorly maintained equipment
Equipment design or construction flaw
Depending on the nature of the accident, the property owner, equipment manufacturer, playground equipment installer, or party responsible for maintaining all equipment could be liable for damages associated with your child's injuries. In a premises liability case, you can file an insurance claim with the liability insurance carrier to recover compensation.
Under California law, a person or entity that owns, leases, occupies, or controls a premise is negligent if they fail to do one of the following:
Use reasonable care to keep a property in a safe condition
Discover unsafe conditions and repair, replace, or give adequate warning of potential harm to others
To prove someone else caused your child's injuries, you must provide evidence of the following circumstances:
The responsible party owned, leased, occupied, or controlled the property;
They were negligent in the property's use or maintenance;
Your child suffered physical harm; and
The negligent party contributed to your child's injury.
How a Playground Accident Lawyer Can Help
There are essential steps to take after your child gets injured on a playground. Following those steps could help you recover the maximum compensation available.
Take photos of the damaged equipment or hazardous area
Speak to witnesses and get their contact information
Report the accident to the party that owns the property
Request a copy of the liability insurance policy associated with the playground owner
Take your child to a medical facility for treatment
Hire an experienced lawyer
Your lawyer from the Jurewitz Law Group Injury & Accident Lawyers will handle everything for you. We can locate the playground owner, request copies of insurance policies, and file a claim on your behalf. We'll submit all the evidence we're able to find and negotiate a full and fair settlement.
If you're unfamiliar with the legal process, you'll likely get taken advantage of by the assigned insurance adjuster. Insurance companies will do anything in their power to prevent paying any money to victims of playground accidents. With a lawyer by your side, you'll likely receive the maximum compensation available.
How Much Compensation Am I Entitled To?
In California, you're allowed to pursue compensation for your total damages. Damages are losses incurred as the result of an injury or accident. In an insurance claim, you have the right to recover compensatory damages. Compensatory damages are your total costs and intangible losses suffered as a result of your child's playground accident. These may include:
Medical bills: Treatment necessary to help your child recover, such as hospitalization, physical therapy, and surgery.
Lost wages: Pay you couldn't earn while caring for your child.
Emotional distress: Emotional or psychological your child experienced as a result of the accident.
Pain and suffering: Significant physical pain and suffering endured because of the injury.
The coverage available in the liability insurance policy, along with various other factors, will determine how much money you can win in a claim. Factors to consider may include:
The severity of the injury
Duration of medically necessary treatment
Total costs for treatment, prescriptions, out-of-pocket expenses, and other bills related to the injury
The emotional impact on your child after the accident
Time spent away from work to care for your son or daughter
What if I Can't Afford to Hire a Lawyer?
A lot of people will forego seeking legal representation because they think they can't afford it. At the Jurewitz Law Group Injury & Accident Lawyers, we don't want to add to the financial burden you already face. That's why we work on a contingency fee basis.
We don't charge upfront or ongoing costs for playground accident cases. If we're able to secure a settlement at the end of your case, we'll take a percentage for our fee. If we don't win anything, you won't owe us any money.
We also offer free consultations. There's no risk in speaking with one of our playground accident lawyers to discuss your child's case and your legal options. We're happy to review the details you present to us and let you know how we can recover the financial compensation you deserve.
Speak to an Experienced Playground Accident Lawyer Today
Did your child suffer an injury on a playground? Call the Jurewitz Law Group Injury & Accident Lawyers immediately to schedule your free consultation. We're available 24/7 to answer your important questions and provide the legal advice you need to get through this challenging time in your life.
We know it's overwhelming watching your child suffer. You deserve to seek justice for the pain your child had to endure. It's our goal to ensure you receive the maximum compensation you need to pay for your child's treatment. Call us at (619) 233-5020 or (888) 233-5020 today and let us help you pursue legal action against the careless party.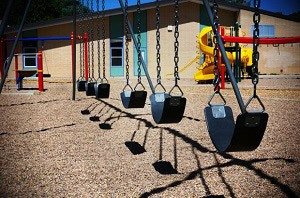 Additional Information