Child Injured Due to Defective Car Seat
As a parent' family member' or caregiver' keeping a child safe and free from harm is of the utmost importance. Child car seats are meant to not only protect young children' but offer protection in the event of a collision as well. We put our trust and the lives of our children in the hands of the manufacturers and designers of these products. However' a child car seat may fail when you need it most and endanger the safety of your child if it was produced or designed with a flaw.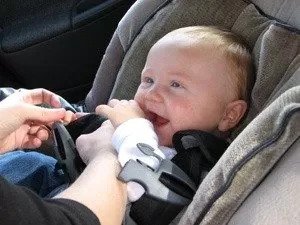 Examples of car seat defects include a defective harness that tears or does not restrain the child' a faulty seat buckle latch that comes undone' or a flawed seat that cracks upon impact.
The San Diego child injury lawyers of the Jurewitz Law Group Injury & Accident Lawyers understand the serious dangers of a defective child car seat and are committed to helping families obtain the compensation they need for their child to recover. For a complimentary consultation regarding your situation' please call (619) 233-5020 or (888) 233-5020.
Proving Liability' Upholding Justice
Manufacturers of child seats are legally and ethically obligated to create a product that is safe for consumer use and' for car seats in particular' the product should be able to hold up in a crash and safely restrain a child. However' companies that may place profit ahead of safety when it comes to manufacturing or testing may produce a children's product with a hazardous defect that can lead to it failing and not properly protecting a child.
A product defect often comes from one of several things' such as a design defect' which is an oversight in the design process that makes the product dangerous when used as intended. A manufacturing defect is another common cause of product failure' and this is when a defect is the result of the manufacturing process. A labeling defect may also cause unintended injury when a product has inadequate or missing instructions or warning labels.
Compensation for Your Family
Product liability is the area of law that enables consumers to hold negligent manufacturers responsible when a defective product causes themselves or a loved one harm and also allows them to receive compensation for any accident-related losses. By filing a product liability claim' you and your child can receive the resources necessary to face the unanticipated financial expenses often associated with an accident' including costly medical bills and time you may miss from work while you are caring for your little one. In addition' a successful settlement for a product liability claim will also give you money for any pain and suffering your family has endured as a result of the accident' which is likely considerable.
Preserving the Rights of Families
When a child is injured under any circumstances' it can be devastating for those who love and care for the child. However' when a product intended to keep a child safe fails' a family has every right to pursue legal action and obtain compensation for the losses associated with the incident. Protecting your child and giving them everything they need to be well is part of your responsibility as a caregiver' and the San Diego child injury lawyers of the Jurewitz Law Group Injury & Accident Lawyers will work tirelessly to help you get the compensation you are entitled to and need to properly care for your child. To put our years of experience protecting the rights of consumers on your side' please call (619) 233-5020 or (888) 233-5020.
Additional Information