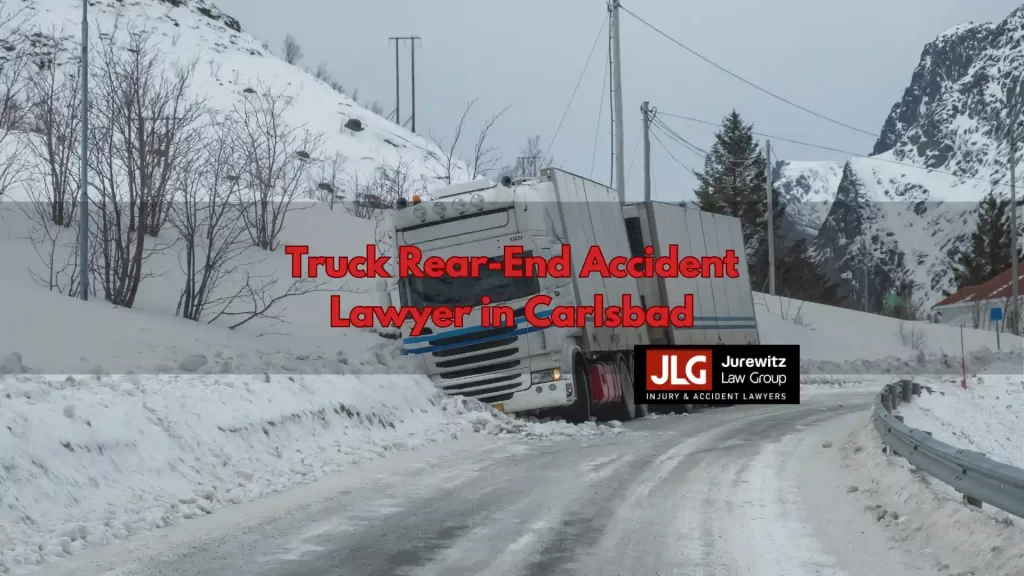 Carlsbad's roadways are heavily traveled by commercial vehicles transporting goods from Los Angeles and other areas of Southern California to San Diego County. This means that drivers in the area frequently commute alongside big rigs and other large commercial trucks. Unfortunately, truck accidents in Carlsbad are inevitable, but victims may be entitled to compensation.
If you were injured in a rear-end truck accident in Carlsbad, you need the help of an experienced attorney. These types of collisions can have devastating consequences. Victims may be left with serious injuries, a lifetime of health difficulties, and a permanent loss of earning capacity.
At Jurewitz Law Group Injury & Accident Lawyers, we understand the unique challenges you face, and it's our number-one priority to secure the financial support you're entitled to. For years, we've helped injured people put their lives back together by securing significant settlements and verdicts.
Contact us today at (760) 585-4640 and schedule a free consultation with our Carlsbad truck accident attorney.
Common Causes of Rear-End Truck Accidents
Rear-end accidents are among the most common types of collisions involving large trucks. According to data released by the National Highway Traffic Safety Administration, big trucks are three times more likely to be struck from behind compared to typical passenger vehicles.
Large commercial trucks can also rear-end other passenger vehicles, and the results are usually devastating, since big rigs weigh up to 80,000 pounds when fully loaded.
These accidents are frequently caused by:
Speeding: Since commercial trucks are so large and heavy, it takes them a long time to safely stop. If they are speeding and unable to stop in time, they might plow into the vehicles in front of them. Passenger vehicles may also accidentally slam into the back of a commercial truck when speeding.
Faulty Brake Lights: Brake lights are essential for preventing accidents. They let other drivers know that the vehicle ahead of them is braking, so that they have enough time to safely stop, as well. Trucks that are poorly maintained may have faulty brake lights and other overlooked defects that pose significant dangers to other drivers.
Malfunctioning Brakes: Properly functioning brakes are important for any vehicle, but especially large trucks. When malfunctioning brakes are overlooked by maintenance crews or manufacturers, this can have devastating consequences on the road.
Failure to Use Hazard Lights: If a truck driver has pulled over to the side of the road, they should display their hazard lights to boost visibility and prevent other cars from colliding into them. A pulled-over truck that doesn't have hazard lights on – especially at night – is essentially invisible to other drivers.
Impaired Driving: Driving while under the influence of alcohol or drugs significantly impairs judgment. An intoxicated truck driver may not realize that traffic has stopped up ahead, leading to a chain reaction of rear-end crashes.
Making Unsafe Lane Changes: Like any other driver on the road, truck drivers must signal properly before changing lanes. Making sudden, unsafe lane changes can cause other drivers to collide into the back of the truck.
Injuries from Rear-End Truck Accidents
Drivers of passenger vehicles involved in rear-end collisions can often walk away with minor injuries or whiplash. But when it comes to large commercial trucks, injuries are much more catastrophic. Some reasons for this include:
Truck Braking Systems: Big rigs cannot suddenly stop as smaller vehicles can. In order to safely come to a complete stop, they require a longer distance. This means that they might be traveling at a very high rate of speed during rear-end crashes.
Weight: Large commercial trucks weigh up to 80,000 pounds. When colliding with a 3,000-pound passenger vehicle, the force of impact is much greater compared to typical car crashes.
Chain Reaction Crashes: If you get rear-ended by a large truck, the force of impact can be so strong that you are pushed into the car ahead of you. This can cause chain reaction crashes and secondary injuries.
Among the cases our law firm handles, these are some of the most common injuries sustained in rear-end truck accidents:
Severe lacerations
Broken bones and fractures
Loss of limbs
Internal bleeding and damage to organs
Spinal injury
Traumatic brain injury
Who Can be Held Liable in a Rear-End Truck Accident?
Liability in truck accident cases can be complex. This is because there are potentially multiple negligent parties: the truck driver, the trucking company, manufacturers, maintenance crews, and drivers of passenger vehicles.
When you choose Jurewitz Law Group Injury & Accident Lawyers to handle your Carlsbad personal injury claim, we will launch a full investigation in order to determine liability. This is key for maximizing the potential amount of compensation you can recover.
When determining fault, the following will be considered:
Was the accident caused by an inexperienced or incompetent truck driver? Was this the result of negligent hiring practices on behalf of the trucking company?
At the time of the accident, was any driver under the influence of drugs or alcohol?
If the truck was pulled over to the side of the road, did the truck driver display hazard lights or use any other warnings to increase visibility?
Was the crash caused by faulty brakes? If so, was this a manufacturing defect or the result of a maintenance oversight?
Did the trucking company pressure the driver to work longer than regulations allow, causing the driver to become fatigued and impaired?
Was either driver speeding?
Can I Recover Compensation After a Rear-End Truck Accident?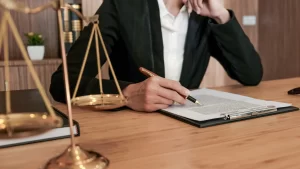 In many cases, victims of rear-end truck accidents are entitled to compensation. Since California is what's known as a "comparative fault" state, you may even recover compensation if you were partially responsible for the crash. There are different types of comparative negligence:
Pure Comparative Negligence: With pure comparative negligence, the person filing the lawsuit ("plaintiff") can recover compensation even if they were 99% responsible for the crash. In this case, the plaintiff's compensation would be reduced according to their percentage of fault.
Modified Comparative Negligence: With modified comparative negligence, a plaintiff can only recover compensation if they are not more than 51% responsible for the crash.
When it comes to truck accidents, California applies the pure comparative negligence rule. This is why hiring an attorney is essential to the success of your claim. Your attorney can fight any attempts of the opposing insurance company to shift all of the blame on you.
If you are awarded compensation, it may cover:
The cost of vehicle repairs
The cost of medical care, including hospitalizations, surgeries, rehabilitation, medications, and assistive medical equipment
Lost income and future lost income, if you will not be able to work in the future
Pain and suffering
Disfigurement and mental anguish
Loss of companionship and loss of consortium, if your loved one died in the accident
How to Prove Fault in a Rear-End Truck Accident Case
When recovering compensation for a truck accident case, there is more to the process than filing a claim. As the plaintiff, it is your responsibility to prove fault against the defendants. This is called the "burden of proof."
To prove fault in a truck accident case, the following elements of negligence will be considered:
Duty of Care: The duty of care varies depending on who the defendant is, but it refers to the basic standard of reasonable care that should have been taken. For example, a truck driver has a duty to operate a truck in a safe manner, and a manufacturer has a duty to ensure their products are free of hazardous defects.
Breach of Duty: Once you establish the duty of care, you must determine whether it was breached, and whether that breach caused the accident. An expert may be hired to consult on these complex issues. Our law firm may also obtain official trucking records to investigate the breach of duty.
Damages: After proving that the duty of care was breached and caused the accident, you'll need to prove that you were injured as a result. We can obtain your medical records and compile any out-of-pocket expenses you've incurred to prove your losses.
Throughout this process, we may also obtain the following to strengthen your case:
Training records for the truck driver involved
Trucking logs
Maintenance and inspection records for the truck
Statements from witnesses
Photos of the scene of the accident and surveillance video footage, if available
Police reports
Talk to a Carlsbad Attorney About Your Rear-End Truck Accident Claim
At Jurewitz Law Group Injury & Accident Lawyers, we have recovered millions of dollars in compensation for truck accident victims and their families. Along with our results-driven strategies, we provide customized legal services, and our team will always take the time to listen to your concerns.
Whether you were partially responsible for a truck accident or it was caused through no fault of your own, we can help you recover financial support. And we have a no-fee guarantee, meaning we won't charge you a dime unless we obtain a settlement or verdict on your behalf.
Contact us today at (760) 585-4640 to schedule a free consultation with our truck accident lawyers in Carlsbad.