Bicycle Accidents Caused by Road Hazards
You did not see it coming.
One moment' you were on your bicycle enjoying your ride…the next moment' you were lying on the street' badly injured' and in considerable pain. How did it happen? You weren't hit by a car and you' most certainly' didn't just lose your balance. Like a good cyclist' you were scanning the traffic around you for motorists and pedestrians. It didn't occur to you' at the time' that the road itself could present a hazard. Maybe your front tire fell into a pothole. Maybe you slip on some oil. Or' maybe some debris on the road caused your accident.
To find out if you have grounds for a personal injury claim' contact the experienced San Diego bike injury attorneys at Jurewitz Law Group Injury & Accident Lawyers. To discuss your case with one of our dedicated staff' call (619) 233-5020 or (888) 233-5020. We offer free initial consultations.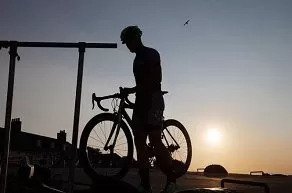 Bicycle accidents caused by road hazards are difficult to litigate.
Who Is Liable for My San Diego Road Hazard Bike Accident?
In virtually all road hazard bike crash cases' the liable party is the state' county' city' or other public agency that maintains the road. To get the responsible government entity to pay up' you must be able to prove the following:
The road feature or flaw in question is a hazard;
The government entity failed to address the hazard for an unreasonable amount of time;
The hazard directly contributed to your accident; and
You suffered damages as a direct result of the crash.
But' holding a government entity liable is easier said than done. Fortunately' you can have a legal professional handle your claim so you can focus on your recovery.
Different Types of Bicycle Road Hazards in San Diego
Abrupt changes in the road surface may be easily traversed by regular motor vehicles' but they can be treacherous for bicycles' due to their relative instability and thin tires. Even veteran cyclists are susceptible to the following road hazards:
Potholes: Long-term wear and tear and shoddy maintenance can cause a road to develop surface breaks. If left unaddressed' these breaks can develop further into potholes' which are big enough to snag the wheels of a bicycle and cause a potentially devastating accident.
Sewer Grates: When the bars of a sewer grate are parallel to the road' it presents a serious danger to cyclists. Thin bike tires can easily become stuck between them' causing the bike to catapult the rider into a vehicle' the ground' or another object. Hazardous grates can easily be remedied by simply changing their direction or installing crosshatch safety bars.
Railroad or Commuter Train Tracks: Tracks that run parallel to traffic or cross the road at a curve or angle are dangerous to cyclists. A bike wheel can easily get caught in the space between the rail and the road.
Once we have identified the hazard which led to your crash' we will then be able to establish liability on the part of the responsible party.
Helping You Win Your Hazardous Road Conditions Claim
Without legal help' the cost of recovery after a bicycle accident can easily become overwhelming–reaching hundreds of thousands in a matter of months! Contact a San Diego road hazard accident lawyers at Jurewitz Law Group Injury & Accident Lawyers to get the compensation you need to pay off your medical bills' recover lost wages' and more.
For a free and comprehensive case evaluation with a San Diego personal injury attorney' please dial (888) 233-5020 or send us a message through the Free Case Review tab.