If you ride your bike around San Diego, it is important to know the bicycle laws of your city and state in order to make sure you are safe on the road. Following the laws also ensures that you can be compensated for your injuries if you are in an accident while riding a bike. If you are breaking a law when you get into an accident with a motor vehicle, pedestrian, or another bicycle, it is unlikely you will recover fully from your injuries.
San Diego is a city of bicycle riders' and for good reason. The mild climate and sunny skies make it almost a crime to traverse "America's finest city" in any other fashion. But despite the mass number of avid cyclists residing in San Diego County' many riders do not know the exact California laws pertaining to riding a bike on a public street. Many bicyclists would be shocked to know that they may be breaking the law every time they head out for a ride. If you're wondering why an activity as free-spirited as cycling needs laws' it's for the safety of bike riders and pedestrians.
The Vehicle Code Applies to Bicyclists
Your rights and responsibilities as a biker are generally the same as those bestowed on someone operating a motor vehicle. As California Vehicle Code (CVC) Sec 21200 states:
"A person riding a bicycle or operating a pedicab upon a highway has all the rights and is subject to all the provisions applicable to the driver of a vehicle by this division' including' but not limited to' provisions concerning driving under the influence of alcoholic beverages or drugs."
So while you may have the same opportunities to use the same roads as motor vehicles (with the exception of freeways)' a biker cannot cherry-pick which laws he or she would like to follow. This means' for example' no darting out across intersections at red lights' something many impatient bicyclists have been known to do. Other laws cyclists must follow include stopping at stop signs' yielding to emergency vehicles' and signaling for turns.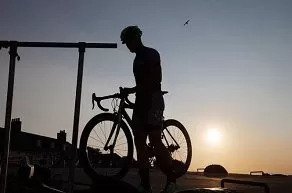 If you've been injured in a bicycle accident' you have legal rights!
Always Use Bike Lanes
Bicyclists should always use bike lanes if one is present on the roadway they are traveling on. When leaving the bike lane, it is necessary to give the appropriate signal to other bikes in the bike lane and vehicles on the road to avoid any potential accidents.
Bicyclists Must Ride With the Flow of Traffic
Cyclists riding on public streets also need to ride with the flow of traffic' not against it' and stay on the right-hand side of the road "as close as practical" to the curb' or cars parked along the curb.
Exceptions to this rule are when preparing to make left-hand turns' avoiding objects blocking your path' or to pass another cyclist or motor vehicle. But' you can ride on the left-hand side of a one-way street. If the street you are riding on has a bike lane' you are obligated to use it [Sec 21208(a)]. A bicyclist is prohibited from parking a bike in a bike lane' or stopping in a bike lane' unless they are stopped at a traffic light or a stop sign.
Three Feet for Safety Act
As of 2014' motor vehicles must allow bike riders three full feet of clearance when passing them. Drivers can be ticketed for not following this rule [CVC sec. 21760.(a)].
Bicycle Helmet Laws in California
All bike riders under the age of 18 must wear an approved cycling helmet [CVC sec. 21212].
Do Not Cover Both Ears
A cyclist cannot wear headphones covering both ears' or earbuds in both ears [CVC sec. 27400].
No Hitching Rides
It is illegal to attach yourself to the back of a motor vehicle or streetcar and hitch a ride [CVC 21203].
Handlebar Regulations
All bikes ridden on public roads in California must have properly functioning brakes' lights' reflectors' and handlebars. Yes' handlebars. Many cyclists would be surprised to learn that it is illegal to ride a bike on a public street with handlebars that require a person to hold on above the level of their shoulders [CVC Sec. 21201(b)]. And' bike riders must keep at least one hand on the handlebars at all times.
If You Are Riding Bicycles at Night, You Must have Lights and Reflectors
This law is fairly simple to understand, if you are riding your bike at night, you must be able to be seen. However, there are some regulations for the visibility you are required to have. If riding a bike a night, your bike must have:
A white light on the front of the bike. Must be able to be seen from 300 meters away.
A red reflector or flashing red light on the rear of the bike that can be seen from 500 meters away.
A white or yellow reflector on each side of the bike, the front of the bike and a white or red reflector on each side to the rear/center of the bike IF the bicycle doesn't have reflective tires.
Being seen on the road at night is imperative to ensuring your safety.
Always Stop at Crosswalks
As with motor vehicles' bike riders must always give pedestrians the right of way within marked and unmarked crosswalks. Riders must also yield the right of way to blind individuals [CVC sec. 21950 and CVC sec. 21963]. There are no statewide laws prohibiting riding a bike on the sidewalk' but individual municipalities may prohibit it. Check for street signs saying no bikes on sidewalks' or check the local city hall.
Contact an Experienced San Diego Bicycle Accident Lawyer
In the unfortunate event of you are injured in a bicycle accident' you may be able to pursue compensation for medical bills' property damage' missed work' and any other related monetary losses. To get the settlement you deserve' call the San Diego bicycle accident attorneys at Jurewitz Law Group Injury & Accident Lawyers. Our experienced San Diego personal injury law firm can be reached at (888) 233-5020.