Pedicab Accidents and Injuries
Pedicabs are a great way to get around urban areas' especially in Downtown San Diego. They are a very popular form of transportation in the Gaslamp District amongst local bar and restaurant patrons.
Pedicab Safety Issues
Pedicabs do pose a few problems' however. Many pedicabs do not provide any type of seatbelts or safety harnesses for their riders' and they certainly do not have airbags or any other protective devices. Thus' even the slightest bump from an inattentive driver could cause passengers to be thrown out of the pedicab. In addition' there are a number of disreputable pedicab companies operating in San Diego that do not carry insurance coverage for customers injured while riding in their cab.
If you have been injured in a pedicab accident' the San Diego personal injury lawyers at Jurewitz Law Group Injury & Accident Lawyers may be able to get you compensation for your medical bills' lost wages' and more. Call (619) 233-5020 for a free case evaluation.
Pedicab Driver Issues in San Diego
There is also a problem with pedicab drivers' themselves. Little or no training and licensing are required' so basically anyone is permitted to operate a pedicab. Many pedicab drivers' especially the ones in San Diego' are tourists who are temporarily in the country and may not know the traffic rules as well as a permanent resident. They only have to pay the cost of renting or buying a pedicab' and they are able to pick up passengers. The City of San Diego has tried to gain more oversight over the pedicab industry' but they have not been very successful.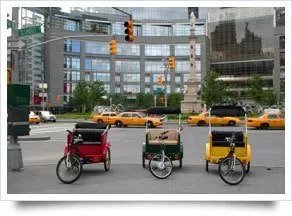 The pedicab industry lacks basic oversight and regulation' putting the lives of passengers in danger.
Common Pedicab Dangers
Collisions with cars' curbs' stationary objects' or pedestrians.
Passengers falling out of pedicabs.
Broken or faulty pedicabs which may break down or detach during a ride.
Drunk Drivers
If you are struck by a drunk driver while riding in a pedicab' you may have grounds for a lawsuit. Intoxicated driving is one of the leading causes of death involving vehicles' and each year' thousands of people are injured by drunk drivers. Those riding in pedicabs are especially at risk at night and during weather conditions that cause low levels of visibility. If you have been struck by a drunk driver' you may be entitled to compensation for your pain' medical bills' lost wages' and other expenses. Pedicab companies are also loosely regulated' and you may be able to take the company to court as well.
Hit and Run
According to California state law' everyone involved in a car accident must remain at the scene until law enforcement arrives. Failing to do this is known as hit and run' and being charged with this crime can result in a fine or imprisonment. If you were hit by a driver who later fled the scene' you may still be able to get compensation and justice. Of course' this depends on the circumstances of the accident' but in California' hit and run is a serious offense. If you were injured and the driver fled the scene' they may face felony charges and jail time when they are apprehended.
Accountability and Wrongful Death in San Diego
Pedicab companies are not universally regulated' but it is still their responsibility to guarantee the safety of their passengers. If you are injured in a pedicab accident' regardless of who is at fault' you may be able to file a claim against the driver' the owner' or the pedicab company.
Injuries Commonly Sustained in Pedicab Accidents
Broken bones are some of the most common injuries sustained in pedicab accidents. Even a relatively minor fracture can result in expensive medical bills and a considerable amount of missed work. Some fractures can be so severe that they permanently impair a person's ability to work and earn an income.
Head' neck' and spinal injuries have the potential to drastically reduce a victim's quality of life. When the neck or spinal cord is injured' victims face the prospect of mobility loss' and in extreme circumstances' paralysis.
Consult with an Experienced San Diego Pedicab Accident Attorney
If you have been injured in a pedicab accident' whether you were a passenger' motorist' or pedestrian' contact the experienced San Diego personal injury attorneys at Jurewitz Law Group Injury & Accident Lawyers. Call (888) 233-5020 for a free consultation.
Additional Information