What is a Commercial Vehicle?
A commercial vehicle is any kind of vehicle that is used to the benefit of a company or business. The vehicle will generally be registered and insured under the company's name' and not by an individual. A commercial vehicle could be a truck' car' van' semi-truck' limousine' taxicab' an Uber or other rideshare vehicle' or bus for example.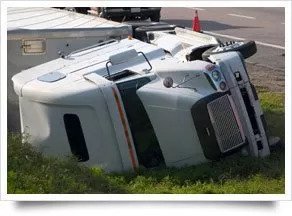 If you suffered serious injuries or if you lost a loved one in a collision with an 18-wheeler or another commercial vehicle, don't despair. Help is available to you, and a skilled injury lawyer could help you hold the driver, the trucking company, and any other party that might share responsibility accountable for the harm you've suffered. You don't have to seek compensation alone, and with the right attorney on your side, you could secure an outcome that will help you pay your bills, replace damaged property, and put the accident behind you.
The San Diego truck accident attorneys at the Jurewitz Law Group Injury & Accident Lawyers are experienced in handling these types of claims. In the past' we have been able to receive favorable settlements from the delivery companies for our clients' personal injuries. If you or a loved one has ever been involved in an accident involving a commercial vehicle' please call our law office at (619) 233-5020 or (888) 233-5020 for a free consultation.
Who is Liable When a Commercial Vehicle Gets Into an Accident?
Of course' if you were the one responsible for the traffic accident' you will be the one who is responsible for paying damages. But what if the commercial vehicle is the at-fault party? In that case' the trucking company or business will be liable for your injuries. Even if the driver was the negligent person' the company will be the one who will cover your medical bills' loss of earnings' and pain and suffering. This bodes well for accident victims because the company or business generally has more money to pay a settlement than the individual employee.
Types of Truck Accident Cases We Handle
Some of the most common types of truck accidents our San Diego injury attorneys have handled include:
Jackknife accidents
Underride accidents
Tire blowouts
Truck rollovers
Wide turn accidents
Blindspot/No-Zone accidents
Rear end collisions
T-bone collisions
Head-on collisions
Lost load / Improperly secured cargo
Some of the most common causes of these crashes are:
Driver fatigue – Typically caused by drivers working long hours to deliver their cargo. While there are specific state and federal regulations limiting the number of consecutive hours that drivers can spend on the road and the length of rest breaks they must take, drivers and companies often ignore these rules to make more money, putting others on the road at risk.
Alcohol and drug use – The demands of the job often lead drivers to turn to alcohol, illegal drugs, or prescription drugs to either relax and unwind, or conversely, to stay awake. The use of drugs and alcohol can severely impair a driver's physical and cognitive abilities, which can lead to a dangerous or deadly crash.
Inadequate training – Trucking companies need to perform thorough background checks on all candidates and provide adequate training before sending a driver out on the road.
Inadequate maintenance – Companies are responsible for maintaining their fleet of vehicles. Any attempt to cut corners, for example, choosing not to replace worn tires or brake pads to save money, could prove to be a deadly mistake. The trucking company or third-party maintenance team could be held liable for maintenance issues that lead to injury crashes.
Speeding and overtaking – Drivers need to exercise caution behind the wheel, and this means that they should watch their speed and be cautious when passing other vehicles on the road.
Distracted driving – Distractions behind the wheel have become an epidemic for commercial and non-commercial drivers alike. The issue of distracted driving is of particular concern for drivers in commercial vehicles who are on the road alone for long hours and are far from family members they'd like to keep in touch with. Use of phones, in-vehicle navigation apps or devices, eating and drinking behind the wheel, and any other distraction could result in a severe and possibly fatal crash.
Accidents Involving Delivery Vehicles
Delivery companies frequently employ drivers to transport their packages to various locations. Most companies and drivers understand the rules of the road' and follow strict rules regarding driver safety. Unfortunately' there are many companies who do not care about traffic laws' and openly place the lives of other motorists in danger of an accident with one of their delivery trucks. It is the responsibility of the delivery company to hire capable' adequately trained' and cautious drivers who possess all the necessary licenses and qualifications. It is also their job to create a culture of safety' and properly educate drivers before they are allowed to start.
Drivers should also exercise a reasonable amount of judgment. Inexperienced' inattentive' and exhausted delivery drivers pose a major threat to other motorists' and delivery drivers should be sure that they are adequately trained and rested before attempting to operate a vehicle. The delivery company should also take the necessary steps to ensure that all of its vehicles are thoroughly inspected and safe to drive.
Product Liability (Faulty Delivery Vehicles)
As mentioned above' delivery vehicles should be thoroughly inspected by not only the delivery company' but the manufacturer of the vehicles. When an automaker releases a vehicle with faulty parts or one that has not been properly tested' it is unknowingly placing the lives of numerous individuals in danger. Each year' defective automobiles' both passenger and commercial' take the lives of motorists around the world' and vehicle recalls have become commonplace in recent times. If a defective commercial vehicle causes an accident' both the driver of the commercial vehicle' as well as the passenger in the other car' have a right to seek compensation.
The Role of Insurance Companies
If you are involved in an accident involving a delivery company' you will have to deal with their insurance company at some point. Contrary to what they may say' the delivery company's insurance provider is not there to help you. Their primary goal is to avoid having to pay you the compensation you deserve' even though it was their policyholder's fault. It is not uncommon for insurance companies to "lowball" accident victims and offer them an extremely small amount of money in hopes of avoiding litigation. Taking on an insurance company alone can be hard' and more than likely' you will need a legal professional on your side.
Commercial Vehicles vs. Privately-Owned Passenger Vehicles
In contrast to incidents involving passenger vehicles' cases involving commercial and delivery vehicles can take a considerably longer time to settle. This is because more than likely' the commercial company will have a team of lawyers and insurance experts on their side whose main goal is to avoid having to pay you for your injuries. In many cases' it can take years before an accident victim finally receives any type of compensation.
Get the Legal Guidance You Need to Win
If you have been hit by a delivery truck or any other type of commercial vehicle' you will need the help of the San Diego truck accident lawyers at Jurewitz Law Group Injury & Accident Lawyers.
We know how to handle large insurance companies' and we aim to provide all of our clients with the legal guidance and advice they need to be victorious. Contact our law office at (619) 233-5020 to learn more.
Additional Information