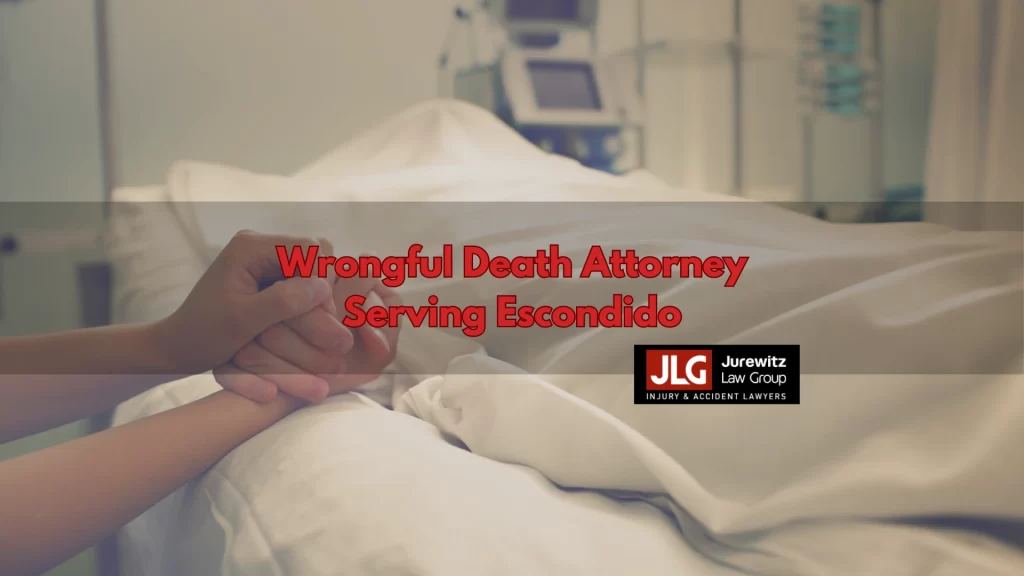 Get Dedicated Legal Representation After a Fatal Accident
There are few life events as powerful and devastating as the sudden loss of a loved one. Losing a spouse' parent or child can be traumatic when their death is the result of someone else's negligence or wrongdoing. In such cases' families have to decide if they would like to pursue compensation from the at-fault party.
The family of an individual killed in an accident can pursue financial compensation for their losses by filing a wrongful death claim. While all deaths are tragic for victims' families' not all result in wrongful death cases. A "wrongful death" is one that results from the negligence or wrongdoing of another.
If you've lost a loved one as the result of someone else's negligence or wrongdoing' the experienced Escondido wrongful death lawyers at the Jurewitz Law Group Injury & Accident Lawyers can help.
Call us at (888) 233-5020 to discuss your legal rights and options.
Examples of Wrongful Death Cases
Here are a few examples of incidents that could result in a wrongful death case:
Car accident: When someone is killed by an impaired' speeding' distracted or fatigued driver' the accident could result in a wrongful death claim. The family of the victim can file a claim against the negligent driver who caused the crash.
Slip-and-fall accident: The owners and managers of properties in Escondido can be held accountable for fatal slip and fall or trip and fall accidents that happen on their premises. This is particularly true if there was a dangerous condition on the property about which the owner knew' but failed to take action.
Workplace accidents: In cases where workplace deaths were caused by negligence or violation of safety rules' wrongful death lawsuits can be filed.
Construction accidents: When workers are killed' a careful examination of the construction site will be needed to determine if a third party's negligence caused or contributed to the accident.
Dog attacks: Owners of dogs in Escondido are responsible for the damages their pets cause.
Medical negligence: When medical professionals act outside reasonable behavior and a patient is killed' the at-fault doctor and even the hospital may be held accountable.
Claim for Wrongful Death Compensation in Escondido
In California' the surviving spouse and next of kin can pursue damages from the at-fault party. Minor dependents and parents who relied on the victim for financial support may be able to pursue compensation as well. Families can seek compensation for damages including:
Medical expenses
Funeral costs
Lost future income
Pain and suffering
Loss of love and companionship
Get Legal Help from our Escondido Wrongful Death Lawyers
The experienced Escondido personal injury attorneys at the Jurewitz Law Group Injury & Accident Lawyers provide quality and compassionate legal representation to families that have lost loved ones.
Call us at (888) 233-5020 for a free consultation and a comprehensive case evaluation.