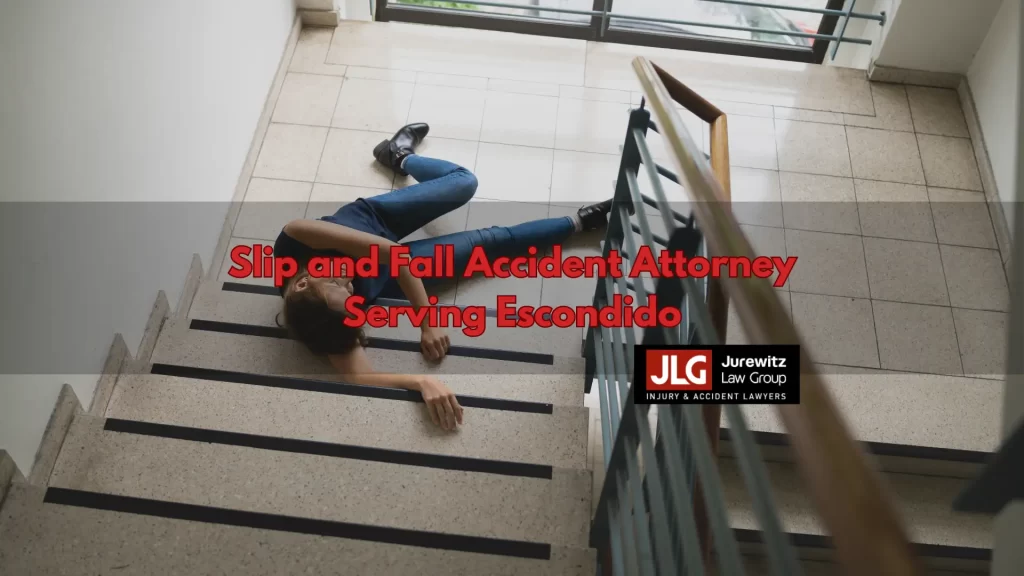 Trip' Slips' and Falls
Slip and fall accidents can happen anywhere at any time. When someone slips' trips or falls as a result of a negligent property owner or manager' it could lead to a premises liability case.
Property owners are required under California law to provide safe conditions for visitors' guests' and tenants. This responsibility includes maintaining a safe premises and posting warnings when dangerous conditions are present.
Owners and managers who put visitors in danger can be held accountable for any injuries that happen on their properties. The experienced Escondido personal injury attorneys at the Jurewitz Law Group Injury & Accident Lawyers work to help injured victims of such accidents seek and get fair compensation for their losses.
Call us to find out how we can help you. We can be reached at (888) 233-5020.
What to Do After a Slip and Fall Accident in Escondido
The first step to receiving fair compensation for your injuries is proving the owner or manager of the property was responsible for your slip and fall accident. For example' if you tripped on a broken stair' or slipped on a wet substance' take photos of the dangerous conditions right away. Look for cracked steps' uneven floors' frayed carpets' spilled liquids' and other hazards that may have lead to your accident.
File a report with the authorities in charge and get a copy for your records. Get contact information for anyone who may have witnessed your fall. Notify the building owner or manager that you intend to seek out medical attention. Write down the names of owners and managers of the property. Get any insurance information they may have. Avoid making any detailed statements about the specifics of the incident. Write down names of witnesses and their contact information. Get prompt medical attention and treatment for your injuries.
Slip and Fall Injuries and Losses
Victims of Escondido premises liability accidents often suffer from contusions' strains' and sprains. They also sustain bone fractures' traumatic brain injuries' neck injuries' and spinal cord injuries. These types of injuries may need immediate medical attention' surgery' hospitalization' physical therapy' prescription drugs' medical devices' and other expensive treatments. Victims of slip and fall accidents often have to miss work. Some are unable to ever return to work at full capacity.
These types of financial losses can add up. Victims can help reduce the financial impact of their injuries by filing a premises liability claim against the party responsible for the accident. To be successful' the claimant will have to show that the property owner had a duty to warn people about any known hazards' and that dangerous conditions lead to injuries suffered.
Contacting an Experienced Escondido Slip and Fall Accident Lawyer
The Escondido slip and fall accident lawyers at the Jurewitz Law Group Injury & Accident Lawyers work to help injured victims and their families get fair and full compensation for their injuries' damages' and losses. Slip and fall or trip and fall accidents can result in serious or even catastrophic injuries that can be life changing.
Our attorneys will remain or your side' fight for your rights' and help make sure the responsible parties are held accountable. Call us at (888) 233-5020 to schedule your no-cost consultation and comprehensive case evaluation.