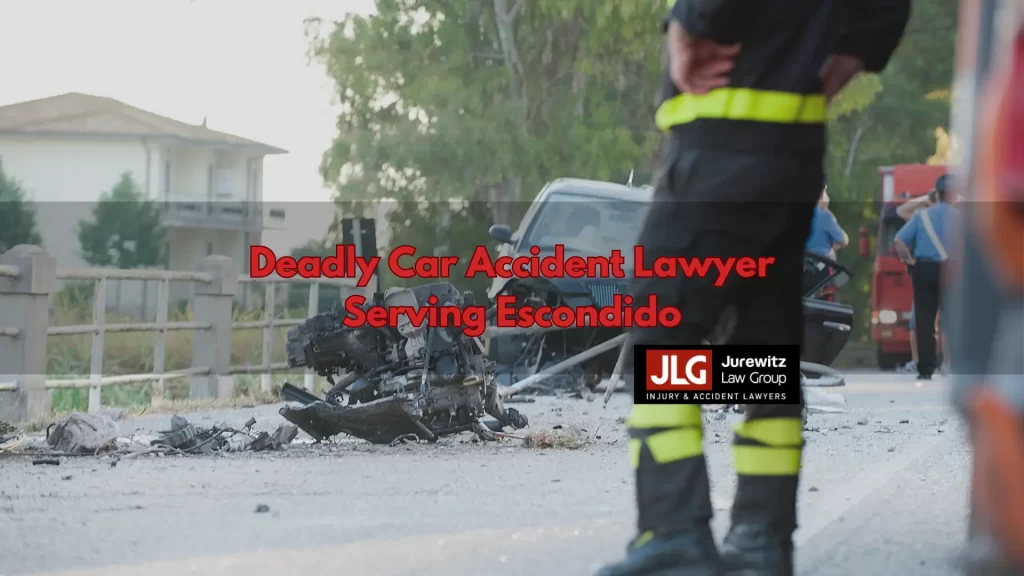 Get Help After a Car Accident Wrongful Death
Fatal car accidents happen far too often in San Diego County. A fatal crash not only ends the lives of victims' but also alters the lives of families involved forever. Under California law' immediate family members of the victim have the right to seek financial compensation when the accident is caused by someone else's negligence or wrongdoing.
If you have lost a loved one in a fatal Escondido car crash' you should contact an experienced Escondido car accident lawyer. The Jurewitz Law Group Injury & Accident Lawyers provides quality legal representation and a staff that handles all cases with care and sensitivity.
Call us today to find out how we can help you. We can be reached at (888) 233-5020.
Damages in Fatal Car Accident Cases
If you can show that the other driver's negligence contributed to the crash' financial support may be available for damages including:
Medical bills: If the victim survived the initial crash only to die of their injuries at the hospital' it can result in expensive medical bills for the family.
Burial costs: A claim could result in compensation for funeral and burial costs' which could add up to thousands of dollars.
Lost wages: If the victim was a wage earner and financial contributor to the family' your lawyer can get compensation for income the victim won't be able to provide.
Pain and suffering: You can pursue compensation on behalf of the victim for their physical pain and mental anguish.
Fatal Car Accidents in Escondido
The number of fatal car accidents in San Diego County and Escondido are staggering. According to the California Highway Patrol's Statewide Integrated Traffic Records System (SWITRS)' there were 193 fatal car accidents in San Diego County in the year 2013. During that same year' there were three fatal car crashes in Escondido.
While all traffic deaths are tragic for victims' families' not all result in wrongful death claims. If you wish to pursue financial support for your losses' you'll have to prove that the other driver was negligent in some way. It can help your case' if the at-fault driver is charged with vehicular manslaughter or driving while impaired. It can also bolster your case if they were cited for running a red light' speeding' driving while distracted' or failing to yield the right-of-way. A driver doesn't have to face charges or citations for a crash to face civil liability through a wrongful death claim.
Speak with our Escondido Deadly Car Accident Lawyers Today
An Escondido car accident attorney can help review the specifics of your case and help determine your best course of action. There may be financial compensation available to help you recover financially as you heal emotionally.
Contact the Escondido injury lawyers at Jurewitz Law Group Injury & Accident Lawyers at (888) 233-5020 for more information about your legal rights.