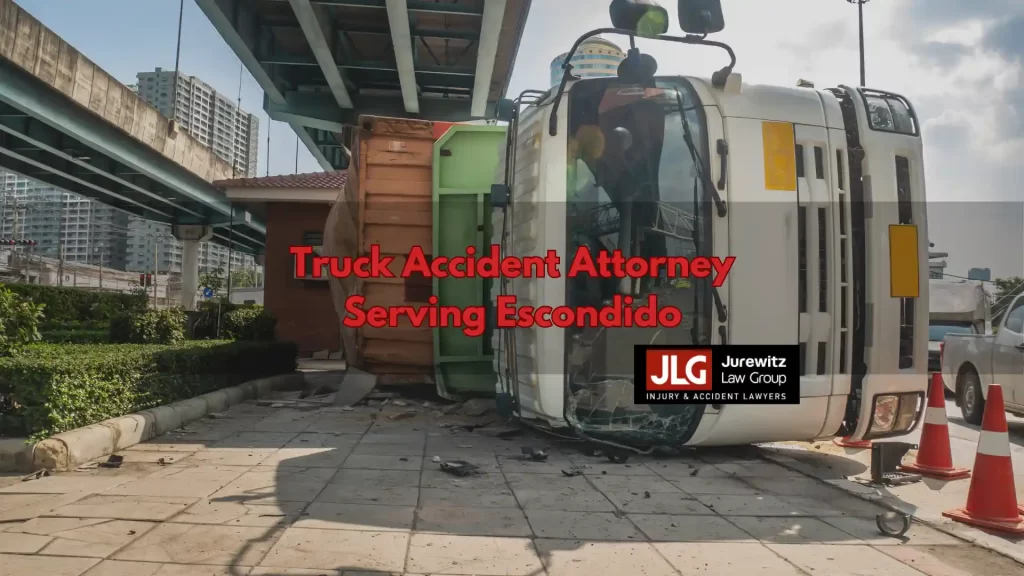 Are You Entitled to Compensation for Your Large Truck Crash?
Southern California' especially the area around Escondido' is a hub of transportation. Large trucks' semis and tractor-trailers loaded with goods stream in and out of the region. While the vast majority of these truckers are responsible' hardworking individuals' there are a reckless few that give the entire trucking industry a black eye. These negligent shippers end up causing untold amounts of damage to life and property' all because they refused to follow some basic rules of the road. If you happen to be in the path of one of these individuals' the result can be nothing short of catastrophic.
Over the years' the Jurewitz Law Group Injury & Accident Lawyers has represented many families who have been negatively impacted by out of control tractor-trailers and semis. Our goal is to make sure you are provided the compensation you deserve for your injuries and more. If you have been seriously hurt in a large truck accident or lost a family member to such a collision' it might be time to consider your legal options. Depending on the circumstances surrounding your accident and the damages involved' you could be entitled to significant restitution for such things as:
Emergency medical transportation and care
Hospital arrangements
Loss of employment
Pain and suffering
Funeral costs
Doctor fees
Call the Jurewitz Law Group Injury & Accident Lawyers today and let us help you get started on your claim. Together we can explore your options and start building the proper strategy for your case. Don't wait for insurance agents or adjustors to begin investigating your situation. Call an Escondido injury attorney at (888) 233-5020 and get the representation you need today.
Insured Against Insurance Adjustors
The trucking industry is an expensive one that requires a considerable amount of insurance to operate. When an accident happens' insurance companies involved want to minimize whatever damage has been done' which ultimately helps them preserve their bottom-line. This means when it comes time to review your settlement they will do everything in their power to pay as little as possible. That is why it's critical to have an aggressive personal injury firm like the Jurewitz Law Group Injury & Accident Lawyers at your side to protect against these kinds of schemes. Before you speak with anyone after your truck accident – especially an insurance adjustor – be sure to retain proper representation first!
Escondido Truck Accident Attorneys Recovering Full And Fair Compensation for Client Injuries
Truck accidents are often horrendous and traumatic experiences' leaving both the victims and survivors in a state of complete shock. Depending on the severity of the crash' you may have lost loved ones in the process. The Escondido truck accident lawyers at Jurewitz Law Group Injury & Accident Lawyers have extensive experience helping families who have been in similar situations and we are prepared to use every resource available to help you get back on your feet.
If you've recently been injured in a motorcycle, truck, or car accident in Escondido' call the Jurewitz Law Group Injury & Accident Lawyers to schedule a case consultation with a member of our team today. The number to dial is (888) 233-5020.