Car accidents can happen unexpectedly. When they do, knowing how to handle the situation is crucial. One critical step to take after any accident is to call the police. Even if you do not think alerting the authorities is worth the hassle, doing so after any accident is essential for several reasons. Calling the police can help protect your legal rights and any injury claim you may wish to file.
What Kinds of Car Accidents Do I Need to Report?
California law requires you to report any car accident that results in injury, death, or property damage exceeding $1,000, including the following:
Even if the accident appears minor, and you think there is no significant damage or injury, it is always best to call the police. Law enforcement officers essentially serve as professional witnesses at an accident scene. Their report ensures that you have official documentation of the incident.
Reasons to Call the Police
There are several reasons to call the police after any traffic collision, including:
Legal Requirement
California law mandates that you report certain accidents. Failure to do so may result in penalties, including fines and license suspension.
Documentation
A police report provides essential documentation of the accident. It contains crucial information such as the accident's date, time, location, and parties involved. Insurance companies typically require a police report when processing claims.
Establishing Fault
A police report can help establish fault in an accident. The officer will investigate the scene, talk to witnesses, and collect evidence. This information can be valuable when determining who is responsible for the accident and any subsequent losses.
Ensuring Safety
Calling the police ensures that you, other vehicle occupants, and pedestrians are safe after an accident. Officers can help redirect traffic, call for medical assistance if necessary, and address any hazardous conditions at the scene.
Hidden Injuries
Even if you feel fine after an accident, you may have injuries that do not present symptoms until several hours or days later. If you drive away from the accident scene without reporting the collision, the insurance company may try to argue that your injuries are unrelated to the accident. Having a police officer respond to the crash can create a strong connection between the incident and your injuries. Your claim will be stronger if you seek immediate medical attention after the accident.
Protecting Your Legal Rights
A police report can protect your legal rights in a future dispute. It can serve as evidence if the other party tries to deny responsibility or if there are discrepancies in their version of events.
How Long Do You Have to Report a Car Accident in San Diego?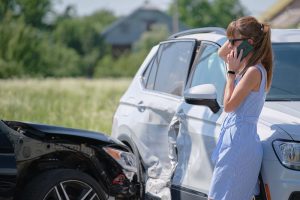 In California, you must report a car accident to the California Department of Motor Vehicles (DMV) within ten days of the incident if it involves injury, death, or property damage exceeding $1,000. You can complete a Traffic Accident Report (SR 1) form and submit it to the DMV. Failing to report the accident within the specified time frame can result in penalties.
You should also notify your insurance company immediately after an accident. Different insurance companies have different deadlines for reporting accidents, and failing to meet these deadlines may result in a denial of your claim.
Contact an Experienced Car Accident Attorney
Involvement in a car accident can be a stressful and overwhelming experience. An experienced car accident attorney can help guide you through the process, ensuring you take the necessary steps to protect your rights and receive fair compensation for any losses or injuries.
Some benefits of hiring a car accident attorney include the following:
Assistance with navigating the complex legal process
Gathering evidence and building a solid case
Experience in negotiating with insurance companies
Representation in court, if necessary
After calling the police and seeking medical attention, contacting a seasoned personal injury attorney is crucial to building a strong claim.
The experienced San Diego car accident lawyers at Jurewitz Law Group Injury & Accident Lawyers understand how challenging life can be after an accident, and we want to help you protect your rights and interests. Call us today at (619) 233-5020 or contact us online for a free case review to learn more about your legal options.
Related posts
What If The Other Driver Is Lying About The Car Accident?
Your Accident Is Just a Statistic to Your Adjuster
What Happens if My Accident Report Is Incorrect?