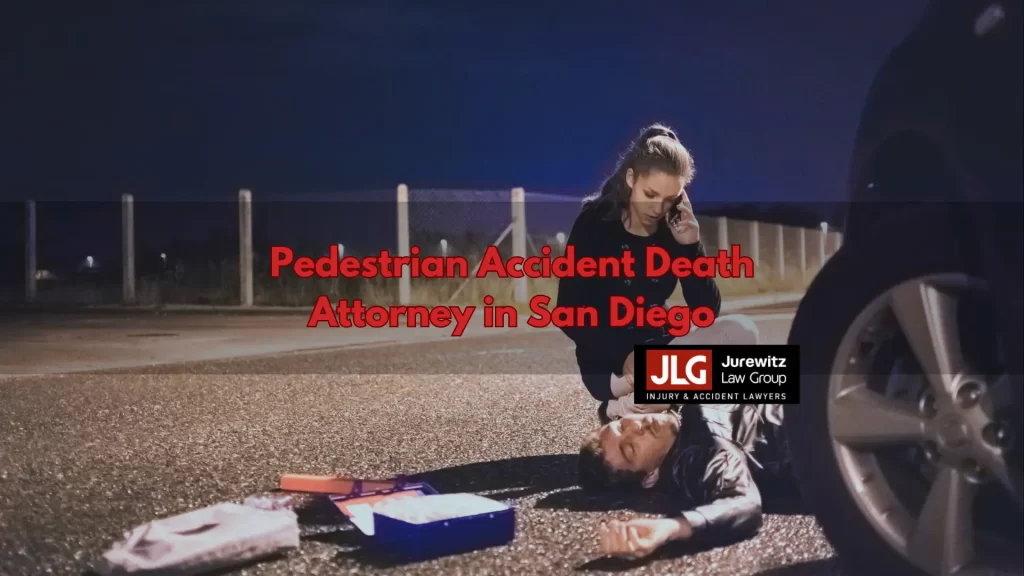 Representation in Pedestrian Wrongful Death Cases
If you have recently lost a loved one in a pedestrian accident' the team at the Jurewitz Law Group Injury & Accident Lawyers extends its sincerest sympathies. There can be nothing more traumatizing than the sudden loss of a family member or loved one. Over the years we have helped many families' just like yours' who wrestled with many of the questions that you are undoubtedly encountering yourself' such as:
Will we ever recover from this accident?
How will I pay these medical bills?
When should I contact a lawyer?
What legal options do I have?
It is important for you to know that options are available and the Jurewitz Law Group Injury & Accident Lawyers is here to help you explore them. We are a San Diego personal injury firm' dedicated to helping victims and survivors of car accidents secure the compensation and justice they deserve. It is our goal to help you obtain the closure you need to move beyond this tragedy and we will utilize every resource available to make it happen. For more information or to schedule a free comprehensive case consultation' contact our office at (619) 233-5020 or (888) 233-5020. You can also submit your information online and a representative will contact you shortly.
Of course' while you may be considering taking legal steps' you may also be thinking:
"What good can a claim or lawsuit do? The damage has already been done?"
Unfortunately' what has happened to your family cannot be undone by any legal means. However' while taking action cannot turn back the clock' it can help you navigate the inevitable financial obstacles that accompany such tragedies. Depending on the circumstances surrounding your case' you may be able to obtain considerable compensation through a wrongful death claim. Damages included in a successful settlement often include:
Emergency medical treatment and transportation
Doctor's visits and specialist follow-up
Extensive hospital arrangements
Emotional anguish
Wrongful death
Funerary costs
Lost wages
Call the Jurewitz Law Group Injury & Accident Lawyers today and let our experienced team help you strategize your next steps. Together' we can hold the at-fault party accountable for their actions and obtain the awards you deserve.
How Long Do I Have to File a Wrongful Death Claim in San Diego?
Despite the fact that you are the injured party in this case' the state of California still requires all claimants to file within a very specific window of time. This is known as the statute of limitations and it is the deadline that can make or break your case. Failing to submit your case within the designated time frame can mean a complete forfeiture of rights and compensation. So' do not delay. If you plan to take legal action' time is of the essence. Contact a dedicated San Diego wrongful death attorney today; one with a successful track record and the willingness to do whatever it takes to win.
San Diego Pedestrian Accident Death Lawyers Helping You And Your Family
Contact the Jurewitz Law Group Injury & Accident Lawyers today and schedule an appointment with a member of our experienced personal injury team. Call (619) 233-5020 or submit your information online and we will contact you shortly.