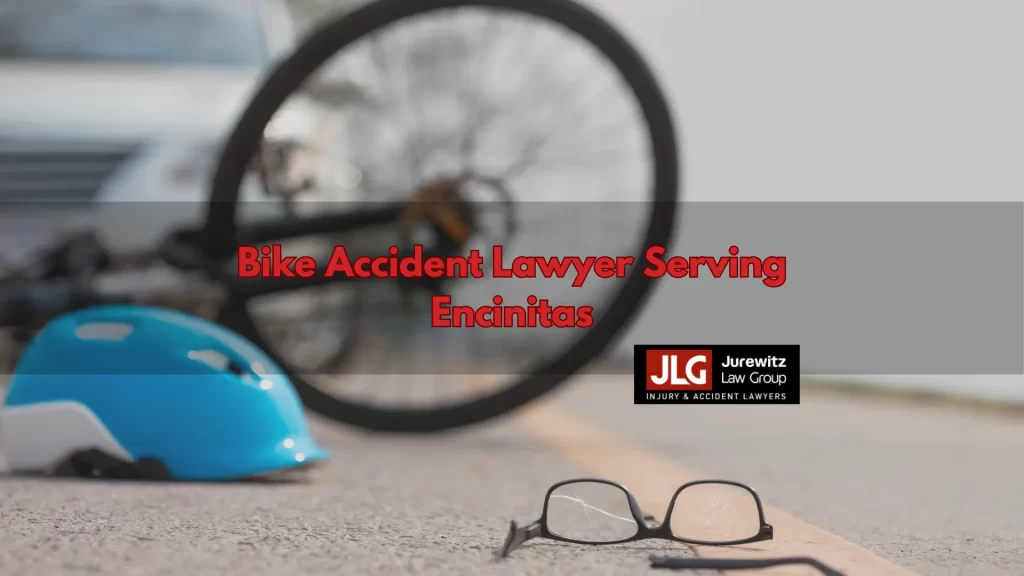 Hurt in a Bicycle Crash? Jurewitz Law Group Injury & Accident Lawyers Can Help!
The accident happened so fast you didn't even know what hit you. One minute' you were cruising on your bike through Encinitas. You may have been on your way to meet friends' or just heading home from work. The next minute' you were being hoisted into the back of an ambulance on a stretcher. In the blink of an eye your world was turned upside down and you were being rushed to the emergency room.
Naturally' anyone in that situation is asking:
How did I end up here?
Who is responsible for this?
Should I speak with an Encinitas bike accident attorney?
Will I recover from this accident?
Given the severity of most bicycle accidents' it is perfectly normal to be asking yourself any one of these questions. This is especially true if a negligent motorist was responsible for your accident. Depending on the situation and the factors involved' you may be able to pursue a civil claim against the at-fault driver. This could result in considerable compensation for the injuries and damages you sustained.
But' you are going to need effective and aggressive legal counsel to successfully see it through. Contact the Encinitas personal injury attorneys at the Jurewitz Law Group Injury & Accident Lawyers as soon as possible to discuss your options.
Every year many cyclists are hurt or killed while riding in the Southern California area. As avid cyclists' Jurewitz Law Group Injury & Accident Lawyers is dedicated to protecting the rights of bicycle enthusiasts who have been injured on the road.
To schedule a free consultation call (888) 233-5020 today to speak with a member of our personal injury team.
What Kind of Compensation Could I Receive After an Encinitas Bike Accident?
Without knowing the facts surrounding your bicycle accident' it is nearly impossible to determine your case's potential value. There are many factors that must be determined – such as how you were struck and the degree of negligence involved – before anyone can establish a number. So' be wary of any lawyer that claims otherwise.
There are several potential categories in which your damages could fall under' including:
Economic Damages – medical costs' hospital fees' doctor's expenses' property damages
Non-Economic Damages – pain and suffering' loss of consortium' emotional anguish
Punitive – a fine to punish the at-fault party for particularly gross negligence
Counsel When You Need it Most
A bicycle accident can be one of the most traumatic experiences a rider can have. The speed and size difference between a bike and a car can leave even the most confident cyclist wounded and shaken. But' with representation of an Encinitas car accident lawyer at the Jurewitz Law Group Injury & Accident Lawyers' you stand a fighting chance of getting the recovery you deserve at a time when you need it the most.
Give our team a call at (888) 233-5020 to schedule a free case consultation today.